Three Carbon libraries to begin curbside service Friday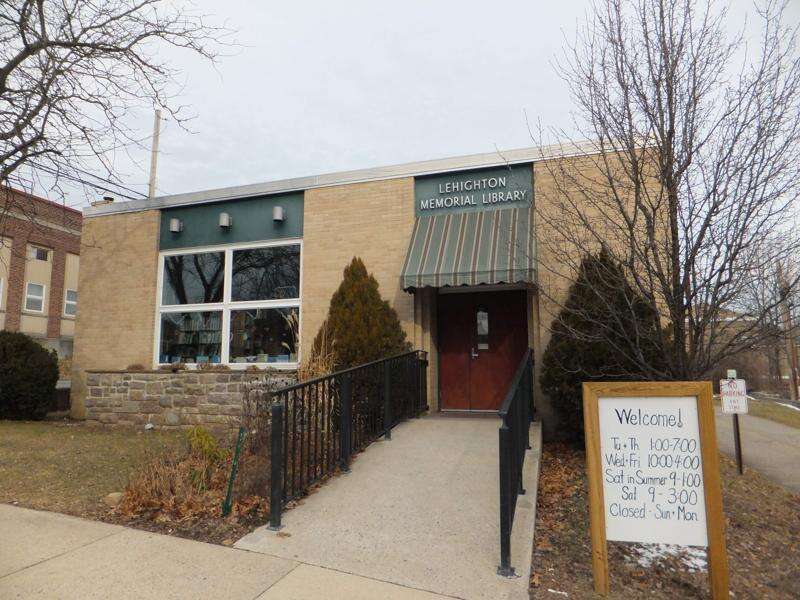 Published May 28. 2020 02:45PM
Three libraries are working to restore some of their services now that Carbon County has moved into the yellow phase of reopening.
The Lehighton Area Memorial Library, Dimmick Memorial Library in Jim Thorpe, and Palmerton Library are looking to begin curbside service on Friday.
Lehighton Area Memorial Library
Melissa Hawk, library director at the Lehighton Area Memorial Library, said she's excited to get back to providing some services for its patrons of the community.
"We have to be very cautious in the beginning with what we do, so that's how we came up with curbside pickup," Hawk said. "One of the most important things is that we're going to be helping patrons a lot with choosing because they won't be able to browse."
Hawk said the library is ready to talk to its patrons on the phone or through email to get them the materials that they'd like.
"It's going to be a little different in the beginning," she said. "It's all new to all of us, but we're going to be listening to our staff and patrons and adapting what we do as we go along as we can to make it safe and convenient for people as much as we can."
The library's curbside will closely follow its normal hours, except that it will be closed to curbside on Mondays due to a small staff.
"We ask that when we call patrons to tell them we have something for them, or when they call and ask for something, we're going to really try to make appointments so that we don't have tons of people waiting because we'll be working with smaller staff," she said. "The whole process will be a steep learning curve for us all, and we'll be adapting and listening to input and seeing how we can make it better for everybody."
Hawk added that the library does have online resources (databases, e-books, resources for kids to use interactive books) but not everybody has access or is comfortable with the new online world.
"If we can get back to a little bit of traditional services for those who miss that, we'll be happy to do that as long as we can do it safely," she said. "We're excited to do that."
Hawk noted that summer is the library's busiest time.
"We've been also having to adjust our expectations, but we're also trying to bring new programs that people can do at home," she said. "I think it's really important to make sure that everyone has access to library services."
Despite being closed, Hawk said the library has been working really hard behind the scenes to make sure that people have better access to what it offers online; revamped its website, and also worked with Lehigh Carbon Cooperative to be able to provide online library card registration so that by the time the library starts curbside, people should also be able to go online and register for a card if they haven't.
She said the goal is to make sure that people can go online and find out extra information or updates as the process moves along, and added they will attempt to keep it posted at the library as soon as possible.
Palmerton Area Library
"The Palmerton Library is excited to get back to serving people in this community," said library director Christine DeSousa. "Everybody has been holed up and quarantined, so we're really excited to help people get back into some of the swing of things."
DeSousa said the library plans to interact with the public mostly through email and phone calls.
"We will be getting back to some sense of normalcy," she said. "We will try to facilitate distributing materials with our public safely; sanitizing everything, trying to keep everybody as healthy as possible."
DeSousa said there will be people receiving messages, phone calls, and that the library will hold the respective materials.
"When we pull the material, we're going to automatically call the patrons and tell them the availability of two time slots, and they can pick what time slot they want to come," she said. "If it's not that day, it's OK; we will be doing curbside Monday through Saturday."
DeSousa stressed that the library will continue to have an active presence on social media.
"We still are going to do all our social media things online," she said. "None of those services are going to shut down."
Summer reading information will be coming out in the next couple of weeks.
Dimmick Memorial Library
"After a long time of being closed in the red phase, it's exciting for us to finally be able to offer our patrons services," said Kara Edmonds, library director, Dimmick Memorial Library in Jim Thorpe. "I realize it is not as generous an option as we would like to provide to our patrons, but it is better than having no access to the library at all and to have them reread the same books. The patrons I have spoken with are looking forward to having access to the library even as they know they must be patient as we try out a new process."
Edmonds said she believes it's important that all three of the Carbon libraries "are organizing so that we provide a similar type of service to our patrons.
It helps to be able to set a certain level of expectations to let the patrons know what they can expect to get from the library; (and for the community) it's helpful in knowing how we can move forward. We, all three, are energized with the idea of being able to serve our patrons again."
Check library websites for more information.