Blue Bombers looking to bounce back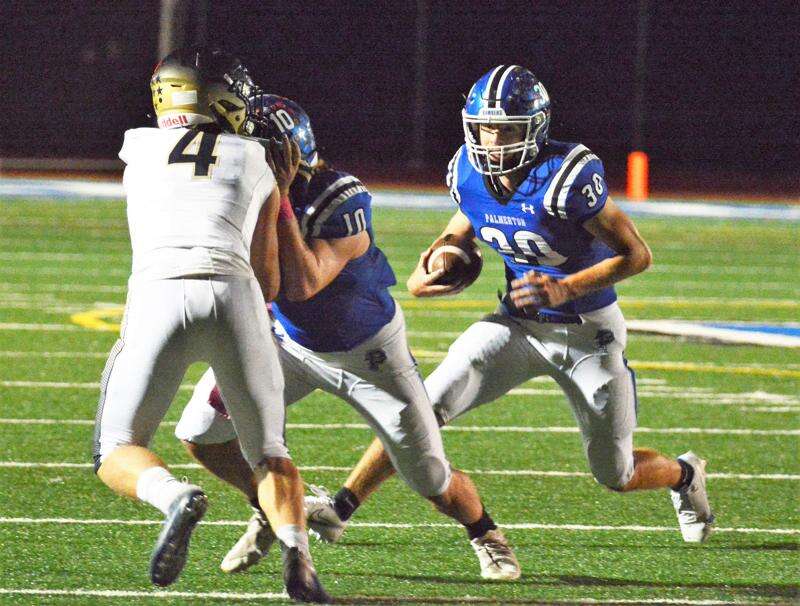 Published November 04. 2021 01:29PM
Every team that enters the postseason does so with a clean slate.
No team is perhaps happier with that fact than Palmerton, which is coming off a tough mercy rule loss to rival Northern Lehigh last week in its regular season finale.
The Blue Bombers, who weren't able to get much going on either side of the ball against the Bulldogs, will look to bounce back when they host Catasauqua in a District 11 Class 2A semifinal matchup on Saturday at 7 p.m.
It was evident last Friday night that Palmerton's physicality was not where it needed to be. Northern Lehigh grounded an offensive attack that had posted over 40 points in seven straight games, holding the Bombers to under 100 yards rushing and 228 yards of total offense - well below their season average of 385.2 yards per game. The Bulldogs also forced four turnovers and finished with 374 yards of total offense.
No loss is a fun experience, but it can serve as a teaching moment and a motivator, especially for a team as talented as Palmerton.
"Our number one focus, and number one priority this week, is to come out and play with a lot more physicality on both sides of the ball. We need to be physical, establish our run game and win the turnover battle," said Palmerton coach Chris Walkowiak. "We've stressed that sometimes winning can hide some flaws, but against a team the quality of Northern Lehigh, if you don't correct those mistakes, then those flaws are going to be exposed.
"But, credit to our guys, we've had a really good week of practice. I'm seeing some really good things. No doubt we need to learn from last week, but we're not going to dwell on it. We're going to move on and move forward."
The No. 2 seeded Bombers (8-2) handled the No. 3 seeded Rough Riders (7-3) in a matchup earlier in the season, 42-8. Palmerton had a big game offensively, coming through with 454 yards of total offense. Quarterback Matt Machalik had a huge night, passing for 162 yards and a score and rushing for 147 yards and a touchdown. Sophomore running back Stephen Jones also had a nice night on the ground, rushing for 109 yards and a score on just five carries. Six different players caught passes from Machalik in the game.
"Any time you play a team for the second time, you're going to do a few things differently, and they're going to do some things differently as well," said Walkowiak. "Catasauqua is a good football team, and has a good record for a reason. They have a ton of playmakers that you need to account for. Execution in all phases will be key for us."
The Bombers did a great job of keeping the Roughies playmakers at bay in their last meeting as they held Catasauqua to just 218 yards of offense. Quarterback Christian Frye was held to just 28 yards passing, while talented running back Elijah Soler was held to under 50 rushing yards. Palmerton was also able to get pressure up front, recording four sacks.
"I honestly think we can use last week as a building block. Like I said, our practices have been very good and competitive," said Walkowiak. "I like where we're at. Now, it's just about coming out with high energy, and using last week as some fuel to really fly around and play physical."