Panthers come back to beat JT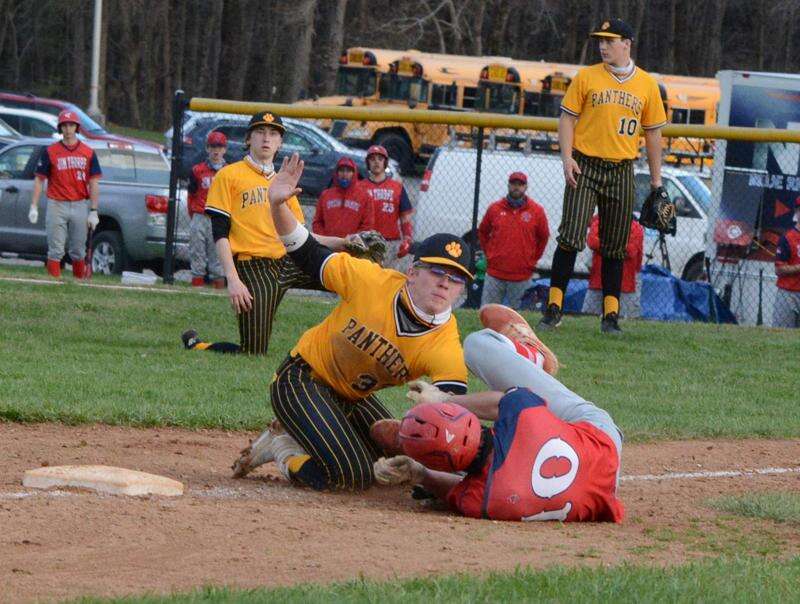 Published April 20. 2021 01:01PM
No deficit is too big in baseball.
Panther Valley proved that Monday in a 15-11 nonleague win over Jim Thorpe.
Trailing by six runs in the home sixth, the Panthers (8-1) sent 15 batters to the plate and scored 10 runs.
The rally began with a JT error and two walks later was followed by a sacrifice fly by Michael Pascoe. Stephen Hood singled to left and Cody Orsulak homered over the left field wall. Two singles, two walks and another three errors in the inning, mixed in with RBI-singles by Pascoe and Hayden Goida, and just like that PV erased an 11-6 deficit into a 15-11 lead.
Brad Hood then pitched a scoreless seventh inning to close out the win.
"Our team's mental aspect has been outstanding all season long," Panther Valley coach Rich Evanko said about the character of his young team.
"We never get too high or too low, and that's the right approach to be successful in high school baseball.
"Despite so much inexperience, we have a ton of confidence no matter whether we're ahead or behind in the score."
The Black and Gold had taken an early 4-0 lead on Pascoe's RBI-single in the first. Two walks, four stolen bases and singles by Brad Hood and Goida produced three more second-inning runs.
But Jim Thorpe (6-5) also showed that no lead is safe, and no deficit can't be overcome, as it battled back to plate eight runs in the next two innings. In the third, Jared Marykwas had the big hit with a two-run line drive single to center. In Thorpe's five-run fourth inning, Garret Leinhard, Drew Wimmer, and Caiden Hurley all singled before Jared Joyce double home two runs. A sacrifice fly by Ian Hubbard, and Marykwas' two-run double, put JT up, 8-4 going into the home fourth.
Richie Strack came on in relief to retire the side in the fourth and pitch a scoreless fifth. The Olympians then padded their advantage in the top of the fifth for an 11-5 lead. Another two-run double by Marykwas was the big bang.
"We were sleepwalking in the middle innings," said Evanko. "We were not fielding, and we were not catching. Give credit to Jim Thorpe. They put the ball in play, and we didn't make the plays we should have."
Jim Thorpe coach Joe Marykwas also wasn't pleased with his team's defense.
"We didn't throw enough strikes," he said, "and once their big inning started, they put us on our heels, and we didn't field ground balls that should have been outs."
After also recently watching his team fail to protect a late lead against North Schuylkill, Marykwas added, "We need to be better at putting teams away."
Pascoe and Goida paced PV's 15 hit attack with three hits apiece.
Jared Marykwas led JT with three hits, while Hurley, Joyce and Wimmer all added two apiece.
"The great thing about the game of baseball is we get to play another game tomorrow (Tuesday) against Blue Mountain. I fully expect us to rebound from this," said Marykwas.
ELITE BAT ... JT's Jared Marykwas continues to produce at the plate. After Monday's game, he was batting a sizzling .743 for the season with an amazing 25 RBIs in 11 games.
SUNSPOT ... A pivotal moment in the game occurred in the Panther 10-run sixth when what looked like would be an out on a throw to first base was lost in the sun, allowing two PV runs to score.
Jim Thorpe 003 530 0 - 11 13 4
Panther Vy. 130 10 (10) x - 15 15 3
Richebacher, Strack (4), Hurley (6) and Wimmer; Pavlik, Pascoe (4), B. Hood (7) and Pascoe, Orsulak (4). W - Pascoe. L - Hurley.