Spotlight: Helping local cats in need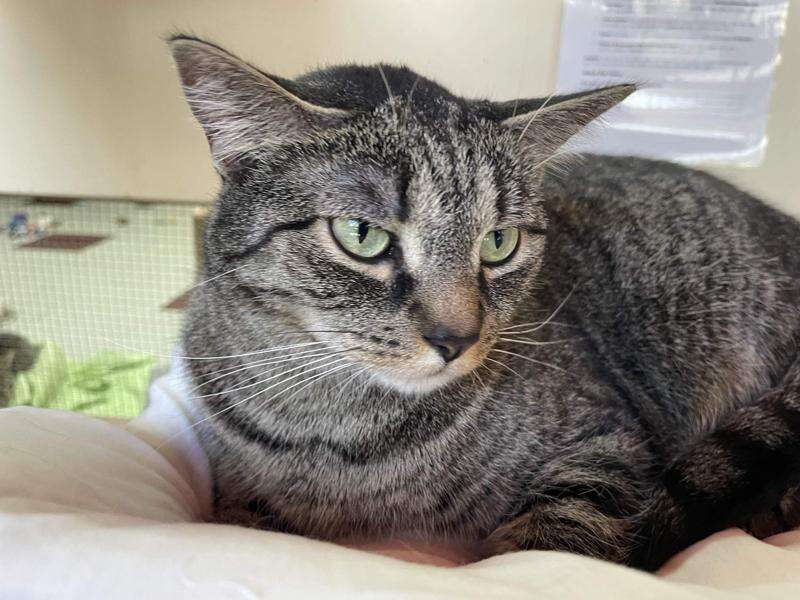 Published January 22. 2022 07:50AM
It's a collective effort to make a cat shelter or rescue organization work.
But without adopters and donors, it would be impossible.
In 2021, the Carbon County Friends of Animals once housed 300 total cats at once in Jim Thorpe. During three fall months, the organization ran a half-price promotion, which helped over 100 cats find homes.
But how is it certain that an adopter is a good fit, or that a cat will go to a good home? There is a review process, but sometimes, you have to go with your gut - especially when it comes to new pet owners, said Dana Dunbar, CCFOA manager.
"It's a little bit easier if people are established with a vet," Dunbar said. "That gives you more comfort. Sometimes, with new pet owners, you must wonder if people are going to do the best for the pet."
No experience with a cat? No problem.
Prospective adopters shouldn't be hesitant when looking for a furry friend from CCFOA. Dunbar said adopters who never had a pet (or cat) before will receive some guidance.
"We provide a sheet of paper made up of what we feed them, what kind of treats they prefer and what kind of supplies you should get before you bring one home," Dunbar said.
"We've realized a lot of people were switching from previously owning dogs, because they're getting up there in age and don't want to walk them or be as active. Multiple people came in last year, who never owned a cat, only a dog in the past - and they didn't know what they needed - what vaccines they get and anything like that."
Dunbar said it'll be a forever challenge - CCFOA will never get as many adopters as cats they bring in. The shelter has about six dedicated volunteers who come in weekly, and others who come to frequently interact with the cats.
"A big thank you to our staff and volunteers," Dunbar said. "I don't think they get enough gratitude. We're in it for the same reason, we come in and we enjoy what we do - they all go beyond what they're asked to do."
Barb Greenzweig spearheads the nonprofit Palmerton Cat Project rescue service, which isn't a shelter, but takes on as many rescues as it can handle.
"We have an adoption committee that reviews applications. We do vet checks and if there are other pets in the home, to ensure they are well taken care of," Greenzweig said.
One of the questions on the application asks if the adopter is willing to take the time to help the cat adjust to its new home, and give it proper care when needed?
"We have a strongly worded adoption agreement - you're making a commitment for the lifetime of this cat and that's the important thing. Not only making that commitment, but you are also making the commitment to provide regular and appropriate medical care as needed."
Greenzweig said the community support has been simply amazing.
"We work very hard to earn money and support our efforts. Not maintaining a shelter is a double-edged sword, but we have a series of foster homes.
"If somebody is interested in fostering - we have criteria for that. But our families love doing that, it's a great opportunity. That fact that we don't have to maintain a physical shelter (as an all-volunteer shelter), all of your donations go directly to assist cats and kittens in need."
Each local organization echoed shouts that these pets are not gifts - they are lifelong commitments. In fact, Forgotten Felines & Fidos Inc., of Germansville, did not run adoptions during two holiday weeks of December.
"I'm sure you've seen the news of many dogs being returned, we haven't had any cats returned due to that, but we do take in a lot of sick cats, due to people not being able to care of them because of the economy," said Erica Moerder, volunteer coordinator.
The organization has multiple buildings on its campus including a shelter and a leukemia cottage.
"We're the only designated leukemia cottage in the area, shelters can't just take them in," Moerder said. "We can't put them with other cats - it's either euthanize or find a separate area for them. It's one of the many reasons I volunteer there, they're unique and dedicated to the animals. We intake a lot of sick cats and try to get them better."
Moerder agreed that you can't rush a cat into a new home.
"Giving the cat time to decompress is one of the things we talk to people about. It doesn't matter what size your home is, it's overwhelming for a new animal. We do ask people to keep them in a separate room for a few days to get them acclimated to their new surroundings."
How you can help
Not everyone can adopt a cat and that's OK. There are plenty of ways to help out these local organizations.
CCFOA takes monetary and food donations - especially canned wet food.
"The bigger items that we don't really get donated are trash bags and paper towels," added Dunbar.
CCFOA can be reached at 570-325-9400, or CCFOA.info. Monetary donations are welcomed. Greenzweig said since her organization is not a shelter, every donation goes directly toward helping the local cats or kittens in need of help.
The Palmerton Cat Project provided extensive medical care for 37 cats in 2021.
"This is beyond the regular checks, shots and testing we've done to prepare cats for adoption," Greenzweig said.
"This means multiple vet visits for significant health issues. Financial support (when received) is great. We have an incredible network of vets in our immediate area who are amazing, who help us out when we need it quickly."
Visit the Palmerton Cat Project Facebook page (@PalmertonCatProject) for more information.
Forgotten Felines & Fidos Inc. has a shelter needs list on its website, forgottenfelines.org. Monetary donations are welcomed.
"We go through paper towels like nothing and we could always use cleaning supplies," Moerder said.
"Right now we're doing a lot of maintenance on the shelter because we couldn't during COVID. And we're always looking for volunteers."
Moerder can be reached at 610-737-6851.