Library receives $2K for installation of elevator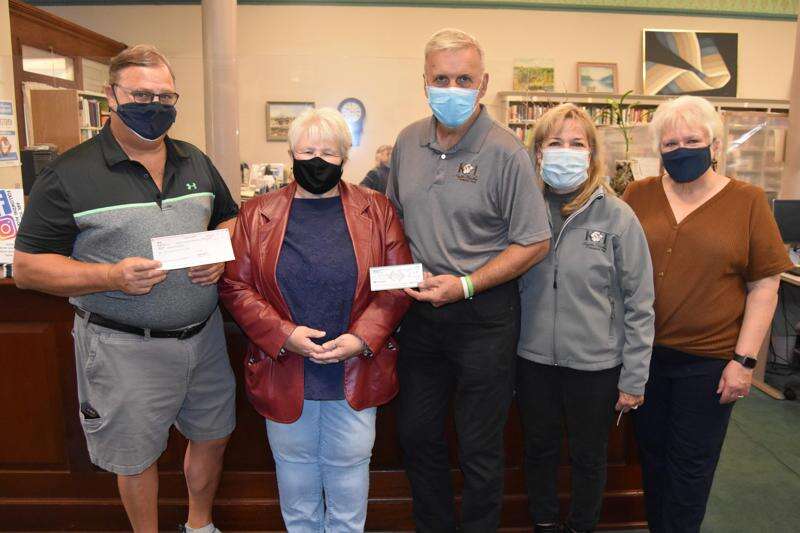 Published October 22. 2020 02:45PM
Over a month after a GoFundMe account was set up, support continues to pour in for the Slatington Public Library.
That trend continued Wednesday morning when the Krysta Hankee Memorial Golf Tournament, along with the Slatington Golf Tournament, each presented a $1,000 check to the library.
The library's main focus is the installation of an elevator to make the library ADA compliant, according to Lynne Fedorcha, treasurer of the Slatington Public Library board of directors.
"The $2,000 will go toward our elevator installation, and repairs that are needed," Fedorcha said. "Our goal is eventually we would be able to have access to some of the upstairs."
Fedorcha noted that the Slatington Golf Tournament has been donating $1,000 to the library annually from their tournament.
Last month, a GoFundMe account was set up by the Slatington Public Library Inc. to help the library with building repairs and upgrades.
Fedorcha said that with the donations, $11,014 of the $15,000 building improvement goal had been raised. Additionally, she said the Rentschler Family of Dealerships has agreed to match $6,000.
"We have a lot of projects in the works," she said. "We are always accepting donations."
Contributions toward the library can be made at gofundme.com/o/en/campaign/slatington-library-eyes-on-the-future.
Library Director Rosanne Pugh previously said that while the library has an old freight elevator, the only way they can get up to the second floor presently is to walk up and down the steps.
Pugh said the library has a $45,000 grant from the Trexler Foundation, as well as a $10,000 anonymous donation, to get started.
Other projects include having bricks repointed and sealed, some water damage repaired, and also some repainting and rewiring.
Pugh said the goal is for that work to be done through grants the library plans to apply for at a later date.
Constructed in 1897, the library is located along Main Street in the historic district of Slatington.
The Krysta Hankee Memorial Fund was founded in 2007 in memory of Krysta Hankee.
Krysta, daughter of Bill and Chris Hankee, collapsed while exercising in a gym in New York City in September of 2007, at the age of 22, and died a few days later.
She loved her friends, family and community. She graduated from Northwestern Lehigh High School in 2003 where she excelled as a student and athlete.
Krysta attended The American University in Washington, D.C., for two years and was a member of the American University Field Hockey Team (Patriot League Champions). She was a Patriot League Scholar Athlete both years.
Krysta graduated from the Leonard N. Stern School of Business at New York University in Manhattan in 2007, with a degree in Marketing and Foreign Business.
Upon graduation, she secured employment as an assistant project manager at Triangle Equities of Whitestone, New York, where she worked until her tragic death.
Since its inception, the fund has provided $125,000 in scholarships for local students to further education.
The Krysta Hankee Memorial Fund created the "Courses that Care-Miles that Matter" program to provide gasoline gift cards to support families medical care and other compelling needs within the family.
Over $200,000 worth of Giant gas gift cards have provided over 2 million miles of travel for local families. Some of these families must choose between putting gas in the tank or food on the table.
From April through October, local golf courses, Giant Foods and sign sponsors support this effort by providing great golf opportunities full of skill, raffle and door prizes.
Check their play as a single, twosome, threesome or foursome.
For more information, contact Bill Hankee at 610-217-3625, or at krystafund@gmail.com.