Spotlight: Testing their limits with the Spartan race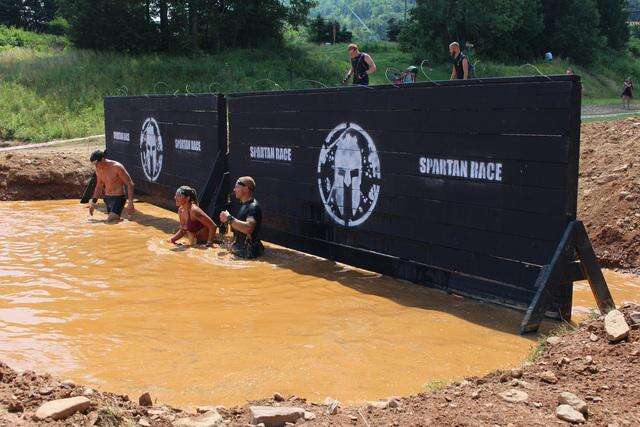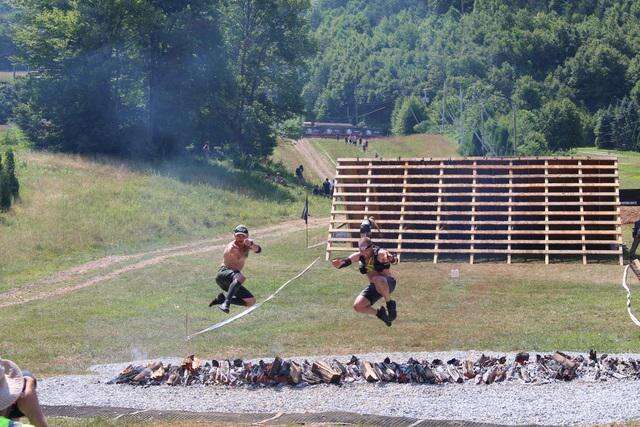 Published July 27. 2018 09:53PM
by Brian Myszkowski bmyszkowski@tnonline.com
"Brutal."
"Punishing."
"Agonizing."
Talk to any of the runners crossing the finish line at the Palmerton Super and Sprint Weekend Spartan Race, and you can count on these words coming up in a conversation about the course.
Blue Mountain played host to the storied and intimidating athletic endeavor on July 14 and 15, with over 10,000 athletes from all walks of life and just about every part of the country coming out to take part. The Spartan Sprint and Super Races offered options for just about everyone. Everyone, that is, who is looking to test the limits of their abilities.
The Sprint entails about 3 miles of 20 or more obstacles, making it a favorite for first timers and returning runners alike. Those aiming higher opted for the Super, featuring over 8 miles of terrain and more than 25 obstacles to conquer. Some even went for both, clearing the prerequisites for the Beast, which completes the fabled Spartan Trifecta.
Race Director Dan Yotive said that preparations for the big event began a year in advance, and involved planning and executing the race with a specific venue, distance and budget in mind. Thanks to a number of factors, Blue Mountain is a perfect course location for the race, Yotive said.
"Spartan has been producing events at Blue Mountain for seven years," Yotive said. "The size, steepness, accessibility, proximity to major metropolises, great food and parking, and sheer beauty of the venue make this one of our favorite venues."
Taking it to the limit
Start line emcee Mark Bryan said that rousing up the participants with shouts of "We are Spartans!" and "Hooah! Hooah! Hooah!" gets their heads and hearts in the right place for the race.
"It pumps you up, because as the start line emcee, you have to feed off the energy of the crowd a little bit. The more pumped up they get, the more pumped up you get. You're feeding off each other, and you can definitely feel the energy," Bryan said.
And it works. Just ask Michelle Fede, who came from New York to do the Blue Mountain course.
"It feels good. I'm ready to go," Fede said at the starting line. "I work out regularly, so I'm always preparing, always training. I'm doing it for myself, and I'm trying to do the Trifecta this year."
The highlight of the course was the uphill run through the Blue Mountain terrain, which just about every participant said added a tough element to an already challenging run.
Michael Miesch, owner of G-Force Fitness and Training in East Rutherford, New Jersey, said that the inclines and elevation tested his limits, and though he did finish, it was a struggle.
"Anyone can run well on flat ground, anyone can do well on an obstacle course on flat ground. You throw these giant mountains in there, it gets a lot more difficult," he said.
The obstacles
On top of the treacherous terrain, the dreaded sand bag carry ranked as one of the most excruciating challenges.
"The sandbag carry was a real tear-jerker, honestly. There's not an appropriate way to carry those two bags," said Juan Correa, a runner from New Jersey who did both races.
And that was just the beginning.
Suzanne Cadden, a runner from Rutherford, New Jersey, who placed fourth in the female aged 25-29 category, has participated in at least five Spartan courses this year, but considers the Blue Mountain run to be one of the most challenging. But, she said, sense of accomplishment from beating an obstacle serves as a perfect motivator.
"Everyone's dropping like flies. It's like a war zone. That's right in the beginning. Then you're kind of like, 'I got through that, I can keep going,' and then you hit that one other incline, and it's really bad. You're in the woods, everyone's dropping like flies, taking breaks. It pushes you. The voice in your head is like, 'Quit! Stop! Don't do it!' But you've got to keep going, you've got to find your motivation," Cadden said.
Other obstacles included a wall jump, a rope climb up a steep slope followed by a crawl down a set of slippery planks, and a javelin launch. Even as racers reached the end, the punishment wrapped up with a leap over a fire pit before crossing the finish line. As it turns out, a lot of work goes into developing these challenges.
"Spartan events focus on sport and athleticism, pushing the bodies and minds of competitors to the limit," Yotive said. "Our obstacles are developed and tested by a core team of engineers, construction professionals and actual racers to ensure safety while maximizing challenge and fun."
Emmaus runner Tristan Schmidt, who took first place in the male aged 14-17 category, said that his workout regimen helped him with the obstacles, but it wasn't easy.
"I'm mainly a runner, so I like to do trail running a lot. I also do CrossFit, so that helped a lot," he said.
True Spartans
Dustin Achey, Lehigh Valley Event Coordinator for Lehigh Valley Spartans, said that his varied crew may race for different reasons, but their core drive remains the same.
"We try to cater to everybody to get them off the couch, to get them out to train and be healthy and active," Achey said.
"We have really competitive runners, that's what they do. They want to run for the podium, chase that extra medal. We have the ones who are like, 'I'm not out here for time, I'm out here for fun. I want to get healthy and fit.' It's nice for our team to have that balance."
And it's that camaraderie that shines through at a Spartan Race, especially one as intimidating as the Blue Mountain course. Everyone is there to help push each other further, to do more, to achieve and surpass their goals. Because at the end of the day, nothing beats crossing that line and declaring yourself a true Spartan.
"Being a true Spartan Racer is more a lifestyle and state of mind than the mark of a competitor. A true Spartan will stop at nothing to achieve their goal, whether that's to complete a race, get in shape or get a promotion at work — the desire to push oneself beyond what they thought possible and the actions one takes to get there is what makes a Spartan — and for that reason, Spartans come in all ages, shapes and sizes," Yotive said.