Rush hears Quakake, Hometown, fire merger plan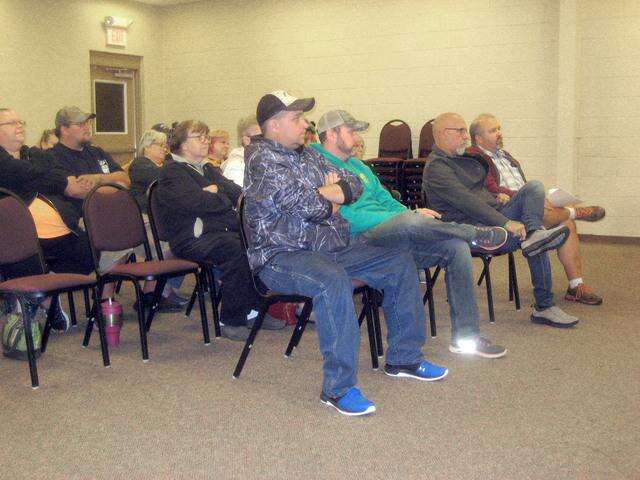 Published October 17. 2017 03:19PM
Representatives of the two volunteer fire companies in Rush Township met with township supervisors Monday to discuss the possible merger of the two organizations.
The idea of a consolidation of the Hometown Volunteer Fire Company and Quakake Volunteer Fire Company was proposed by the supervisors, with a special meeting held Sept. 18 between the supervisors and fire company officials to talk about the matter. Monday's meeting was a follow-up to last month's discussions.
About 20 people representing both fire companies and their auxiliaries attended. Speaking for their respective organizations were Hometown's President Barry Messerschmidt and Treasurer George Gerhard and Quakake's President Matthew Witkowski and Treasurer Justin Lindenmuth. The three supervisors — Chairman Shawn E. Gilbert, Vice Chairman Robert J. Leibensperger and Jeaninne Motroni — attended, as did township solicitor Christopher M. Riedlinger.
"We had some mixed reactions and mixed emotions in the fire company in terms of conversations we had with Hometown, and it was pretty positive," Lindenmuth said.
He said keeping the firetruck at the Quakake station was discussed in order to continue the firefighting presence in the community.
"Some of us are for it and some of us are not for it," Witkowski said about the merger.
Riedlinger spoke about the procedure for a consolidation and what each fire company has in their articles of incorporation and bylaws.
"One of the concerns that the township probably has is that if there is going to be a merger, fire companies are not municipalities. They're corporations," Riedlinger said.
With corporate mergers, Pennsylvania statutes must be followed.
Riedlinger said the township would take on time and expense in putting together a plan of merger together, but the township needs to know if there is a likelihood that a merger would be agreed to by both fire companies.
Gilbert asked, "So you're saying that the majority of Quakake firefighters who are active would approve?"
"I think so," Lindenmuth said.
Riedlinger spoke of importance of getting the articles of incorporation and bylaws from both fire companies in order to determine who could vote within each organization, such as firefighters only or if the ladies auxiliaries also can vote.
Leibensperger said that the township would also want audits going back five years.
How it would work
Gilbert asked Hometown representatives for their input. Messerschmidt said representatives met with Quakake to discuss the need to come up with a plan for a merger, joint membership and how fundraisers would continue.
"Since then, there has been word on the street, phone calls back and forth. The ladies auxiliary wasn't for the merger," Messerschmidt said.
"Our plan is to keep a firetruck in Quakake. When we first talked, the big concern was that they (Quakake) wanted to keep their name, which I can understand. The ladies auxiliary might want to break apart and start their own charter. In our fire company, the ladies auxiliary is a separate entity. There are a few of them who pay men's dues, but they don't vote. They have their own organization, but all the money they raise is turned over to us. Again, we don't have two buildings with separate oil and electric bills. Everything is in one pot."
"If there was a merger, would there be any large assets to get rid of because they're duplicative?" Riedlinger asked. "Or are you basically keeping all of the current assets (under one ownership)?"
"Our thought process is we would take over all the assets — both buildings, the property within the buildings, and the bank accounts," Messerschmidt said. "And we stated at that meeting that our intention is that if there's X amount of dollars in the bank (in Quakake accounts), we would take that money and keep it there to do renovations and truck repairs that needed to be done so it didn't look like we swooped in and took all the money and left. We want to keep that chunk of money in there to keep the truck and equipment up to speed."
There still is a question about what would happen with the Quakake building. It would be winterized, but whether the building would be held or sold has not been determined.
Keeping firetrucks
"Our main goal is to keep the firetruck side going," Messerschmidt said.
"What's Quakake's take on that? Did you talk about the same scenario?" Gilbert asked. Lindenmuth and Witkowski agreed.
Gerhard said there are two options — to merge or not to merge.
"If we were to assume fire protection for (Quakake), it would resonate out of Hometown," Gerhard said.
Gerhard suggested a decision be made by Nov. 1.
Messerschmidt said in the case of a merger, the Quakake building needs to be considered so that it does not become a burden on the consolidated organization.
"We want to keep a firetruck up there to be fair to the citizens of Quakake," he said.
"The board (of supervisors) is resolute that we are definitely going to make a decision at the meeting on Thursday (with funding)," Leibensperger said. "Whether or not Quakake and Hometown come to a resolution or agreement is up to you."
Quakake ladies auxiliary Vice President Debra Rogers spoke about preserving the firehouse, which was the village's three-room schoolhouse before being sold to the fire company.
"The people do not want to lose that building. That is our concern," Rogers said.
"We still want to be involved in Hometown. I would love to join their auxiliary and help out, but we don't want to give up that building that everyone has worked so hard for so many years and put so much blood, sweat and tears into it. We don't want to stop this and we need the fire protection."
Rogers said the auxiliary would consider purchasing the Quakake building and turning it into a community building.