Tigers roar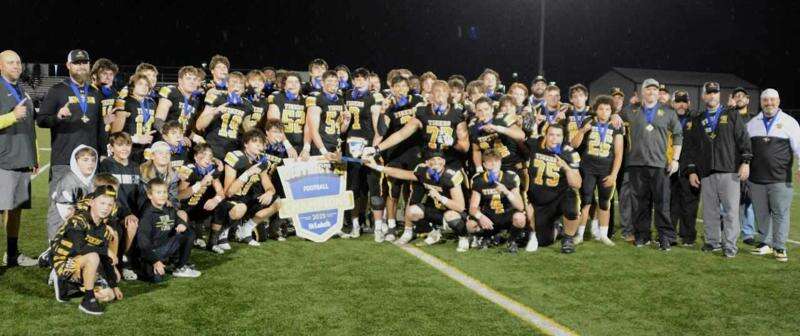 Published November 17. 2023 11:29PM
by PATRICK MATSINKO PMATSINKO@tnonline.com
All gas, no brakes.
Northwestern has played with a singular focus all season - one that had the Tigers speeding toward championship glory.
There was no stopping Northwestern Friday night, as the Tigers raced past Palmerton for a 58-8 mercy rule win in the District 11 Class 3A championship game to claim their second straight title.
Northwestern hit the ground running, with Eli Zimmerman zooming 51 yards for a score on the Tigers' second offensive snap, one play after Shane Leh hit Devon Hildebrand for a 15-yard gain.
"All that goes out to the coaches for trusting me and helping me out," Zimmerman said. "They really put a good game plan together for us, and we just executed really well. Everybody has to do their job, and that goes to them."
Unbeaten Northwestern (13-0) has executed throughout the season. And Friday night was no different.
The Tigers roared to a 43-0 halftime lead, and limited a dynamic Bombers' offense to 198 total yards in the game.
Palmerton (12-1) couldn't convert a fourth-and-eight from the Northwestern 34-yard line on its opening drive, turning the ball back over to the Tigers, who quickly seized momentum with Zimmerman's touchdown run.
"We didn't execute down there, and that hurt us with them getting that quick start," said Bombers head coach Chris Walkowiak. "The flood gates kind of opened there. We turned the ball over, and they made plays. My hats off to them
"They tackled, they stopped our outside run game, our inside run game, they won the battle up front. They're the real deal."
Northwestern forced a three-and-out on Palmerton's next two possessions and cashed in with Leh scoring from 11 yards out to make it 14-0 and Dalton Clymer punching it in from four yards out to push the lead to 22-0 on the first play of the second quarter.
After Landen Matson recovered a fumble by the Bombers on the ensuing kickoff, Leh hit Seth Kern in the end zone for a 40-yard score on fourth-and-16 to make it 30-0 with 10:50 left in the second quarter.
"I feel very comfortable," said Leh, a sophomore. "As a quarterback, a young quarterback, I'm still learning and just figuring different things out and seeing different things on the field. I was able to find Kern down there. It was a really nice play."
Palmerton moved into Tiger territory on its next possession, with quarterback Matt Machalik hitting Brayden Hosier for a 33-yard gain and Ty Sander for seven yards to move to the Northwestern 28-yard line.
But Eli Zimmerman struck again on the next play, making an incredible interception to end the threat.
"Defense has been a staple for us all year," said Zimmerman. "When the coin toss happened, we heard they wanted the ball. And we were like, 'Let's get it.'"
And they did, forcing three turnovers and holding a Palmerton a team averaging 43 points per game to a lone touchdown that didn't come until the fourth quarter.
The Tigers kept their foot on the gas, with Leh scoring his second rushing touchdown of the first half after a fumble recovery to make it 37-0 with 5:30 left in the second quarter. Clymer punched in his second score of the half, this time from three yards out, to push the lead to 43-0 in the final minute of the second quarter.
Clymer had 17 carries for 122 yards in the first half.
It was another big time performance from the senior, who had 34 carries for 249 yards and three scores in a showdown against previously unbeaten Southern Lehigh in the regular season finale that gave the Tigers the Colonial-Schuylkill League Gold Division title.
"That game against Southern was a very dominant win that I don't think anyone expected," said Clymer. "Nobody expected this tonight. But I think both of those games we knew there was a little bit more at stake. We were playing for a championship in both of them, and in both those games we stepped up.
"Tonight, our defense played amazing and was able to stop an incredible athlete (Machalik) over there. But this is definitely one of the two games (this season) for sure."
Hildebrand, who had five catches for 90 yards, scored on the Tigers' first drive of the second half, running in from two yards out to make it 50-0.
The Bombers got on the board in the fourth quarter when Sander scored from one yard out and Machalik hit Bryce Marino for a two point play to make it 50-8.
Brady Zimmerman finished the scoring for Northwestern with a 12-yard score with 3:09 to play.
There simply was no stopping - or slowing - the Tigers on this night.
"We were hungry," said Northwestern coach Josh Snyder. "We wanted to go back-to-back. I told them in the locker room before the game, 'We didn't get this far just to get this far.' It's just too special of a season for us to come up a game short of a district championship."
EARNING THEIR STRIPES
... The Tigers finished with 466 yards of total offense, including 309 rushing. Leh was 9-of-14 for 157 yards through the air with a TD, and had three carries for 44 yards and two scores.
BIG GAME TIGERS
... This is the fourth year in a row Northwestern has played for a district title. The Tigers were in the 4A final in 2020 and 2021.