Northwestern defense dominates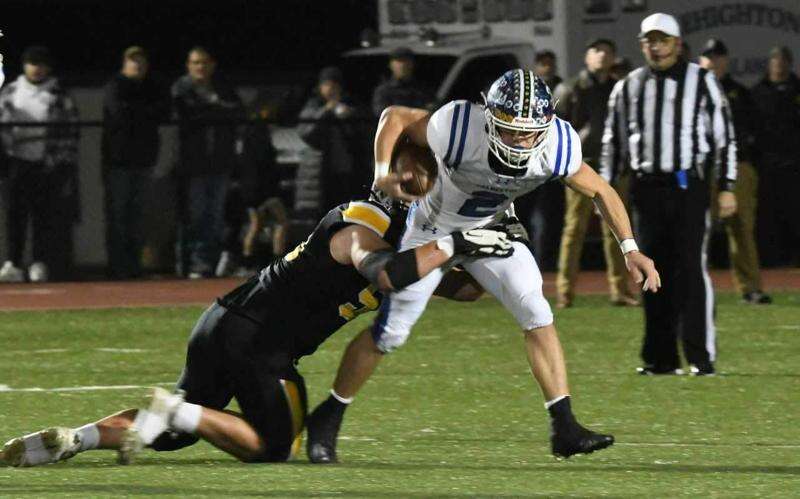 Published November 17. 2023 11:29PM
by brad hurley bhurley@tnonline.com
All season long, Northwestern Lehigh played championship-caliber defense.
Coming into its District 11 Class 3A title game matchup against an explosive Palmerton offense, the Tigers led the Times News area in both scoring defense and total defense - giving up just 9.8 points and 173.2 yards per game. Those numbers included three shutouts.
On Friday night, that championship-caliber defense produced championship gold.
Northwestern's defense was dominant, allowing just eight points to a Bombers' offense that was averaging 43 points and 431.2 yards per game.
"These kids are so great ... they work really hard," said Northwestern defensive coordinator Greg Mitchell. "We ask a lot of them. Different game plans every week. We watch a lot of tape and we put a lot of time into preparing.
"But we have great leadership. Five seniors on our defense that just do a great job of leading. We have a lot of really good players at the different levels of our defense and they love to fly around and make plays."
The Tigers' defense didn't waste any time setting the tone. With Palmerton getting the ball to start the game, Bombers All-State quarterback Matt Machalik broke a big run early, taking the ball into Northwestern territory. But the Tigers' defense responded, bottling up Machalik on the next few plays and forcing a turnover on downs.
The Tigers' speed and pursuit of the football was on display early and often.
"We wanted to come out strong and we wanted to come out fast," said Northwestern linebacker Blaine Snyder. "We knew they were going to want to get Machalik going early, but I think we did a great job on him all night.
"He didn't have too many big runs and we were able to limit their big plays."
The Tigers' defense didn't just limit big plays, they shut the Palmerton offense down in the first half. The Bombers' seven possessions in the half resulted in a stop on downs, three turnovers and three punts.
With the Tigers leading 22-0, their defense started to pile up the takeaways. The first came when they recovered a fumble on a pooch kick early in the second quarter. The next came when ball-hawking defensive back Eli Zimmerman came up with his eighth interception of the season at the 9:27 mark of the second quarter. The third takeaway of the quarter came on a sack that forced a fumble by Machalik and was recovered by the Tigers with 7:20 left in the first half.
Those takeaways led to two more Northwestern touchdowns and a 37-0 advantage with 5:30 remaining the half.
"I just think we had a good game plan and we were able to come out and execute," said Zimmerman. "Week-after-week our coaches put in a lot of hours to get us ready and prepare us.
"We were just able to come out tonight and make Palmerton uncomfortable. We took this challenge this week to heart and we got the job done."
The Bombers wouldn't score their first points of the game until early in the fourth against Northwestern's second string defensive unit, with the Tigers leading 50-0. At the end of the night, the Northwestern "D" held Palmerton to 198 yards of total offense - 233 yards below their season average.
"All week, we preached we had to wrap up and tackle. We couldn't have missed tackles against those guys," said Mitchell. "Machalik gave me nightmares watching him on tape and the things he can do with the ball. But our guys just honestly balled out. They flew to the ball. They gang tackled all night and forced turnovers.
"And our offense was great all night too. What a performance on that side of the ball. Just really proud of all these guys. It was a great effort tonight."