Kunkletown boy's wish to meet Tom Brady comes true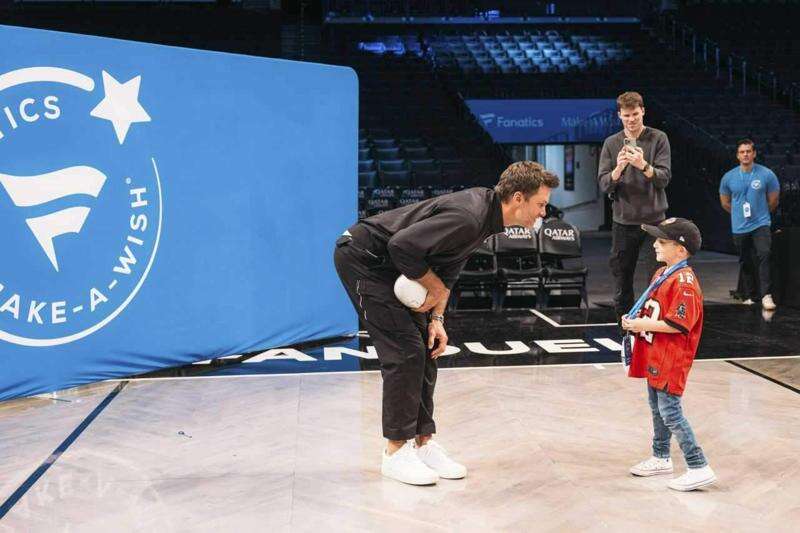 Published November 16. 2023 09:55AM
by JILL WHALEN JWHALEN@TNONLINE.COM
Francis Landis, 7, of Kunkletown, recently had his wish to meet football legend Tom Brady granted.
The encounter was made possible through a new partnership between Make-A-Wish and Fanatics, a leading global digital sports platform.
Through the partnership, Fanatics became Make-A-Wish's "official sports partner" and helps grant sports-related wishes. Make-A-Wish grants life-changing wishes for children with critical illnesses.
Landis was born with hypoplastic left heart syndrome, or a heart that does not have a left ventricle. He's gone through three major open-heart surgeries - the first was when he was 11 days old.
On his big day, Landis and his family traveled to New York City to meet the sports icon. Brady chatted with Landis and signed a jersey for him. He even spent time tossing a football back and forth to Landis.
But there was more.
New York Yankees outfielder Aaron Judge and Boston Celtics standout Jayson Tatum were also on hand to meet Landis and other Make-A-Wish kids.
The meeting was documented by "Good Morning America" and both Brady and Landis were interviewed by Will Reeve.
"Francis wanted a hug and a high-five, and that was the first thing we did when he walked in the door," Brady said.
Asked how his day went, Landis told Reeve it was "good" because he met Brady.
"He signed my football and two jerseys," Landis said.
"Fanatics has been championing Make-A-Wish and its incredible efforts for many years, and this partnership will be an ongoing testament to the power of sports and the possibilities for children to heal through connections to their favorite teams and sports heroes," said Orlando Ashford, chief people officer for Fanatics.
In addition to supporting wish granting, Fanatics will make a $10 million contribution and provide Make-A-Wish with additional resources - including merchandise and production costs for external storytelling efforts - to build a comprehensive partnership over the next several years. These efforts will close the gap in the number of sports wishes waiting to be granted, resulting in more children receiving their wishes sooner.
"A critical illness upends childhood, bringing months, and sometimes years, of fear and traumatic stress into the lives of children and their families," said Leslie Motter, president and CEO of Make-A-Wish America. "Our partnership with Fanatics will help us create transformative experiences that will leave a lasting, positive impact long after the wish, often marking a turning point in a child's treatment and recovery."