Colts have improved throughout season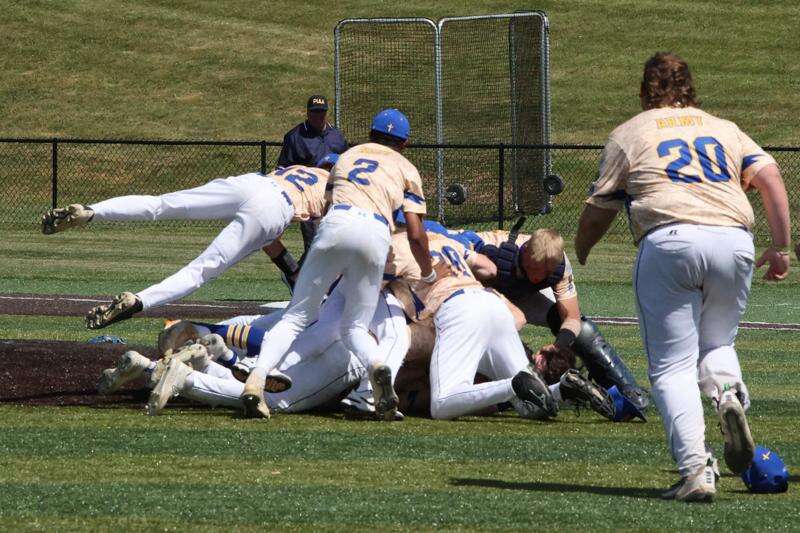 Published June 02. 2023 11:38PM
by Sam Matta tnsports@tnonline.com
Marian's baseball team had to find its way as the season progressed.
Early on, the Colts were riding more lows than highs. Getting the ship righted took some patience and positive vibes.
And all that led to a District 11 Class 1A championship, the first in several years for the program.
Tony Radocha said it was a "grind."
For Marian, it goes with the territory as this year's club had to battle through every opposing team's top hurler.
"No matter who we were playing, we saw the other team's best pitcher," said Radocha. "But, by the same token, it got us ready for this (time) of the year. Every team, from here on in will be throwing their best, and we can handle it."
Radocha is confident - as one can tell. That confidence has rubbed off on his team and the lineup, as they await Monday afternoon's state playoff game against Dock Mennonite at Methacton High School.
"During the early goings, I told the coaching staff and our players that we will be a different team in four-to-five weeks," said a prophetic Radocha.
It was a different team by the time May rolled around.
"We knew we had young talented players, with a nice group of veterans," he said. "It was more or less a case of new getting acquainted with the vets. Just like a chess piece, moving the players into the right position(s)."
That blend aged perfectly, so much so that the Colts picked up steam late in the season, and carried it over to the postseason - which led to a district title when they defeated Nativity 10-2 in the championship game.
Radocha says he hasn't scouted the Pioneers, but says they have to be good.
"All the teams are good, otherwise they wouldn't be in the (state) tournament," the Colts mentor said.
The District 1 champions bring in a gaudy 19-2 record. Their only losses have come to bigger schools - Holy Ghost Prep (20-5) and Souderton (13-6). The Pioneers started the season on an eight-game win streak before the first loss, and then ran off six straight before the second loss.
The team is coached by former major league and Phillies player Eric Kratz. His club won the district championship with a pair of wins, defeating Delaware County Christian (12-5) and defending district champ Faith Christian Academy (5-3).
Dock Mennonite boasts quality hitters, including a catcher who is a West Virginia recruit and a stud pitcher who is always around the plate and throws strikes, according to Radocha.
This Marian club is only the fifth team in school history to enter the state playoffs - and the program has been on the Hometown campus since 1965.
The Colts have a pair of hurlers who have garnered momentum, especially over the last couple of weeks. Pitching coach and guru Pete Radocha - father of the head coach - has been able to call on Brian Hinkle or Jake Bobish.
"They are both equal," said the elder Radocha, who is referred to as "The Wizard" by his pitchers. "We work hard at it, they listen, and they have seen results. As much as it is about mechanics, they have confidence in their abilities."
Radocha, the head coach, can work his team into a frenzy at the plate - small ball and all. The top of the order can produce early results or rally late in the game.
Hinkle usually leads off, senior Chase Petrilyak hits second and Mike Gelatko is a stud at three. The four-hold finds Joey Walko, a superb catcher, while Bobish is a kid that makes contact in the five slot, too.
"We can do a lot of things with that top of the order, and even when we get to the bottom half our kids can bunt and usually we are good at taking pitches," said Radocha.
The Colts can circle the wagons around sweet swinging Lachlan Segedy or steady players Cole DeFrancesco, Dylan Zullo and Brandon Klitsch. This group is capable of plenty of production, and there are no easy outs.
"We're very loose and confident, basically we have a team of athletes who plays baseball, and it was (up to us) to figure a way to unlock their athleticism and use it to the best of our ability," said Radocha.
The team has come a long way since late March, and now it looks to hit June with a quest for more wins.