Fresh Russian bombardment of Ukraine's capital kills at least 3 people, wounds others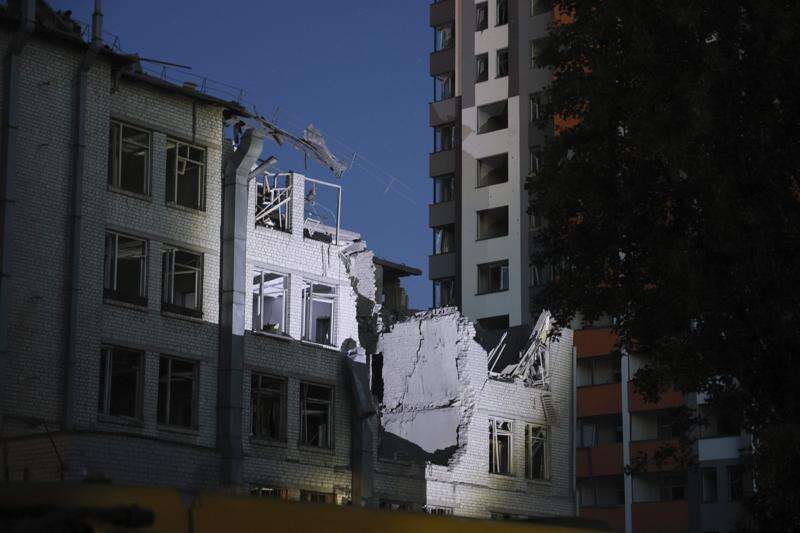 Published June 01. 2023 01:49PM
Russian bombardment of Ukraine's capital kills at least three people
KYIV, Ukraine - Russian forces began June with a fresh aerial bombardment of Kyiv on Thursday, killing at least three people and wounding others, authorities said.
Following a reported 17 drone and missile attacks on the Ukrainian capital in May, Russian forces hit the capital in the early morning with ground-launched missiles.
The Kyiv City Administration reported one child was among the dead, and 10 people were wounded. The casualty toll was the most from one attack on Kyiv in the past month. The attack also damaged apartment buildings, a medical clinic, a water pipeline and cars. Earlier, the city government had said that two children were killed before revising the number to one.
Trump returns to campaign trail in Iowa; DeSantis goes to N.H.
LACONIA, N.H. - Former President Donald Trump returns to the campaign trail Thursday as his chief rival for the GOP presidential nomination, Florida Gov. Ron DeSantis, is undertaking his first swing through early voting states as an official candidate.
Trump is back in Iowa nearly three weeks after canceling his last event, a large rally near Des Moines, due to a tornado warning, reluctantly ceding the spotlight to DeSantis as the governor crisscrossed the state ahead of his campaign launch.
Trump, who has spent the last few weeks attacking DeSantis on social media and mocking his glitch-filled kickoff announcement, has a series of events scheduled around Des Moines followed by a town hall airing on Fox News Channel on Thursday night.
DeSantis is coming off a two-day burst of stops around Iowa, which leads off the GOP presidential primary contest next year. On Thursday, he will be in the early voting state of New Hampshire, with stops scheduled in Laconia, Rochester, Salem and Manchester, before taking his campaign on Friday to South Carolina, another state high on the presidential voting calendar.
Reports: Prosecutors have tape of Trump discussing documents
WASHINGTON - Justice Department prosecutors have obtained an audio recording of former President Donald Trump from after he left office in which he talks about holding onto a classified Pentagon document related to a potential attack on Iran, according to media reports.
CNN, which first reported on the tape, said Trump suggested on the recording that he wanted to share information from the document with others but that he knew there were limitations about his ability to declassify records after he left office.
The comments on the recording, made in July 2021 at his golf club in Bedminster, New Jersey, would seem to undercut the former president's repeated claims that he declassified the documents he took with him from the White House to Mar-a-Lago, his Florida estate, after leaving office. The recording could also be a key aid for prosecutors looking to prove Trump knew his ability to possess classified documents was limited.
'That '70s Show' actor Masterson convicted of 2 counts of rape
LOS ANGELES - "That '70s Show" star Danny Masterson, 47, was led out in handcuffs from a Los Angeles courtroom Wednesday and could get 30 years to life in prison after a jury found him guilty on two of three counts of rape at his second trial, in which the Church of Scientology played a central role.
Masterson's wife, actor and model Bijou Phillips, gasped when the verdict was read and wept as he was taken into custody, while a group of family and friends who sat stone-faced behind him throughout both trials.
The jury of seven women and five men reached the verdict after deliberating for seven days spread over two weeks. They could not reach a verdict on the third count, that alleged Masterson raped a longtime girlfriend. They had voted 8-4 in favor of conviction.
Judge dismisses charges against energy company in fatal wildfire
REDDING, Calif. - A California judge on Wednesday dismissed all charges against Pacific Gas & Electric in connection to a 2020 fatal wildfire sparked by its equipment that destroyed hundreds of homes and killed four people, including an 8-year-old.
The utility also reached a $50 million settlement agreement with the Shasta County District Attorney's Office, officials from both announced in separate statements.
The wind-whipped blaze began on Sept. 27, 2020, and raged through rugged terrain and small communities west of Redding, killing four people, burning about 200 homes and blackening about 87 square miles of land in Shasta and Tehama counties.
In 2021, state fire investigators concluded the fire was sparked by a gray pine tree that fell onto a PG&E distribution line. Shasta and Tehama counties sued the utility, alleging negligence. They said PG&E failed to remove the tree even though it had been marked for removal two years earlier. The utility says the tree was subsequently cleared to stay.
- The Associated Press