PM East rallies to top Bears in D-11 final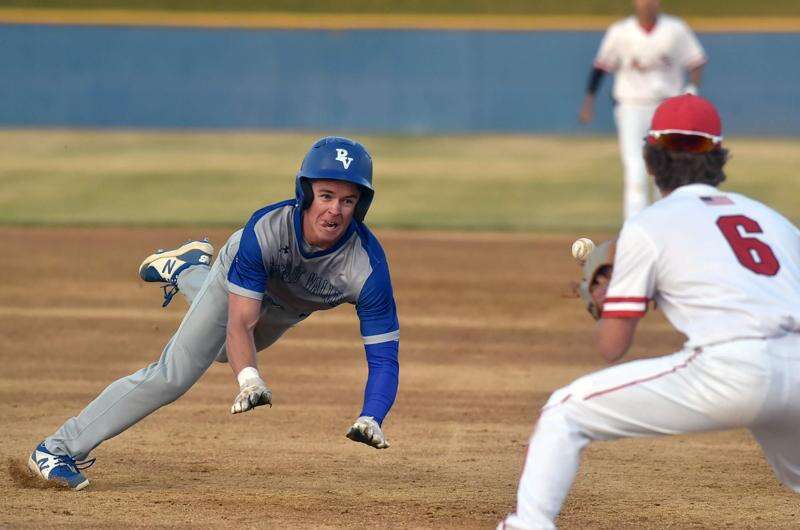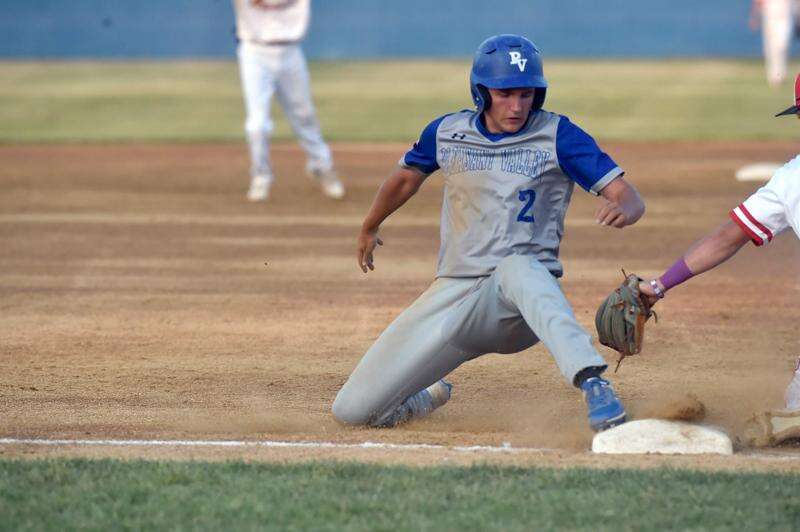 Published May 31. 2023 12:42PM
by Kyle Magda tnsports@tnonline.com
CENTER VALLEY - The District 11 Class 5A championship was anything but easy for the Pleasant Valley and Pocono Mountain East baseball teams.
But the Cardinals were able to erase a one-run deficit on Tuesday with two runs in the bottom of the sixth inning.
And East starting pitcher Gavin Sopko put together a 1-2-3 seventh inning to help the Cardinals secure a 4-3 victory over the Bears and the district title.
"I wish the seniors could've brought home the gold," Pleasant Valley head coach Joe Anderton said. "They worked their tails off. They're a great group of kids. I just wish they had something more to take home.
"It's funny how the sixth inning worked out. It's a line drive that pops out of the glove, and a pop foul that we just can't quite get to. We make those plays, and that sixth inning is completely different, and we're going into the seventh 3-2."
Pleasant Valley struck first in the third inning, which started with a leadoff walk to Austin Ratti. Shortstop Nathan Loch also drew a walk after Sopko got Anden Bordick to pop out.
Dakota Lucas singled up the middle to bring both Ratti and Loch home for the game's first runs. Jack Smale then tripled in Lucas to give PV a 3-0 lead.
Pocono Mountain East, which was the third seed, came right back in the bottom of the inning when Nate Meinweiser hit a two-out, two-run single to chop PV's lead down to one.
The game was mainly dominated by both starting pitchers to keep it a low-scoring game. Sopko went the distance for the Cardinals (16-6), and Nate Mostosky took the loss in five-and-one-third innings for the fourth-seeded Bears.
"Our problem was we let them stick around a little too long," Mostosky said. "Our offense couldn't get any more together. Congrats to them, Gavin pitched a good game and hit his spots.
"It got me off-balance. I was trying to do anything I could to throw strikes, and get quick innings because of my pitch count."
East was able to play a little small ball late in the game.
PV practiced one-run situations during the week, and the Bears were once again in a one-run game from the third inning on.
"They've done nothing but respond, and I can't say enough high praise for all these guys to go through the situations we went through practice, and all the scenarios we ran through," Anderton said.
"It's funny because we went through these scenarios this week in practice. We're holding a one-run lead, we're down a run, how we're going to manufacture runs, all those different things. Unfortunately, we couldn't produce."
Anderton took over the head coaching position during the season and got the Bears to the championship game.
"Murph should be here with us, and not only has he been a long time friend of mine, but also we've coached together quite a few years here and there in different spots," Anderton said of taking over for TJ Murphy.
"It's something I had to do. I didn't really want to have to do it, but for these guys, I didn't want it to be any other way. Familiarity with me, being part of the staff now for the past four years and sticking with the plan and the program and working their tails off, really kind of pushed them to get to this point."
Pocono Mountain East defeated Southern Lehigh 15-1 on Saturday, and both East and Pleasant Valley were coming off big wins at DeSales University to set up Tuesday night's matchup between the Eastern Pennsylvania Conference rivals.
The Bears knocked off top seed Bangor 4-3 in the semifinals.
SEASON COMES TO AN END
... The Bears wrapped up their season, and a nice PV run got them deep into the district playoffs. The Bears, who also qualified for the EPC tournament, finished the season with a 14-10 record.
ANDERTON ON SEASON AND FUTURE
... "We did what we had to do, and we were able to get the kids focused in practice, keep their energy and enthusiasm up, and I think that was key to getting us to this point," said the coach. "We have some young guys coming back. We have to see what it's going to take to win. We have some good young freshmen, sophomores and juniors that got some good experience this year. Hopefully, they can take a look at what we were able to do to get to this point and get us back here."
Pleasant Vy. 003 000 0 - 3 3 3
PM East 002 002 x - 4 3 0
N. Mostosky, Borger (6) and Walsh. Sopko and Price. W - Sopko. L - N. Mostosky.