Man breaks into mine attraction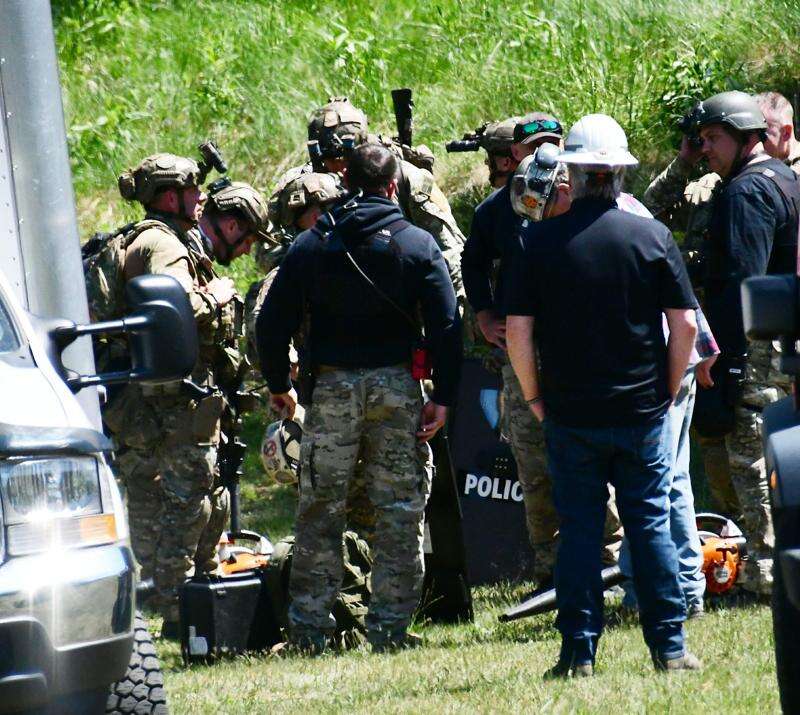 Published May 26. 2023 02:45PM
by Kelly Monitz Socha ksocha@tnonline.com
A Lehighton man faces multiple charges after breaking into No. 9 Coal Mine in Lansford and refusing to come out for nearly 13 hours.
David Eisenhower, 43, was discovered around 9:30 a.m. inside the defunct deep mine by workers when they found the padlock on the local tourist attraction cut.
The workers noticed smoke when they went in to investigate the break-in and encountered Eisenhower, who told them he had a gun, police said.
Eisenhower told the workers he had extinguished the fire, police said, but refused to come out. He had been inside the mine since 4 a.m., they said.
The mine was evacuated, and police were notified between 9:30 and 10 a.m., Sgt. Shawn Nunemacher said. In addition to Lansford police, the state Department of Environmental Protection Bureau of Mine Safety, Carbon County Emergency Management Director Mark Nalesnik, county Detective Jack Soberick and the Pennsylvania State Police Special Emergency Response Team responded.
By early afternoon, they formulated a plan to enter the mine using maps and resources from the No. 9 mine and museum, as well as Lehigh Anthracite, an active mining operation north of the historical site.
Soberick explained the man, who was not immediately identified, was 1,700 feet inside the mine which extends into the side of a mountain, and one level below an area normally open for tours.
Investigators believed he used a mule way to access the lower level of the mine, which is cold, wet and completely absent of light. Two more levels - a third and fourth - exist but are flooded, they said.
Eisenhower remained in an area in which he could move 200 to 300 yards to the north or south and there were some smaller tunnels off that level, Soberick said.
They said there was only one way out, but they were monitoring air vents which would be used as an escape route in case of an emergency.
No one saw a gun, but all involved treated the situation as if a weapon was involved and as Eisenhower had indicated, Nunemacher said.
Nalesnik said they were carefully planning how they would make entry into the mine, due to the hazards inside. The area of the mine involved was wet with water dripping off the walls, muddy in areas and had slick rock face in others, he said.
"Our main focus, and our chief focus, will remain the safety of everyone, including the person inside the mine," Nalesnik said at a 2:30 p.m. media briefing, minutes before state police and mine experts entered.
An ambulance stood ready at the No. 9 complex parking lot, and later moved closer to the mine entrance.
There were health concerns for the man inside, who they had no had contact with since late morning, Nalesnik said. He was believed to be wearing a hoodie, shorts and possibly had no shoes, as a pair was found on a landing inside, Nunemacher said.
The year-round 50-degree temperature inside the mine coupled with the dank conditions put Eisenhower at risk of hypothermia after being exposed for that many hours, Nalesnik said.
Hypothermia, which he said was a serious condition, can occur in a matter of a few hours. The Bureau of Mine Safety had people on the entry team ready to treat Eisenhower, Nalesnik said.
By 3:30 p.m., county District Attorney Michael Greek approved charges of burglary, trespass, reckless endangerment and terroristic threats on a John Doe warrant, as they did still did not know who Eisenhower was, Nunemacher said.
By 4:25 p.m., a mine train car slowly emerged with Eisenhower, who complied with police and came out with them.
Eisenhower stepped off the train with a red hoodie over his head and walked to the waiting ambulance. The only thing he said was that he didn't want to be around the media's cameras, Nunemacher said.
An officer went with him to a local hospital, where he was going to be evaluated and treated. Eisenhower, however, appeared to be OK, Nunemacher said.
He expected Eisenhower, who has ties to Summit Hill, to be arraigned Friday morning by video. Soberick expressed thanks on behalf of District Attorney Greek and the county Detectives Office for everyone who responded and worked together as a team on the incident.
Nalesnik said everyone's specialized training was evident and resulted in a positive outcome.
However, Soberick and Nalesnik believe that an entry into an underground coal mine for a man with a gun may have been a first for those involved.
"This may be one for the record books," Soberick said, possibly with the exception of police in the western part of the country dealing with drug cartel tunnels.
Police did not find a gun on Eisenhower, but searched the mine to determine if there was a weapon and if anything was taken or damaged.
The No. 9 Mine and Museum plans to open for business Friday, as usual, and everything will be fine for the picnic, car show and tours this weekend, said Secretary Dale Freudenberger late Thursday.