Monroe veterinarian, wife hurt in hit-and-run crash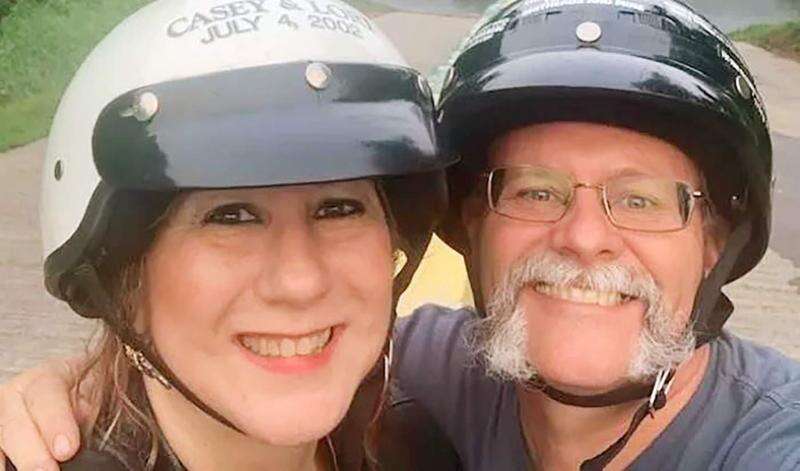 Published May 23. 2023 02:45PM
by Terry Ahner tahner@tnonline.com
The community has shown a deluge of support for a local veterinarian and his wife injured in a hit-and-run motorcycle crash.
A GoFundMe fundraiser has been set up to raise funds for Dr. Casey Weiss and his wife, Lori Weiss, who were victims of a hit-and-run crash while they were out on their motorcycle Friday evening.
Lori suffered a broken elbow, while Dr. Weiss sustained more serious injuries.
Dr. Weiss is the owner of Pocono Mobile Veterinary Services, Brodheadsville. Lori is also involved in the business.
Stephanie Prutzman started the GoFundMe, which had raised $2,550 of the $3,000 goal as of this morning.
Prutzman said Dr. Weiss is a close friend, co-worker and beloved veterinarian, and added the veterinary house call service is the couple's only source of income.
"I was blessed to have met Dr. Casey when he came on board at my vet clinic in 2014 before opening his own veterinary house call service," Prutzman said. "We instantly became close friends. Dr. Casey is one of the nicest and most caring people you will ever meet. He loves his family, his patients, and he has faith like no other.
"He gives up his few and far between "free time" to volunteer for the Boy Scouts and volunteer in his church. Dr. Casey has always been very dedicated to his clients and to his patients. Some days he would start the day as early as 7:30 a.m. to make that first house call of the day and not return to his family until just before midnight.
"Even when he is absolutely exhausted, he still finds the time to help out a friend in need of an ear. He is a loving husband, father, uncle, and friend. He takes much pride in his business and his family. He has such a compassion for people and animals. If everyone would be like him, this world would be a much better place.
Due to the events that happened on Friday, Prutzman said they are both out of work.
"We are unsure how long Dr. Casey will not be able to see his patients," Prutzman said. "Many people and their pets depend on him on a daily basis. I hope and pray that someone will find the person responsible for all the suffering that Dr. Casey, his family, and his patients are feeling right now.
"While we hope and pray this person is caught there is something we can do in the interim. Besides praying for a complete recovery for both of them, I am asking for donations to defer the costs of medical bills and lost wages. Dr. Casey has helped so many, now it's time to return the favor.
Lori posted the following online:
"Thank you for the prayers, love and support," Lori said. "If I am slow to respond, it is because I am exhausted and probably still in shock.
"Thank you for the shares and please keep it going. At this time I am not sharing info about the vehicle who did this.
"But if anyone on Neola Road has video footage of that road from an outdoor camera or doorbell video, please message me or contact Stroudsburg police.
Lori said the responsible person turned onto Neola Road sometime between 11 p.m. and maybe midnight.
"We did not wreck in front of the Old Mill Pizza. We were right in front of the old mill which is still under renovation," she said. She said her husband was able to sit in a chair, but he is still in terrible pain.
"And he's trying to figure out how to get back to his clients. He hates not being there for you.
"We truly love your fur babies. God will take care of us."
Police have not released a report on the incident.