Two spring chicken dishes that will satisfy the whole family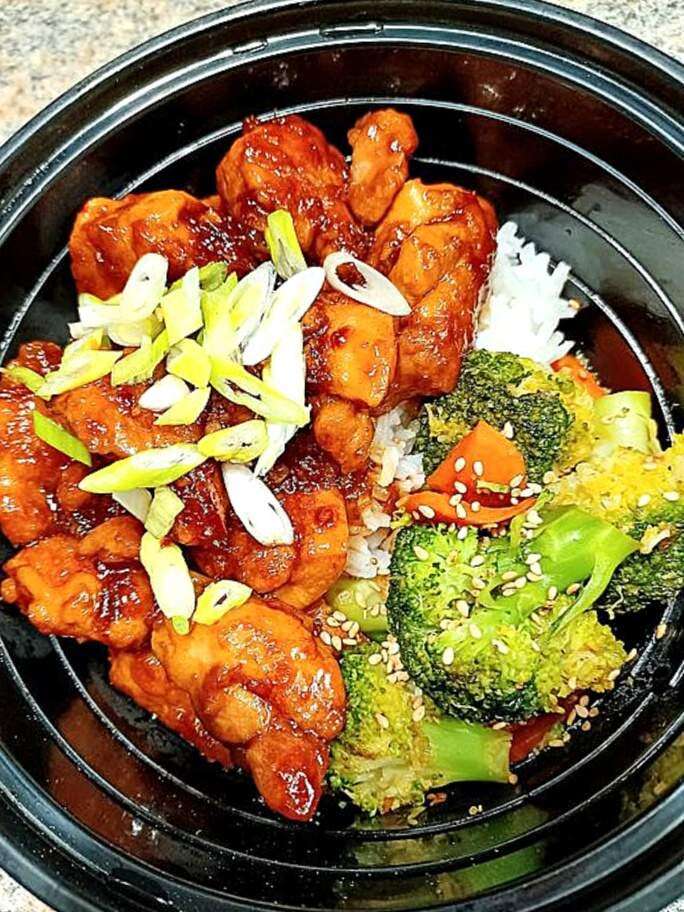 Published March 29. 2023 10:19AM
by Sarah Schweitzer tneditor@tnonline.com
Happy Spring!
If you're a busy family, easy recipes are a staple for busy weeknights, whether it is feeing two or a whole clan.
Soy Ginger Glazed Chicken is delicious and it only takes a refrigerator and pantry ingredients.
Sweet and savory, this chicken recipe is sure to please the family if you double this recipe. Using chicken thighs makes this recipe cost efficient and tossing in some steamed broccoli makes it a complete meal in a bowl.
If you like a more fruity flavor, chicken in a sweet sauce with fresh pineapple is a wonderful combination.
This recipe is fast, delicious, kid-friendly and great for entertaining.
Chicken is such a great source of protein.
Soy Ginger Glazed Chicken
Serves: 2 people
1 pound of boneless skinless chicken thighs, cut into one-inch pieces
½ teaspoon of salt, to season the chicken
2 teaspoons of corn starch
6 tablespoons of soy sauce
¼ cup of water
1 tablespoon of sugar
2 tablespoons of mirin
1 tablespoon of rice vinegar
1 teaspoon of chili sauce or sambal chili sauce
2 teaspoons of grated fresh ginger
1 clove of garlic, finely chopped
2 tablespoons of a neutral oil such as safflower oil
Sesame seeds, to garnish the plate
Fresh scallions, to garnish the plate
Steamed broccoli, optional addition
Toss the chicken in the corn starch and salt, cover and set into the refrigerator overnight.
In a bowl, mix together the soy sauce, water, sugar, mirin, rice vinegar and chili sauce. Set aside. In a saute pan over medium high heat, add the oil and heat. Add your chicken pieces from the refrigerator and sear on all sides until browned. Place in your ginger and garlic and turn the heat down to low. At that temperature, the garlic will not burn. Saute with the chicken for a minute or two.
Pour in the glaze. Turn the heat back up and bring all up to a gentle boil. Reduce to a simmer until the glaze is thickened and reduced.
Before serving, if you are adding broccoli, place in your steamed broccoli, and toss. Plate and sprinkle with sesame seeds and scallions. Serve steamed rice on the side or as a bed underneath. For a family, double or triple the recipe as needed.
Hawaiian Sweet and Sour Chicken
1 ½ pounds of chicken breast or thighs cut into 1 ½-inch pieces
Salt, to season the chicken
½ cup all-purpose flour, for coating the chicken
1 cup of all-purpose flour
2 tablespoons of corn starch
2 teaspoons of baking powder
½ teaspoon of baking soda
½ to ¾ cup of ice water
Pinch of salt
1 quart of frying oil, such as canola oil
1 tablespoon of canola oil, for batter
In a medium-sized bowl, mix the chicken and the salt together. Cover the chicken with plastic wrap. Then place the chicken in the refrigerator for 4 hours to overnight until ready to cook.
In a small bowl, place the 1/2 cup of all-purpose flour, set aside.
In a medium-sized bowl, mix together the remaining flour, cornstarch, baking powder, and baking soda. Whisk some of the ice water into the flour to make a thick batter. Then drizzle in the one tablespoon of oil at the end. Set the batter aside until ready to fry.
Heat the quart of frying oil. Coat each piece of chicken in the ½ of a cup of chicken, shaking off excess. Please the chicken pieces on to a wire rack until ready. Make sure that the heated oil is to 350 degrees Fahrenheit.
Preheat your oven to 250 degrees Fahrenheit, to keep cooked pieces of chicken hot. Fry each piece of chicken for 3-4 minutes until cooked through, allowing the cooked pieces on a rack to drain before placing in the heated oven.
Hawaiian Sauce
4-ounces of canned pineapple juice
2 peppers, one red, one green
½ red onion, cut into half-inch pieces
3 cloves of garlic, finely chopped
6 tablespoons of ketchup
3 tablespoons of rice vinegar
2 tablespoons of corn starch
2 tablespoons of water
3 tablespoons of granulated sugar
2 tablespoons of honey
¼ cup of water
Oil, for frying
Dash of red food coloring
Mix all of the sauce ingredients together except the pineapple, peppers, onions and garlic and set aside. Add about 1 tablespoon of oil to a nonstick skillet and heat over medium high heat. Add your peppers and onions and saute until slightly softened. Add the garlic and saute until fragrant. Add in the sauce ingredients including the pineapple. Bring to a boil. Mix the corn starch and water in a small bowl and pour that into the sauce now until it creates a thick sauce.
Place the cooked chicken into the sauce and gently combine. Serve right away, alongside cooked white rice.
Sarah Schweitzer is dual-certified in Culinary Arts and Baking & Pastry from the Escoffier School of Culinary Arts (www.escoffier.edu). She is a former line cook for Chef Robert Irvine at "Fresh Kitchen by Robert Irvine" which was located at the Downtown Allentown Market. Sarah is currently working as a Sous-Chef and pastry chef at Ateira's on First and has her own blog simplysarah.online. She can be reached at sarah.schweitzer18@gmail.com.