Under my hat: Speeders are coming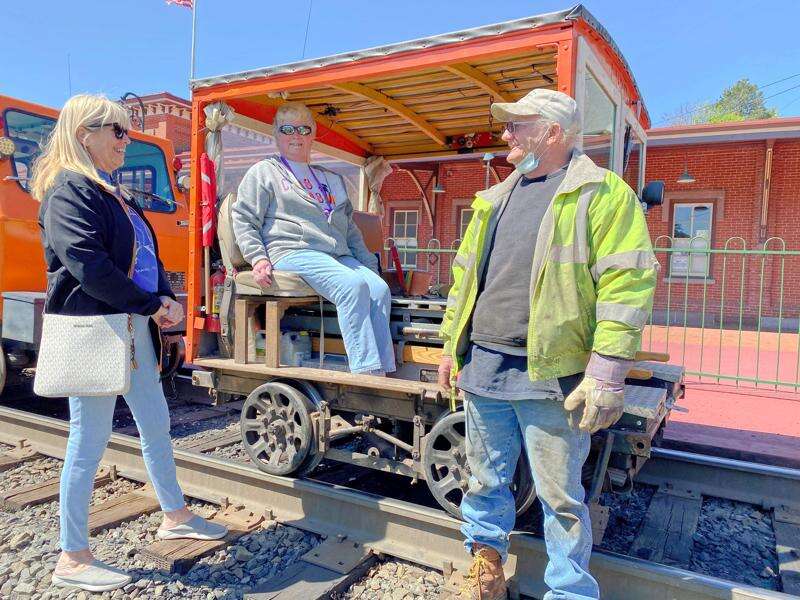 Published March 18. 2023 08:04AM
The annual mini-rail car visitors are coming back for the eighth straight year.
True to form, they'll be piloting and riding in fascinating speeder cars.
Bright and flashy, they're small motorized cars which once carried workers responsible for maintaining and repairing the railroad right of way.
Gas or diesel-powered, they carried tools and supplies. They were produced from the 1940s to about 1985. Today, they're privately owned curiosities.
They'll arrive at the Tamaqua train station heading north Saturday, March 25, about 10:15 a.m. Then, at 4 p.m., they'll come into town again, heading south.
It was 2015 when the 100 or so visitors first arrived and adopted Tamaqua. There are many different routes they take. But Tamaqua's historic 1831 rail line, one of the country's oldest and still active, is special they say. So they come and embrace the mountains, architecture and people.
"This is the one everyone wants to do," said car owner Eric Thompson of Indiana, at last year's event.
"This is the best, or one of the most premiere. It's the scenery, towns and villages, tunnels and trestles."
His group, the North American Railcar Operators Association, offers different routes in other states, but the Pennsylvania rails of Schuylkill, Luzerne, Carbon and Berks counties are a hit.
"They limit it to 50 cars and it sells fast. I drove 700 miles to ride here on the rails for 100 miles," he said.
Working for the newspaper, I've had the pleasure to greet the visitors each time.
After a few years, I came to realize something.
The speeder cars are unique, yes. But even more special are their owners.
A few years ago, I walked up to a stranger standing by his car, a 1943 Fairmont. I approached him because he was alone, idle, and looked to be a man about my age.
"Hi, I'm Donnie with the Times News, the local daily," I said, reaching out to shake his hand.
"Hello," he said. "My name is James Mead. I'm from Ithaca, New York. They call me Itchy."
"Oh, OK. How has your trip been going so far, Itchy?"
"Well," he said, his face falling to the ground, "my wife passed in October. We were married 38 years. This is my first time out without her."
He told me of his pain. How hard it's been. If you've lost somebody special, you understand.
His trip was bittersweet. His spirit, broken. I tried to offer comforting words. To cheer him. But he was unable to smile.
Just then two Tamaqua friends joined us. Sharon Haldeman and Marianne Bright. They enjoy attending social functions. Always up for fun. Life of the party. So full of spirit, laughter and love. Yet both know the pain of losing a spouse. Both went through what Itchy is dealing with.
Sharon and Marianne were fascinated by Itchy's speeder car, a unit without sides.
"In 1943, all of these cars were open like this one until the union told the railroad you need to provide weather protection," explained Itchy.
The two women made a fuss. I think Itchy absorbed the attention. And maybe needed it.
He allowed Sharon to climb up and sit in the seat. She was impressed by the height.
"Oh my gosh, I won't be able to get down from here," she said, laughing. We joked about calling 9-1-1.
I think I saw Itchy smile. Not a broad grin. Just a hint at first.
This was meant to happen, I thought. A few minutes with Sharon and Marianne is just what Itchy needs.
So I quietly backed away. I wanted Itchy to focus on new friends. Maybe he's learning to smile again at this very moment, I thought.
And if Itchy's heart is starting to heal, then all of us are on the right track.
Yes, the speeder cars are coming.
They'll be here Saturday. Colorful, imaginative, historic. Fascinating as can be.
But the warmest stories are with the riders.