Local roundup: Results from March 17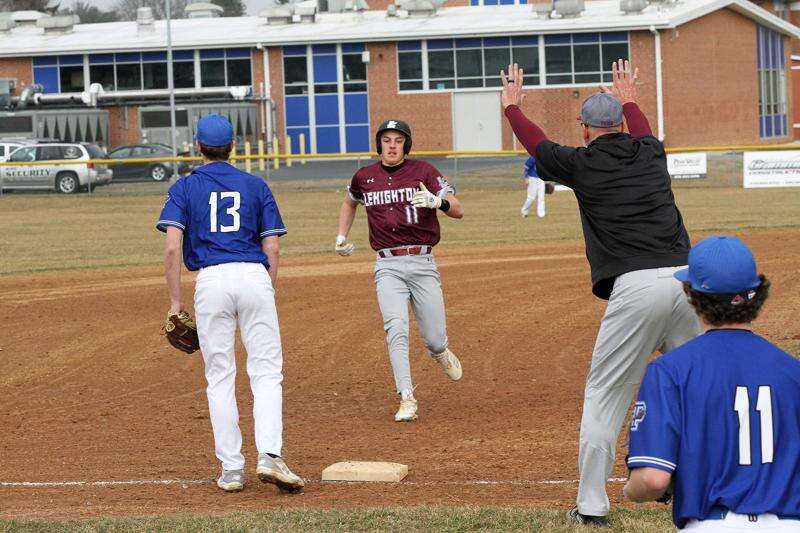 Published March 17. 2023 11:13PM
Northwestern picked up victories in baseball and softball action on Friday. The Palmerton baseball team also got a season-opening victory.
BASEBALL
Lehighton-Palmerton
Derek King had a pair of hits, two runs scored, and four RBIs to lead Palmerton to a 12-10 non-league victory over Lehighton.
King got plenty of support as the Blue Bombers banged out 10 hits and scored in five of their six at bats. Also contributing to the win were Cole Serfass (single, triple, two runs scored); Cameron Pengelly (double, two RBIs); Lukas Netznik (hit, two RBI); Daniel Lucykanish (hit, two runs scored); and Nate Steinmetz (hit, two runs scored).
For Lehighton, Ian Rarick had four hits and three runs scored out of the leadoff spot. Adam Baston added two hits, two runs scored and two RBIs; Michael Yeakel had a hit and two RBIs; and Aiden Rarick had a hit and two runs scored.
Lehighton 002 402 2 - 10 11 0
Palmerton 313 203 x - 12 10 3
Sensinger, Birnbaum (3), Keiser (4) and Light; Netznik, Reph (4), King (7) and Serfass. W-Netznik. L-Sensinger.
Northwestern-Freedom
A sacrifice bunt in the top of the eighth inning lifted Northwestern to a 4-3 win over Freedom in a non-league contest.
Wesley George dropped down a bunt to score Shaun O'Donnell from third base, who opened the inning with a leadoff double for the Tigers (1-0). O'Donnell advanced to third base on Robert Croneberger's fly out. Croneberger had an RBI double that plated George to open the scoring in the first inning. Justin Augustus and Joshua Lichman, who also had an RBI and a run scored, both doubled in the win.
John Phillips doubled in two runs in the bottom of the second inning to tie it at 2-2 for the Patriots (0-1). Freedom tied it at 3-3 in the bottom of the sixth when Kyle Kullman stole home.
Northwestern 200 001 01 - 4 5 1
Freedom 020 001 00 - 3 3 2
Moyer, George (3), O'Donnell (6); Hoffman, K. Kullman (6). W - O'Donnell. L - K. Kullman.
SOFTBALL
Northwestern-Tamaqua
A big third inning highlighted Northwestern's 13-3 non-league victory over Tamaqua.
Isabelle Akelaitis and Abby Dunstan each hit two-run homers in the six run third frame that helped the Tigers (1-0) take a commanding 8-1 lead. Akelaitis and Dunstan each finished with two hits and three RBIs. Rylee McGinley tripled and had three stolen bases, while Shelby Mitman doubled and finished with three RBIs. Emma Freeman allowed one hit while striking out six in four innings of relief for Northwestern.
Paige Bumbulsky was 2-for-3 with a double and two RBIs for the Raiders (0-1).
Northwestern 206 012 2 - 13 12 4
Tamaqua 012 000 0 - 3 5 5
Neumoyer, Freeman (4) and Toman; Bumbulsky, Linkhorst (3) and Krall. W - Neumoyer. L - Bumbulsky. HR: Akelaitis (3rd, one on), Dunstan (3rd, one on).