CCTI students create sheriff's office website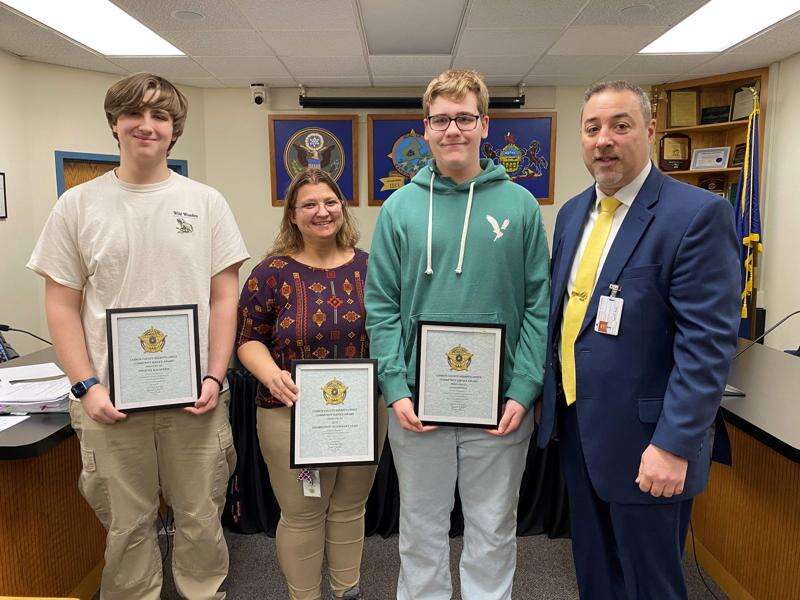 Published March 17. 2023 02:45PM
by Amy Miller amiller@tnonline.com
The Carbon County Sheriff's office now has a new website thanks to a partnership with a local technical education school.
On Thursday, Sheriff Dan Zeigler presented the first ever Sheriff's Community Service Award to two students and a teacher from Carbon Career & Technical Institute in Jim Thorpe. The school has several hands-on programs to teach high school students about various careers through education.
The students who received the award are junior Phoenix Kalavoda and sophomore Noah Bryfogle.
Zeigler said that the idea for an updated website for his office became apparent last year because the previous version wasn't user friendly.
He thought to reach out to Wendi Bartholomew, a teacher at CCTI, and started a partnership that would benefit the county, as well as the students preparing for their future.
"We really have a true gem here in Carbon County with CCTI," Zeigler said, noting that Bartholomew thought this would be a good project for her computer electronics engineering and technology class.
Zeigler worked closely with Kalavoda and Bryfogle to create a website that incorporates everything the department needs.
"They demonstrated initiative and commitment throughout the project and formed a new relationship between the sheriff's office and CCTI," he said. "I think it creates some amazing opportunities for us going forward" because underclassman will be able to maintain the website for the office in the future.
The new website sheriffcarboncounty.org is now live and provides visitors with resources such as submitting a tip, learning about services the sheriff's office provides, news and more.
Zeigler looks forward to a continued relationship with the school and hopes this will provide more opportunities for students to learn about the county, while also preparing for their future careers.
Bartholomew said that this was definitely a good experience and her class enjoyed working with sheriff and learn about that department.
Kalavoda said that it was great learning experience and will help him as he works toward his career.
"It's going to be a good thing on my resume," he said.
Commissioner Rocky Ahner commended the boys and said that the county should look at more partnerships with CCTI for various projects.