Furious Fillies' rally falls short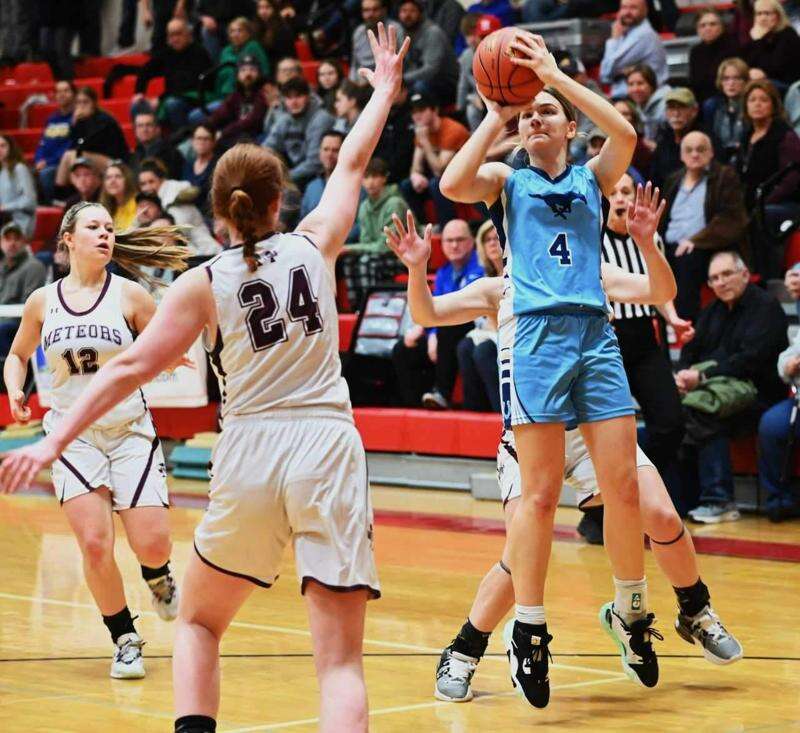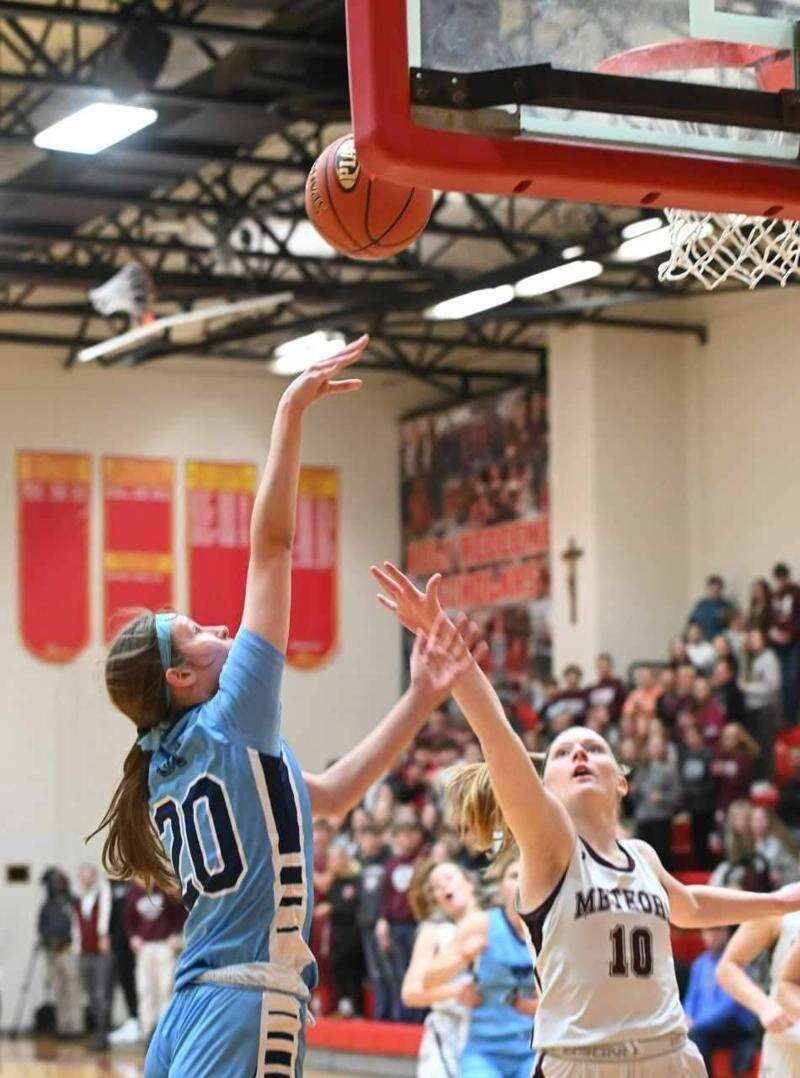 Published March 16. 2023 01:14PM
by Patrick Matsinko pmatsinko@tnonline.com
WILKES-BARRE – Todd Smith saw the similarities.
The Montrose girls basketball coach also understood the challenge in Wednesday night's PIAA Class 2A second round contest against Marian.
It was one that came down to the final seconds, with the Meteors holding off a furious rally by the Fillies to punch their ticket to the quarterfinals with a 49-47 victory at Holy Redeemer High School.
"They remind me of us," said Smith. "If you looked at us and looked at them, I watched quite a few films on them, I kept telling my team, I said, 'They're just like we are.'
"They shoot better than we do, all around. But size-wise, athleticism, kind of the same thing we are. And I told them the bottom line, who is going to win this game, it's going to come down to heart. And I thought we had it wrapped up early, then they showed that they had heart, and it ended up being nothing but a great ball game at the end."
Marian (25-3) rallied from a 17-point deficit at the start of the fourth quarter to trail by one with just over two minutes to go.
The Fillies caught fire with five 3s in the period, including three from Carly Minchhoff, who scored a team-high 20 points.
Kerrigan Digris hit her second three of the quarter in a span of less than 30 seconds to cut the Montrose lead to 48-47 with a little over two minutes remaining.
Mia Snyder hit one of two free throws for the Meteors with 25.4 seconds left to make it 49-47.
The Fillies were able to generate open looks in the closing moments, but couldn't convert in the final seconds.
"Really, that's been our grit all year, our fight," said Marian head coach Damian Fritz. "There are times throughout the year where we're down, and for the most part we are a second-half team. Even if we don't get out early, we play hard.
"I'm just extremely proud of the effort. We were down going into the fourth quarter, and I told the girls, the way that we shoot, and the way that we play, in the blink of an eye, you know you can come back. And before you know it, we were right there. So how can you be upset with that. I'm pretty proud of that. Obviously, this hurts, but on that type of note, as a coach, you're happy with the effort."
Montrose (22-4) never trailed in the contest. The Meteors led by four (14-10) at the end of the first quarter, and held a five-point advantage (23-18) at halftime as the Fillies were out of rhythm and in foul trouble during the first two quarters, while Montrose hit from beyond the arc and got open looks underneath.
Snyder, who finished with 21 points, hit three 3s in the third quarter, while Paley Adams added six of her 11 points to help Montrose build a 44-27 advantage after 24 minutes.
"That's our kryptonite, when we are out of rhythm, and we're not turning people over. We feed off of that, and we just couldn't get into that in the first half," said Fritz. "All I told the girls was ... all we have to do is keep it within a possession going into halftime. We were fine. I was fine with what was happening and where we were, with all the foul trouble.
"But that's a credit to all our other girls, because they stepped up and they did their job. So that bodes well for next year."
Minchhoff started a 9-0 run to open the fourth quarter with a three and a free throw to convert a four-point play, before adding another trey on the next trip down the floor. Marian held the Meteors to just one field goal in the fourth quarter, and outscored the District 2 champions 20-5 in the final period.
"It was hard, because our defense is good, and we couldn't even stop their offense," said Smith. "I think I called two timeouts to try and stop their offensive momentum, but they just kept it rolling. My hats off to that team, they work hard."
BIG SHOES TO FILL
... Marian will graduate three players from Wednesday night's starting lineup – Digris, Ashley Pleban and Fatikha Tikhtova. The group has played a key role in helping the program capture a District 11 Class 1A title a year ago, and a 2A crown this season and back-to-back Schuylkill League division titles.
COMING BACK
... Starters Minchhoff and Frankie Martinelli, who scored eight of her 10 points in the first quarter, will return next year as seniors for the Fillies, who figure to once again be in the mix for league and district titles.
MOVING ON
... Montrose will play District 1 champion Faith Christian Academy Friday in the quarterfinals.
MARIAN
Pleban 1-0-0-2, Digris 2-0-0-6, Martinelli 4-2-2-10, Minchhoff 7-2-3-20, F. Tikhtova 3-0-0-6, A. Tikhtova 0-1-2-1, Fritz 0-0-0-0, Thomas 1-0-0-2, Zimmerman 0-0-0-0. TOTALS: 18-5-7-47.
MONTROSE
Dalton 0-0-0-0, Keihl 0-0-2-0, Pompey 4-5-8-13, Mi. Snyder 6-3-6-21, My. Snyder 2-0-2-4, Adams 5-1-2-11. TOTALS: 17-9-20-49.
Marian 10 8 9 20 - 47
Montrose 14 9 21 5 - 49
Three-pointers: Marian - Minchhoff 4, Digris 2. Montrose - Mi. Snyder 6.