Snow, rain slam California as Michigan shivers without power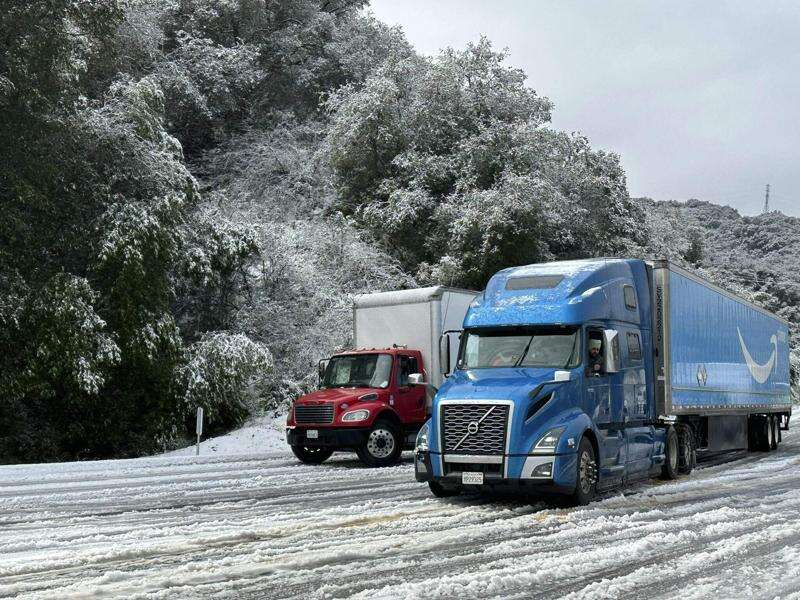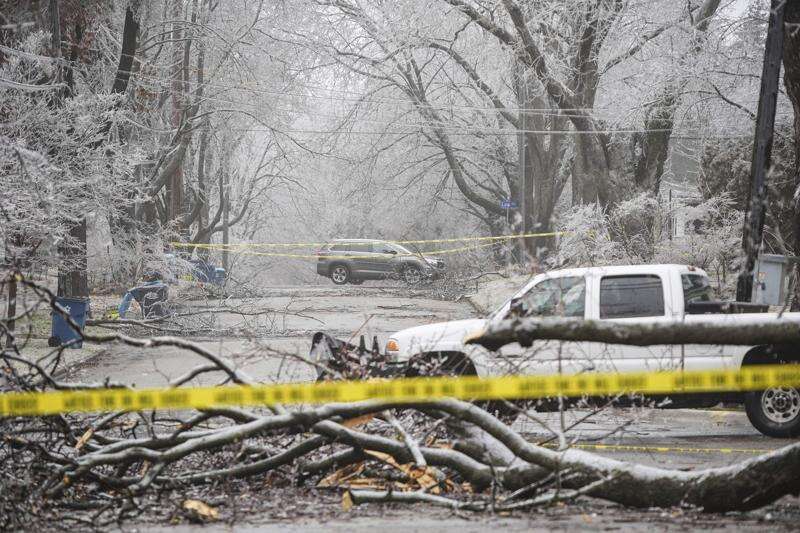 Published February 25. 2023 07:23AM
Snow, rain slam California as Michigan shivers without power
LOS ANGELES - Heavy snow and rain pounded California and other parts of the West on Friday as the nation's latest winter storm intruded, while thousands of people in Michigan shivered through extended power outages wrought by one of the worst ice storms in decades.
The National Weather Service warned of a "cold and dangerous winter storm" that would last through Saturday in California. Blizzard warnings were posted in the Sierra Nevada and Southern California mountain ranges, whereas much as 5 feet of snow was expected.
"Simply put, this will be a historic event for the amount of snow over the higher peaks and lower elevation snow," according to the regional weather office.
Interstate 5, the West Coast's major north-south highway, was closed south of the Oregon border as snow fell to the floor of the Sacramento Valley and in a high mountain pass north of Los Angeles, where blizzard warnings were in effect. Smaller roads also closed.
Forecasters warned of severe thunderstorms that could create waterspouts off the Southern California coast. A blizzard warning was in effect in part of Nevada.
Prosecutor: Alex Murdaugh 'fuzzy' about new details of case
Disgraced South Carolina attorney Alex Murdaugh faced intense questioning about his actions the night his wife and son were killed as the prosecutor challenged inconsistencies in his memory Friday at his double murder trial.
A day after revealing for the first time that he was at the kennels where his wife and son were shot shortly before they died, Murdaugh returned to the stand in his own defense. During cross-examination, prosecutor Creighton Waters grilled Murdaugh about what he repeatedly called the once-prominent lawyer's "new story" about what happened at the kennels on the evening June 7, 2021.
Waters asked Murdaugh if he meant what he told the jury Thursday - that he tried to help police find the killers.
"Other than lying to them about going to the kennels, I was cooperative in every aspect of this investigation," Murdaugh said.
"Very cooperative except maybe the most important fact of all, that you were at the murder scene with the victims just minutes before they died," Waters replied.
Navajo community wins fight to replace crumbling campus
TO'HAJIILEE, N.M. - A school tucked into the sandstone cliffs and juniper-dotted mesas of central New Mexico is fortified on one side by a wall of sandbags and an earthen berm. On the other side, melting snow puddles along the edges of classrooms.
Inside, caulking, paint and metal plates hide the cracks that have formed over decades in the block walls. With each rainstorm, the nearly century-old To'Hajiilee Community School on the fringes of the Navajo Nation sinks further into the ground.
The layers of bandages won't have to hold much longer. Residents of the small community off Interstate 40 recently learned that after years of raising flags about the school that lies in a floodplain, the latest federal budget included $90 million for a new campus.
"It's just unbelievable that we would ever have anything that great happen," said Paulene Abeyta, a mother and vice president of the school board.
To'Hajiilee Community School is just one of about 80 schools funded by the U.S. Bureau of Indian Education that are in desperate need of repair or replacement. The agency's priorities stretch across the country with schools in Maine, Wisconsin, North Dakota, New Mexico, Arizona and Washington.
Penguin to publish 'classic' Roald Dahl books after backlash
LONDON - Publisher Penguin Random House announced Friday it will publish "classic" unexpurgated versions of Roald Dahl's children's novels after it received criticism for cuts and rewrites that were intended to make the books suitable for modern readers.
Along with the new editions, the company said 17 of Dahl's books would be published in their original form later this year as "The Roald Dahl Classic Collection" so "readers will be free to choose which version of Dahl's stories they prefer."
The move comes after criticism of scores of changes made to "Charlie and the Chocolate Factory" and other much-loved classics for recent editions published under the company's Puffin children's label, in which passages relating to weight, mental health, gender and race were altered.
Weapons supervisor pleads not guilty in 'Rust' shooting case
A weapons supervisor charged with a felony for her alleged role in the shooting death of a cinematographer on the set of a Western movie pleaded not guilty during her first formal court appearance Friday.
Hannah Gutierrez-Reed and Alec Baldwin were charged last month with felony involuntary manslaughter in the shooting death of cinematographer Halyna Hutchins, who died shortly after being wounded during rehearsals at a ranch on the outskirts of Santa Fe in October 2021.
A New Mexico judge set conditions of release that allowed Gutierrez-Reed to keep a gun at home for self-defense. Her attorney told the judge his client has received numerous threats and was forced to file for a restraining order against a stalker. He said authorities released documents related to the case and failed to redact identifying information that included phone numbers.
- The Associated Press