Three-peat for Northwestern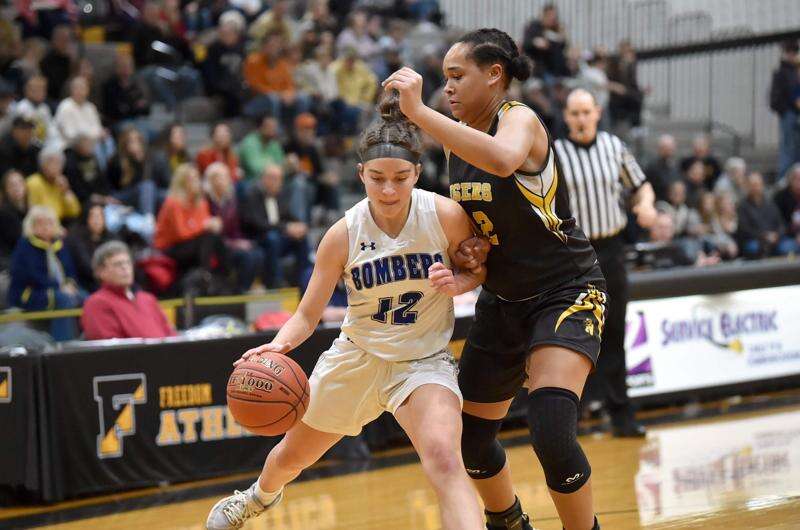 Published February 17. 2023 10:43PM
by Chuck Hixson tnsports@tnonline.com
BETHLEHEM - Palmerton coach Dan Beck drew up a final play for his team, and it worked. But only up to a point.
Bethie Morgan got the ball to Sydney Frantz, who dribbled across the arc and put up a shot from just outside the foul line.
What Beck did not count on was that Northwestern's Cara Thomas would be just to Frantz's right, and Paige Sevrain would be in front of her. The shot went up and immediately deflected off Sevrain's outstretched fingertips, landing in the hands of senior classmate Nina Miller.
Just as Miller dribbled across center court, the horn sounded the end of the game – and the start of the celebration, as Northwestern downed Palmerton 31-30 to win its third straight Colonial League championship, a record for the program. All three of the wins were against Palmerton.
"I'm really proud. It wasn't necessarily the prettiest game, but we gutted it out," said coach Chris Deutsch of his team's win. "All year long, the pressure has really been on us, and we gutted it out and found a way to win tonight."
It certainly was not the prettiest of outings for the Tigers (24-1), who trailed for much of the game. They trailed by five at the end of the first quarter, and finally tied the game on a basket from Brook Balliet that made it 14-14 with 1:59 left in the second quarter. The lead lasted just :09 before Morgan hit a foul shot, and then Frantz sank a three-pointer to put the Bombers up 18-14 at halftime.
Thomas, the second leading scorer this season for Northwestern, got into foul trouble with three first half fouls, but would not pick up her fourth until the final seconds of the game.
"Coming into the second half, I knew I had to play a little more reserved, but other than that, I just kept going for the ball and trying to play the best defense that I could," said Thomas, who has averaged 10.5 points per game this season.
Balliet and Thomas hit the first two buckets of the second half to tie the game again, but :22 later, Morgan put Palmerton (20-4) back on top with a driving layup. The teams went scoreless for the next three minutes until Balliet hit a three-pointer, and Rylee McGinley, who came off the bench in the second quarter to hit a three, dropped in another one to give Northwestern its largest lead of the night at 24-20. This time, the lead lasted for a whole :34 before Palmerton got back-to-back threes from Morgan and Hannah Barry, and led 26-24 after three quarters.
McGinley, a sophomore, was not done with her three-point show, and opened the final quarter with her third of the night, and Maci Fisher followed with her first basket of the night to give the Tigers a 29-26 lead with 5:39 left in regulation.
"This is super exciting," said McGinley. "Last year, I didn't play in the championship, so this time it felt really good to not only play, but contribute to this team. We had some rough points in this game, but we came through. It's really exciting."
How long would the lead last this time? As it turned out, it would be the longest stretch of the game that Northwestern led. Frantz made it 29-28 with 5:27 left, but the next basket would not come until the 2:50 mark, when Megan Matsko hit one of two foul shots to tie the game.
The shot of the night came with :32 left to play when Thomas found Balliet down low and got the ball to her. The sophomore made a move past a defender and put up a reverse layup to give Northwestern a 31-29 lead with :32 left.
Morgan hit one of two freebies with :20 remaining. At the other end, Northwestern played keep away until Palmerton would force a jump ball with the possession arrow in its favor, setting up the final sequence of plays.
"We knew coming out of the timeout just before that play that we had to play the best defense possible," said Miller. "I was just fortunate that my teammates made that play and I was there to get the ball so they couldn't get another shot."
"These girls always give me 100-percent effort," added Beck. "We just missed some shots here and there and made a couple of mistakes. Kudos to them (Northwestern), because they did a great job and did what they had to do. I thought if we held them under 35 points, we would have a really good chance. It's just disappointing."
THAT CHAMPIONSHIP SEASON
... Not only is this the third straight Colonial League championship for Northwestern, but its 23-game winning streak and its 24-win season are both records for the team. The season also saw Sevrain score her 1,000th point of her high school career. The Tigers will look to extend both of their winning records when districts get underway next week.
NOT DONE YET
... Palmerton will go into districts as the top seed in the 3A class. The Blue Bombers will play the winner of the pigtail round game between Pine Grove and Executive Education Academy in the district semifinals.
NORTHWESTERN
B. Balliet 5-0-2-11, Miller 0-0-0-0, Bissell 0-0-0-0, McGinley 3-0-0-9, Thomas 2-0-0-5, Fisher 1-0-1-2, Sevrain 1-2-2-4. TOTALS: 12-2-5-31.
PALMERTON
Frantz 3-0-0-8, Barry 3-0-0-8, Matsko 0-1-2-1, K. Balliet 0-0-0-0, Morgan 4-4-6-13, Baumgardt 0-0-0-0, Connell 0-0-0-0. TOTALS: 10-5-8-30.
Northwestern 7 7 10 7 - 31
Palmerton 12 6 8 4 - 30
Three-pointers: Northwestern - McGinley 3, Balliet 1, Thomas 1; Palmerton - Frantz 2, Barry 2, Morgan 1.