Palmerton tops Knights in triple OT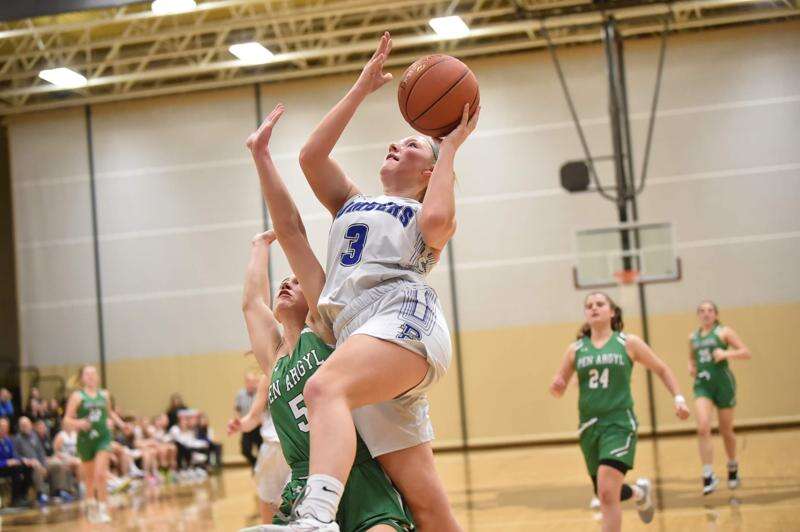 Published February 15. 2023 08:30PM
by chuck hixson tnsports@tnonline.com
If there are some groggy female student-athletes at Pen Argyl and Palmerton high schools today, you can definitely understand why..
That's because on Tuesday night they were involved in a game that could be considered an instant classic.
The game had 11 lead changes, a confusing foul call that resulted in a technical foul, and a potential game-winning shot that defied gravity and jumped out of the basket.
If that wasn't enough, it took triple overtime for Palmerton to earn the win and a trip to its third-straight Colonial League championship with a 68-67 victory over Pen Argyl at Catasauqua High School.
After a tight first half, Palmerton (20-3) came out of the locker room flexing its muscles and methodically pushed the lead to 11 with 2:24 left in the third quarter. Just when the fans in green were starting to worry, the Green Knights (18-5) got on their horses and senior Kayla Maggipinto nailed a three at the buzzer, cutting the lead to five.
"We came out in the second half feeling very confident," said Palmerton coach Dan Beck. "We wanted to try to put things away and we played well, but you have to credit Pen Argyl because they never let up on us. Their kids never hung their heads no matter what the situation was, and their coaching staff pushed all the right buttons, and it was a great game."
Pen Argyl not only scored the final five points in the third quarter, but also the first 10 in the fourth quarter. Ellianna Wallbillich accounted for seven straight points, capping her run with a long three that moved Pen Argyl back on top with a 40-38 lead. When the stretch ended, Pen Argyl had turned its deficit into a 43-38 advantage - the Green Knights' largest of the game to that point.
Palmerton got its first basket of the fourth quarter when Bethie Morgan drove the lane and made it 43-40 with 4:40 left in regulation. Undaunted, Pen Argyl pushed the lead to 47-40 with 1:45 left to play.
But Palmerton wasn't finished as Morgan scored five quick points to cut the Pen Argyl lead to a basket. After Wallbillich hit a foul shot with 1:00 left to make it 48-45, Sydney Frantz turned in some heroics by hitting a three-pointer with just :39 remaining to tie the game.
Palmerton got the ball back and with time running out, Hannah Barry let a shot fly from behind the arc that appeared to be halfway down before bouncing out as the buzzer sounded.
The first overtime ended with the score tied at 52-52.
A strange turn of events had officials searching their knowledge of the rule book to figure out a key situation in the game in the second overtime. With 2:00 left and the game tied at 56-56, an offensive foul was called on Palmerton's Megan Matsko. Pen Argyl sophomore Grace Weaver initially thought she was being called for the foul and argued with a referee who assessed a technical to give Weaver her fifth foul of the game, ending her night. Maggipinto hit one of her two foul shots and at the other end of the court, Morgan did the same in shooting the shots assessed on the technical to keep the game tied at 57. Morgan's foul shot was the first of four straight that Palmerton would hit as it took a 60-57 lead with :10 left. But Wallbillich hit her sixth three-pointer of the night as time ran out to again tie the game and bring on a third overtime.
Barry opened the scoring in the third OT with a three-pointer, and Palmerton went on to open a 65-60 advantage with 1:13 left to play.
Macy Kotulka was next up to turn the momentum as she hit a three - the 17th of the game between the two teams - and Pen Argyl drew to within two at 65-63. Frantz hit a foul shot for Palmerton, but Jillian Morro drove the lane for a basket at the other end to make it 66-65 in favor of the Blue Bombers. Knowing there would be a foul coming, Palmerton got the ball into Morgan's hands, and she hit both shots.
Pen Argyl was still not done. Morro put up a three-pointer with :03 left that could have tied it, but it bounced off the rim and Kotulka rebounded the ball and quickly put it up for a two-pointer to make it 68-67, but time expired to end the classic.
"We had made some bad decisions at times, but we also saw our kids play really well, so kudos to them," said Beck. "I would have hated for us to lose this game. When you coach in a game like this, it's pretty trying, a little hectic, but when you win, then it's fun."
THIRD TIME THE CHARM?
... Palmerton heads to its hird straight Colonial League final where it will again face Northwestern (23-1), the same team it ) faced in its last two appearances. The Tigers won both of the previous meetings.
PEN ARGYL
Wallbillich 8-3-4-25, O'Brien 0-0-0-0, Vargo 2-1-4-5, Morro 4-6-7-14, Kotulka 3-3-4-10, Maggipinto 1-2-4-5, Marshall 2-4-8-8, TOTALS: 20-19-31-67
PALMERTON
Baumgardt 0-0-0-0, Frantz 3-2-7-9, Barry 9-0-0-24, Matsko 0-4-6-4, Balliet 1-0-1-2, Morgan 7-9-13-25, Connell 2-0-0-4, TOTALS: 22-15-27-68
Pen Argyl 10 10 13 15 4 8 7 - 67
Palmerton 13 9 16 10 4 8 8 - 68
Three-pointers: PA – Wallbillich 6, Kotulka 1, Maggipinto 1; PHS – Barry 6, Morgan 2, Frantz 1