Kunkletown man charged in Capitol breach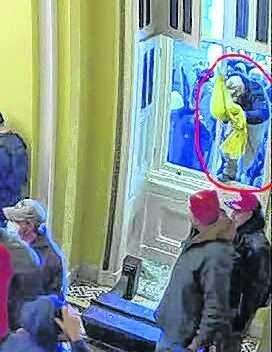 Published February 02. 2023 04:42PM
A Kunkletown man has been arrested on three felony charges, including assaulting law enforcement officers, for his actions during the breach of the U.S. Capitol on Jan. 6, 2021.
Court papers say his actions and the actions of others disrupted a joint session of the U.S. Congress convened to ascertain and count the electoral votes related to the presidential election.
Dustin Sargent, 30, is charged in a criminal complaint filed in the District of Columbia with obstruction of law enforcement during civil disorder, assaulting, resisting, or impeding officers, obstruction of an official proceeding, all felonies, entering and remaining in a restricted building or grounds, disorderly and disruptive conduct in a restricted building or grounds, engaging in physical violence in a restricted building or grounds, disorderly or disruptive conduct in the Capitol grounds or buildings, act of physical violence in the Capitol grounds or buildings, parading or picketing in a Capitol building.
Sargent was arrested Wednesday in Kunkletown. People reported seeing a strong police presence and helicopters in the area at the time of the arrest.
According to court documents, on Jan. 6, 2021, Sargent was among a crowd illegally massed inside the Capitol just outside of the rotunda dome.
He was captured on CCTV entering the building through a broken window at the Senate Wing Door on the west side of the Capitol, then leaving the building before making his way to the east side, changing his hat and jacket and re-entering a second time through the east rotunda doors.
Sargent was captured on video engaging in aggressive shoving with police officers at 2:36 p.m. In the video, members of the riot can be heard singing the national anthem outside doors to the Capitol and, once the national anthem ends, members of the mob, including Sargent, physically engage police officers. Sargent can be seen pushing an officer and grabbing another officer in an apparent attempt to physically force these officers and others away from the doors to allow other rioters into the Capitol.
According to officials, Sargent engaged in multiple assaults against these two officers during this exchange. In another video, Sargent can be heard telling a police officer defending the House Chamber, "You let us in there, you deserve a medal of honor."
The police did not let Sargent and the rest of the mob inside.
Cellphone key to arrest
Court papers say records obtained through a search warrant served on Google LLC, showed a mobile device associated with Sargent showed he was present at the Capitol between 2:15 and 5:03 p.m. on the day of the riot.
Police said a warrant served on A.T. & T. showed a cellphone identified as Sargent's, putting him at the scene. That was corroborated by video footage which appeared to be captured on mobile devices of persons present on the scene depicting evidence of scores of individuals inside the Capitol building without authority. Police said photographs and videos of several of these persons were disseminated vis social media and other open-source online platforms and those photos showed a male wearing a plaid shirt, ski goggles and tan pants that authorities say they identified as Sargent.
Meanwhile, in an online presentation, Philly Antifa, an independent Antifascist website out of Philadelphia, identifies Sargent as "Alan-PA," contending he is a member of Patriot Front, one of the most active neo-Nazi groups in the region.
The site says Sargent owns Sargent and Sons Masonry, 111 Stone Lane, Kunkletown, and states most of his customers "are mostly unaware of his affiliation with a neo-Nazi organization."
In Facebook posts from December 2020, Sargent discusses frustration with the results of the 2020 presidential election, and discusses what to do in response. Specifically, Sargent responds to a question about " … who do we fight?" Sargent responds in part that the fight will be with "traitors in our government" and " … cops and military …"
In another conversation dated Jan. 4, 2021, just two days prior to the events of Jan. 6, 2021, Sargent is asked directly how he think the protest is going to go. He states that he wants his wife to be able to come to the hospital if he is going to die, and that people in the government " … may be publicly hung."
In the 24 months since Jan. 6, 2021, more than 950 people have been arrested in nearly all 50 states for crimes related to the breach of the U.S. Capitol, including over 284 people charged with assaulting or impeding law enforcement. The investigation remains ongoing.
Anyone with tips can call 1-800-CALL-FBI (800-225-5324) or visit tips.fbi.gov.