Survivors of conflict to meet Pope Francis in Congo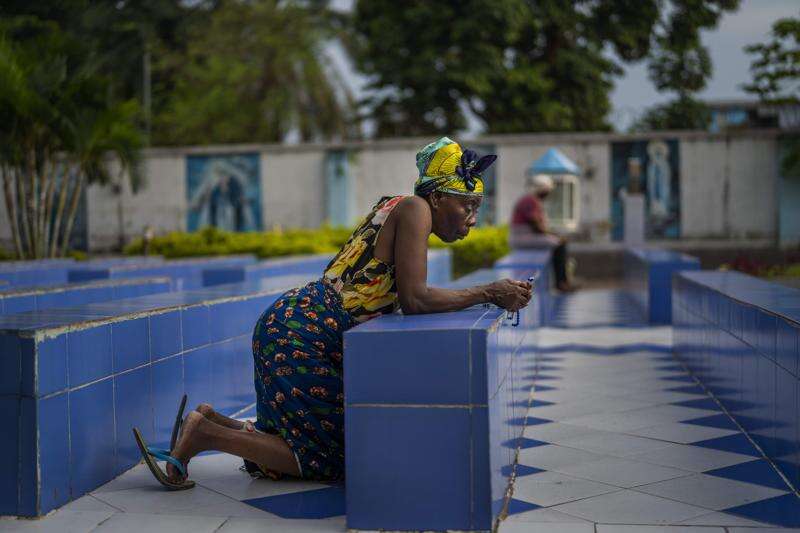 Published January 31. 2023 11:30AM
Survivors of conflict to meet Pope Francis in Congo
GOMA, Congo - It took years for Marie Louise Wambale to re-establish her life after fighting between M23 and the Congolese army forced her to flee with almost nothing more than a decade ago.
Like most Catholics here in eastern Congo, she hoped that Pope Francis could bring a message of hope at a time when the M23 rebels are posing their greatest threat here since 2012.
"Many people were disappointed because they wanted to welcome him to our home, for him to come here and live our suffering, to feel it with his own eyes," she said. "We wanted him to live it because there are many people who have fled the war. There are pregnant mothers who gave birth in the camps in very bad conditions - many women and children are suffering."
Now Wambale has been tasked with taking this message to Kinshasa, where she will be among the Congolese faithful chosen to personally meet Pope Francis.
His long-awaited visit to Congo and South Sudan next week comes after he postponed an earlier trip late last year that originally had included a stop in the volatile east. Insecurity, though, has soared in the months since so the pope is limiting his visit to Congo's capital, Kinshasa.
Shooters in central California killings of 6 still at large
VISALIA, Calif. - Two weeks after shooters brazenly killed a teen mother, her 10-month-old baby and four other members of her household, the suspects remain at large.
Authorities on Monday provided no motive for the attack in a central California farming community.
Tulare County Sheriff Mike Boudreaux has yet to describe the shooters publicly or provide any information about what he previously called the "assassination-style" killings, other than to say investigators believe they are gang-related.
Boudreaux did not take questions from reporters during a news conference Monday, his first public remarks since the day after the Jan. 16 shooting in rural Goshen. He also did not address whether anyone at the house was targeted specifically.
Biden to highlight grant for NYC rail tunnel under Hudson
WASHINGTON - New day, new tunnel.
President Joe Biden is ready to showcase a $292 million mega grant that will be used to help build a new rail tunnel beneath the Hudson River between New York and New Jersey, part of a broader effort to draw a contrast between his economic vision and that of Republicans.
The money is part of $1.2 billion in mega grants being awarded under the 2021 infrastructure law. The Democratic president's trip to New York City comes on the heels of his stop Monday in Baltimore to highlight the replacement of an aging rail tunnel there, where he pledged that government spending on infrastructure will boost economic growth and create blue-collar jobs.
"When America sees these projects popping up across the country, it sends a really important message: When we work together, there's not a damn thing we can't do," Biden said Monday. "There's nothing beyond our capacity."
Reports: New grand jury in NY examining Trump hush money
NEW YORK - Manhattan prosecutors investigating Donald Trump have convened a new grand jury to hear evidence in a years-old probe into payments made to keep the porn star Stormy Daniels quiet about an alleged sexual encounter with the former president, according to multiple news reports.
The news outlets, citing unnamed sources, reported that witnesses started testifying before the grand jury on Monday, signaling an escalation in what Manhattan District Attorney Alvin Bragg has alluded to as "the next chapter" in his office's Trump investigation.
A spokesperson for Bragg's office declined to comment. In a post to his Truth Social platform, Trump blasted Bragg as the "Radical Left Manhattan D.A." and said the new grand jury was "a continuation of the Greatest Witch Hunt of all time."
Baldwin charges could be filed today in deadly movie set shooting
SANTA FE, N.M. - Prosecutors planned to file felony charges of involuntary manslaughter Tuesday in the fatal shooting of a cinematographer by actor Alec Baldwin during a rehearsal on the set of a Western movie in 2021.
Cinematographer Halyna Hutchins died shortly after being wounded at a film set ranch on the outskirts of Santa Fe, New Mexico, on Oct. 21, 2021. Baldwin was pointing a pistol at Hutchins when the gun went off, killing her and wounding the film's director.
In recent weeks, Santa Fe District Attorney Mary Carmack-Altwies has outlined two sets of involuntary manslaughter charges in connection with the shooting against Baldwin and film set weapons supervisor Hannah Gutierrez-Reed.
Strikes, protests hit France in round 2 of pension battle
PARIS - Demonstrations were getting underway across France on Tuesday in the latest clash of wills with the government over its plans to push back the retirement age. Labor leaders aimed to bring more than 1 million demonstrators into the streets in what one veteran left-wing leader described as a "citizens' insurrection."
The nationwide strikes and protests were a crucial test both for President Emmanuel Macron's government and its opponents. The government says it is determined to push through Macron's election pledge to reform France's pension system. Labor unions and left-wing legislators fighting in parliament against Macron's plans are counting on protesters to turn out massively to strengthen their efforts to kill the retirement reform bill.
- The Associated Press