Diehard Eagles fans ready to toast a Super Bowl berth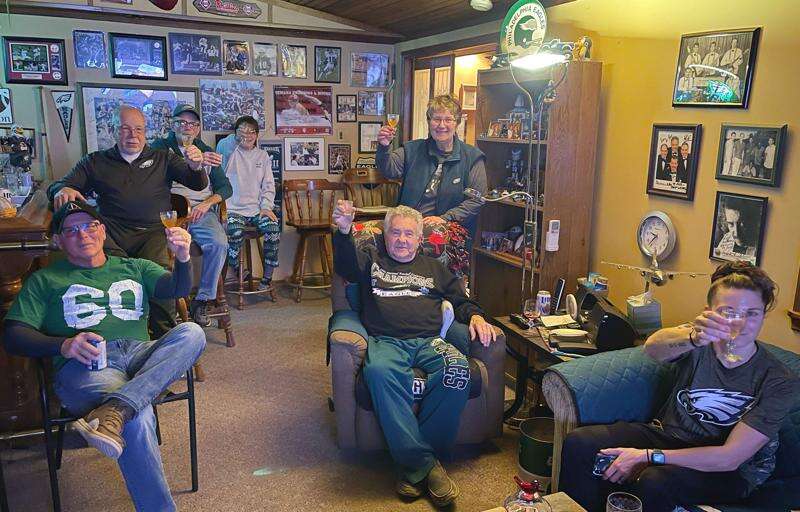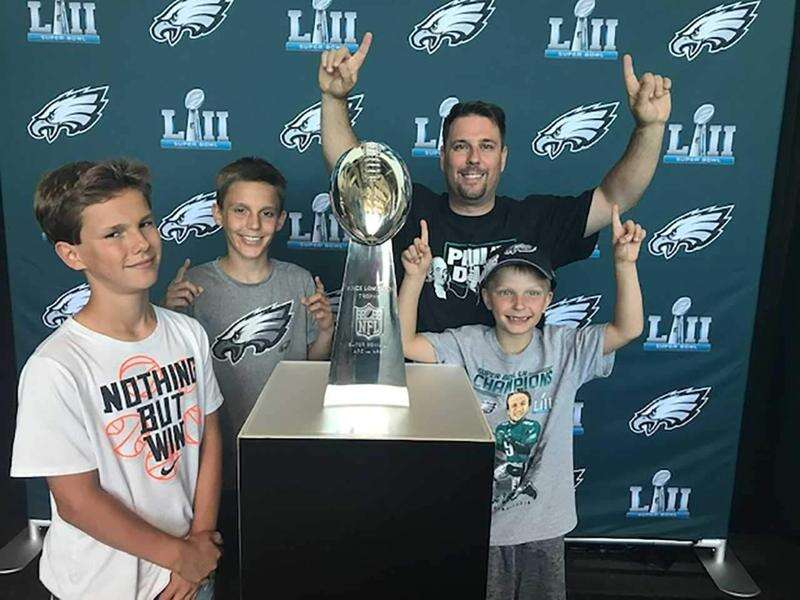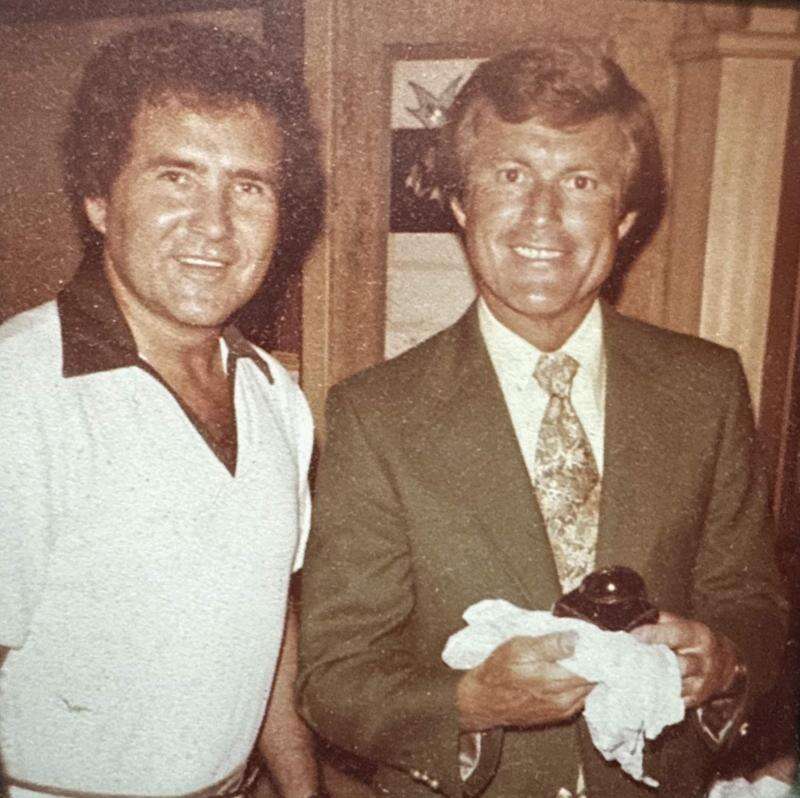 Published January 28. 2023 10:14AM
by RICH STRACK TNEDITOr@tnonline.com
The Bird is the word!
This Sunday, Philadelphia fans hope to be singing the victory song, "Fly Eagles Fly!" after they play the San Francisco 49ers in the National Football Conference Championship game at Lincoln Field.
Long time – every time
Two of those fans are Russell and Geri King of Coaldale. He has been a fan of the Green Machine since his high school days at the former Coaldale High School.
"We were season ticket holders for 35 years," said Russell, who recently sold his two seats for twice the amount they had paid for them.
"I go way back to when the Eagles played their home games at Franklin Field and our love for the team just mushroomed from then."
Russell mentioned the rising cost of going to the games through the years. Game tickets in the 1950s at Franklin Field sold for just a few dollars a seat. The team then moved to Veterans Stadium and of course, the cost for the games continued to rise. Top seats for this Sunday's game at Lincoln Field are selling for $1,600 each.
The Kings have their Eagles' family room all primed and ready to go for the 3 p.m. kickoff. A team sofa cover and an Eagles' wings throw rug centers around walls of pictures of past teams and autographs from players.
"I have an autographed football from linebacker, Chuck Bednarik who played in the 50s and 60s," said Russell. "I also have an autographed picture of Dick Vermeil who took the team to their first ever Super Bowl in 1980 which we attended. We actually presented him with a football carved out of anthracite coal. He got a real kick out of that."
Russell's wife of 54 years picked up her interest in football from her father's barroom in Lansford before she was married. When asked about her favorite player, she said, "I love them all, but for a reason I can't explain, I loved the quarterback, Roman Gabriel when he played for them a long time ago."
One big green 'family'
Dennis and Geri Vavra live next door to the Kings, their uncle and aunt. The Vavras were season ticket holders from the time the team played in Veterans Stadium until recently.
Dennis has been a Philly fan since 1960 when he was six years old and watched the Packers play the Eagles on TV.
"My dad was a big Eagles' fan back then and I used to hear him screaming at the TV whenever we watched them play."
He has drawers filled with helmets, T-shirts, and assorted memorabilia and along with the Kings, he and his wife watched the Eagles defeat the Patriots in the Super Bowl in 2018 at a local theater's showing of the game.
Geri Vavra holds onto memories of tailgating and traveling to Dallas and Chicago to watch their beloved Birds play. "Thank God Russell used to take us to the games in his large van. It was a torture to be outside when we tailgated so we would get warm in his van before going into the stadiums."
Both the Kings and the Vavras loved one extra benefit of having season tickets. "We got to know the people who sat in the same section we did because they were there at every home game, too," said Geri Vavra. "They became like a family to us."
Their niece, Lisa Vavra Hiles, remembered, "Some of our best memories were made traveling to Philadelphia in my Uncle Russell's van to see the Eagles play. I was so very glad that we could all buy our seat licenses together. Through good seasons and bad, we were there together. Those times were priceless to me."
"We always tried to get there early so that we could see the video of Rocky running up the museum steps and I'll never forget how I felt when they played the national anthem. So proud to be standing there with my family, thankful to all of the veterans who made this even possible. We were all in tears every game."
Close encounters
Aaron and Terri Sebelin from Palmerton are third generation Eagles' fans.
Aaron, a Jim Thorpe graduate and current Lehighton Elementary School principal, has been a season-ticket holder since 1996 and owns "tons of Eagles' memorabilia."
He has had close experiences with several past Eagle players. "My sister-in-law lived less than a mile from the Stabler Arena in Bethlehem where they trained so we saw players come and go a lot," he said. "We got to meet Brian Dawkins, Freddie Mitchell, and even Donovan McNabb at least 10 times and we got some great pictures with the players, too."
Aaron recalled being at the last game at Veterans Stadium and the first game played at Lincoln Financial Field in 2003.
"They aren't good memories," he said. "Tampa Bay beat the Eagles at the Vet in the NFC Championship Game and Tom Brady and the Patriots beat them in the first game at Lincoln."
At his school, Aaron plays. "Fly Eagles Fly!" over the loud speaker and he regularly wears different ties adorned with the Eagles symbols to work. Asked if he's been accused of influencing his young students to become Philly fans, he said, "Well, sure, and I got a call from a mother who said her family are Cowboys' fans, but her son came home and said he wants to be an Eagles' fan now," he added with a laugh.
His wife Terri, who grew up as one of five girls, is now surrounded by the male gender in her house when the games are on. "I'm used to being around sports my whole life," she said. "I'm happy to be an Eagles' fan, too, but in I don't think I'd have a choice," she said with a chuckle.
Predictions
To get to the Super Bowl, the Eagles have to defeat the 49ers on Sunday. So how do some of these ardent fans feel about how their team's chances?
"Pretty damn good," said Russell King. . "Our defense will be all over the 49ers rookie quarterback."
"I'm very nervous about the game," said Geri King, who while preparing food for their house party says she won't miss a snap of the ball because she can see the game from her kitchen on a smaller TV in their parlor.
"We'll win by 14 or 17 points," said Dennis Vavra.
"We have it all going for us," said Geri Vavra. "Home field. Great defense and all the momentum."
"The Niners won't win. They have to travel all the way across the country and Lincoln Field will be a hornet's nest for their rookie quarterback," said Aaron Sebelin, who will be attending the game with his three sons.
"The Eagles will win easily," said Teri Sebelin. "They're going to win the Super Bowl, too.'
Speaking of the Super Bowl, if the Birds beat the Niners, the chant will be ''Fly Eagles Fly" all the way to Arizona where the big game will be played on Feb. 12.