Gruber, Balk 2nd in Coal Cracker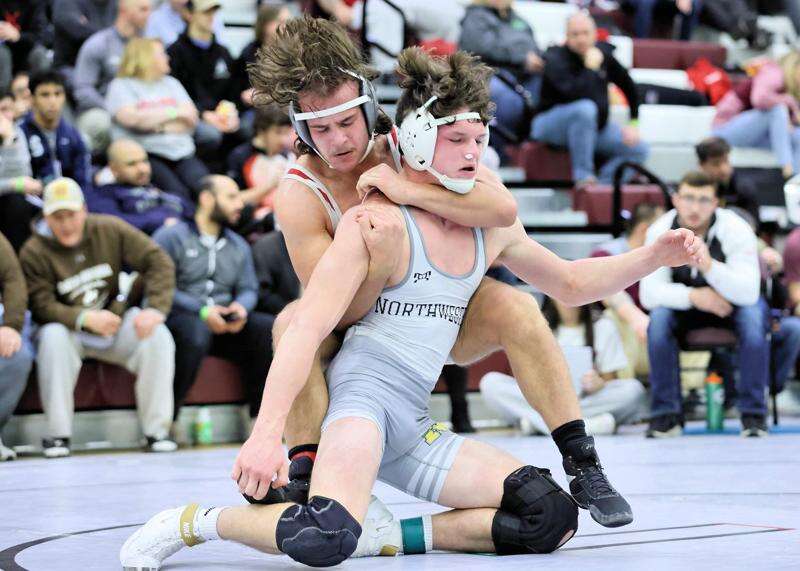 Published January 23. 2023 12:29PM
by Patrick Matsinko pmatsinko@tnonline.com
The Coal Cracker Tournament has turned into a proving ground.
It's an event that serves as a showcase for some of the best wrestlers throughout Pennsylvania and beyond.
It can be unforgiving. But it can also act as a measuring stick - and even a precursor - to the rapidly approaching postseason.
While there was no championship gold for area wrestlers at the conclusion of the event on Saturday at Lehighton's Elementary Center, the experience of navigating two days of top flight competition will pay dividends down the road.
Lehighton placed two wrestlers in the finals, with Aidan Gruber and Reese Balk both advancing to the championship round.
Gruber fell 5-1 to Sullivan County's Colton Wade in the 116-pound finals, while Maxwell Roy of St. Joseph's Prep topped Balk 8-2 in the 287-pound championship match.
"Having Aidan and Reese as finalists was outstanding," said Indians head coach Floyd Brown. "Last year, we didn't have anybody place here. So to get two in the finals ... those two really stepped up and performed well.
"And throughout our lineup, although we only had those two place, we had a few kids get to the round before placing, and they got a couple of wins in the wrestlebacks. So it was nice. It was good competition."
The 116-pound final featured a matchup of the top two seeds, but it was Wade, the second seed, who was able to control much of the match.
"I feel pretty good with where I'm at, but it was definitely good to wrestle a top tier kid," said Gruber. "He's ranked pretty high in the state, and it's good for me to see where I'm at against him. This is a tough tournament, with all the teams that are here. I fell a little short in the finals, but you win some and you lose some."
Wade (21-2) took a 2-0 lead with a takedown in the final 10 seconds of the first period.
After a scoreless second period, Wade - a state qualifier and runner-up at last year's Coal Cracker - got out from bottom to make it 3-0 early in the third, before getting a takedown around the midway point of the period.
Gruber (27-3) got an escape with 0:52 left in the third period, but wasn't able to overcome the deficit.
"He was definitely tough on top, and I noticed he was a little stronger than me, too," said Gruber. "When we were in neutral, I'm usually the aggressor in the match. But when we would tie up, he would be controlling me. He basically had control of me when we were on our feet ... and that just gave me perspective where I need to improve."
Gruber - who was also a state qualifier last season - was impressive in reaching the finals. The junior pinned Jim Thorpe freshman Steven Korte in 1:44 in the quarterfinals, before moving past Stroudsburg's Zachary Berwick with a 15-4 major decision in the semifinals.
Roy, the No. 4 seed, built a 4-0 lead in the first period against Balk with a takedown and two near fall points. Starting from the down position, Roy (19-3) pushed the advantage to 6-0 with a reversal early in the second period, and proved to be tough on top, keeping Balk down for much of the period.
With the pair starting on their feet in the third period, Roy got a takedown in the first 20 seconds to make it 8-0. After a reset near the midway point of the third, Balk (25-5) got a reversal to cut it to 8-2.
But Roy held on to secure the title and fend off any attempt at a rally.
"I didn't place in this tournament last year. I didn't even come close to placing last year," said Balk. "Coming in seeded 10th and being able to get second place, I knocked off three or four people seeded ahead of me."
Balk knocked off No. 2 seed Logan Kurzweg of Wilson West Lawn with a 9-2 decision in the quarterfinals. With the match tied 2-2 entering the third period, Balk used an escape early in the third period, before securing a takedown and two back points. The junior got two more near-fall points around the midway point of the third period.
"He was really strong," Balk said of Kurzweg. "It was a real confidence booster, especially the third period. I realized he was getting tired, and I was able to make some moves to get the upper hand on him."
Medalists
Four other area wrestlers also placed in the top eight on Saturday.
Northwestern's Dalton Clymer and Buck Miller, along with Korte and Northern Lehigh's Sam Frame, all finished on the podium.
A state qualifier last season, Clymer (28-3) rebounded from a tough loss in the quarterfinals with an impressive run through the consolation bracket. It started with a 15-4 major decision over Jarod Bullington of Selinsgrove Area. He followed that up with decisions over Hazleton's Robert Anderson and Palisades' Danny Haubert. Clymer then punctuated the run with a 3-1 decision over Wilson West Lawn's Blaise Eidle in the third-place match.
Eidle went ahead 1-0 in the second period with an escape, but Clymer answered with an escape of his own early in the third period to tie it before getting a takedown with 0:02 remaining to secure the win.
"A win is a win, they always feel great," said Clymer. "But some of these kids I'll be hitting further down the road. I know kids I've lost to, that's in the back of my mind when I'm about to wrestle them again, 'Man, I lost to this kid last time.'
"From a mental standpoint, it's huge to have that over your opponent. I'm just glad I was able to get those wins today where it counted."
Clymer lost by technical fall to Faith Christian Academy's Adam Waters (29-1) in the quarters. Waters, the seventh seed, went on to post a major decision in the semifinals, before winning the title with another technical fall.
"The loss is obviously not what I wanted, but to bounce back and take third - I'm happy with that," said Clymer. "I wrestled a good kid. Adam's (Waters) a great wrestler and good for him to finish on top. But I'm glad I was able to wrestle back. I'm happy with how I finished."
Miller (24-5) - who also reached the quarterfinals and qualified for states a season ago - came back to place seventh with a 14-3 major decision over Central Dauphin's Eli Poyer at 191 pounds.
Korte (22-6) capped his tournament with a 9-1 major decision over Wilson West Lawn's Isaac Eidle in his 116-pound seventh-place match.
Frame (16-10) fell to Stroudsburg's Nicholas Khamis 3-2 (UTB) in his 287-pound seventh-place match.