Arner facility adds runway lights, fuel tank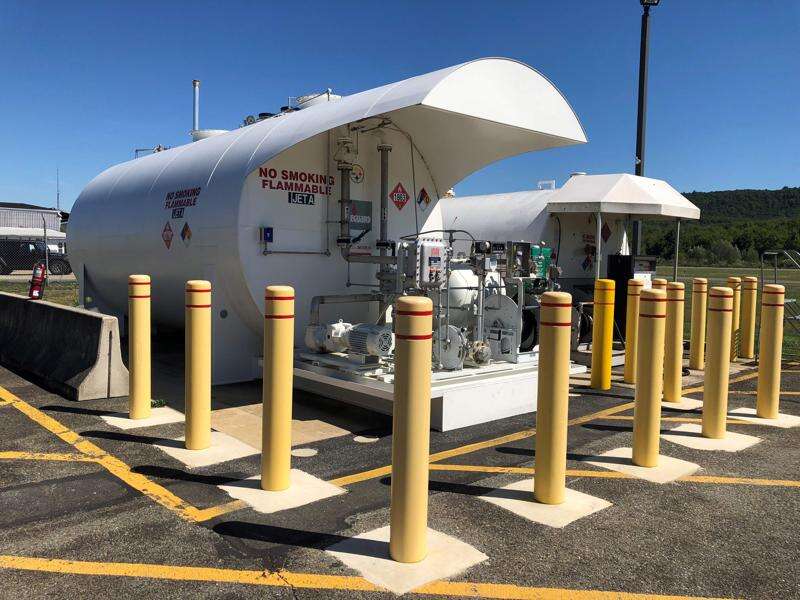 Published September 24. 2022 07:38AM
by Kristine Porter kporter@tnonline.com
In addition to the two new construction projects being planned, the Jake Arner Memorial Airport recently completed the installation of new runway and identifier lights and a new fuel tank for jet fuel.
Paul Smith, manager of the airport and chairman of the Carbon County Airport Authority, said the bright lights help pilots see where to land, especially in pour visibility.
"They show the pilot where the end of the runway is in fog, rain or snow," he said. "You don't have to actually see the macadam of the runway. You see these two flashing, white lights and know there's a runway between them."
The new fuel tank was installed because the other one was about 24 years old.
Smith said that a jet fuel tank has to be either made of stainless steel or be coated on the inside with an epoxy lining to prevent contamination.
The new tank holds 12,000 gallon of Avgas and is larger than the previous tank and holds more gas. This brings down the cost per gallon for pilots who stop by the airport to purchase gas for their planes.
Smith said that the airport pays the same amount for shipping whether they buy 12,000 gallons or 2,000 gallons, so if they have more gas to sell, it is not as expensive for them to sell gas.
Smith said he likes to keep the cost of fuel low, because it helps flight schools keep their prices affordable and brings in customers. Pilots look for the best fuel prices and will touchdown there to fill up. In addition to Avgas, the airport also offers Jet A Fuel for $6.16 per gallon.
"We have the cheapest fuel in a 50-mile radius," Smith said. "Our fuel is $6.45 per gallon for aviation fuel. The average airplane will burn nine to 10 gallons of fuel per hour. In an hour of flying, you're burning $65 in gas. That's where a lot of the expense is coming from. … Owning an airplane is like owning an RV or a boat. It's your hobby. It's what you enjoy and unfortunately, they all cost quite a bit."