Unbeaten Bears host PM East in Bucket Game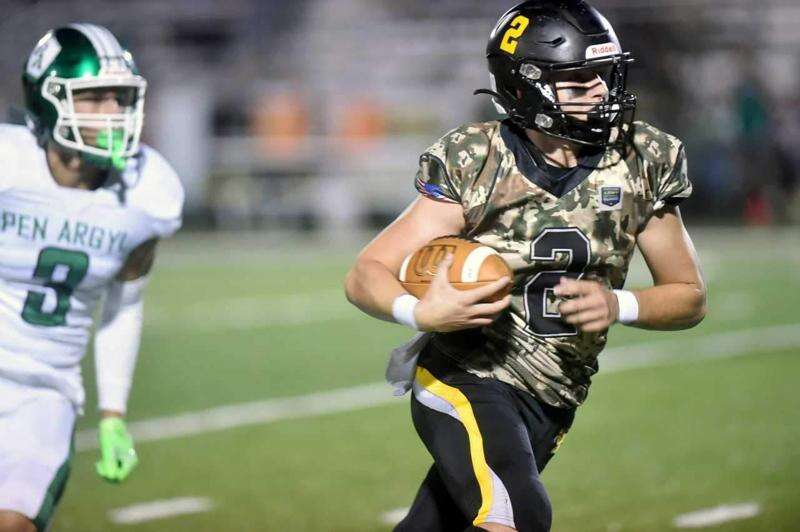 Published September 22. 2022 01:09PM
Pleasant Valley will look to keep its undefeated start this week against rival Pocono Mountain East in the battle for the Old Oaken Bucket on Friday night.
PM East at Pleasant Valley
When: Friday, Sept. 23, 7 p.m.
Storyline of the Week
: Can Pleasant Valley retain the Old Oaken Bucket and improve to 5-0?
Pleasant Valley is off to a 4-0 start, and is coming off a 41-16 win over Dieruff at J. Birney Crum Stadium last Friday after the offense got off to a slow start in the game. "The final score was not real indicative of how tight that game was," PV head coach Blaec Saeger said. "It was a win, and we'll take it. It was a dangerously slow beginning. We knew we might take a little while coming off the huge win against South and knowing we had the East game coming up, it was a trap game. We tried to stress to the kids all week not to fall into it and make sure we're focused. The defense kept us around." PV trailed Dieruff 16-6 at one point before scoring 35 straight unanswered points to pull off the victory and finished with 181 yards rushing. Saeger noted the defense took over the game when the offense wasn't able to get going. "It was all them for about two-and-a-half quarters," Saeger said about the defense. "They kept us it in when we couldn't do much offensively. We got beat on one pass play in the second half and other than that, they did very little against us. It was a team effort." Next up for the Bears is longtime rival Pocono Mountain East (1-3). The Bears easily took care of the Cardinals last year at Swiftwater with a 42-8 victory in the Bucket game. Pocono Mountain East got off to a slow start this season after losses to Stroudsburg and East Stroudsburg North. The Cardinals picked up their first win of the year against Allen, escaping with a 24-22 victory over the Canaries at J. Birney Crum Stadium in Week 3. East held East Stroudsburg South to six points in the first half last week before falling to the Cavaliers 28-6 at the end. Pocono Mountain East runs a similar-type option offense to that of Pleasant Valley, and the run expects to be in full force come Friday night. "They're a first-year option team, and I know how difficult that is to do," Saeger said about the option. "You get just better every week, and you can see they're getting more comfortable with it. The defense is improving dramatically. This is not the team that went to North and lost a few weeks ago. They've improved dramatically, and we know they're going to give us their best shot. They're going to be ready for us, so we have to make sure we're on our game."
Players to Watch:
Angelo Syracuse, Pleasant Valley
Syracuse made his first start for the Bears Friday night against Dieruff and made a big stop on a Dieruff fourth-and-three to get PV the ball back and lead to another score. His brother, James, also played for the Bears the last few seasons, and now the younger Syracuse is getting a chance to showcase his efforts.
Gavin Bauman, Pleasant Valley
Pleasant Valley had to go to the passing game briefly against Dieruff, and Bauman caught a big pass from junior quarterback Valentino Byers-Robinson when the run game started to slow down. Saeger said earlier in the season the team was prepared to throw the ball in case the run game wasn't being as effective. Bauman can emerge as one of Robinson's main targets if the Bears have to throw the ball.
Salisbury at Tamaqua
When: Friday, Sept. 23, 7 p.m.
Storyline of the Week:
Blue Raiders look snap two-game slide.
It's been a tough start to the season for Tamaqua (1-3). A young Blue Raider team was tossed into the fire, facing powerhouses North Schuylkill, Northwestern and Notre Dame - currently the top three teams in the District 11 Class 3A rankings - during the first four weeks of the season. In addition, Tamaqua lost two-way standout Warren Stewart - its top returning player from a season ago - to an injury in the second game of the season. Stewart hasn't played the last two games and is more than likely out for the season. With a tough opening stretch behind it, Tamaqua will look to get back on the winning track Friday night when winless Salisbury (0-4) visits. The Falcons have lost to Panther Valley (20-13), Saucon Valley (27-7), Jim Thorpe (48-12) and Notre Dame (49-6). "We've done some really nice things in all our games," said Tamaqua coach Sam Bonner. "But we just haven't done them consistently enough ... and when you're playing really good football teams, that inconsistency leads to losses." Bonner said the Raiders can't afford to take Salisbury lightly. "When you're 1-3, you can't go into any game thinking you're favored," Bonner said. "Salisbury does some nice things running the ball. They run from a wing-t set and give you a lot of unbalanced looks. "The key for us will be stopping their run game. We haven't stopped anyone's run game yet this season, so that's the challenge we gave our kids."
Players to Watch:
John Klein, Tamaqua
Klein has done it all for the Raiders, making big plays on defense and on special teams the last two weeks, while also contributing as a tight end on offense. Two weeks ago in a loss to Notre Dame, the Raiders' starting outside linebacker intercepted a pass and returned it 30 yards for a touchdown. Last week against North Schuylkill, Klein scooped up a punt that was blocked by teammate Isaac Curvey and returned that 30 yards for a score.
Jacob Hehn, Tamaqua
Hehn has been the starting tailback the last two weeks after Stewart was injured against Lehighton. He has been a workhorse in both starts, leading the Raiders in carries in each game. Against Notre Dame, he carried 16 times for 49 yards. He also carried the ball 16 times against North Schuylkill for 41 yards.
Nick Beck, Salisbury
Beck has played both quarterback and running back for the Falcons in the early part of the season. A week ago against Notre Dame, he was used primarily as a runner and led the team with 14 carries for 50 yards. "No. 5 (Beck) seems like their go-to guy," said Bonner. "He has nice size and runs hard. One of the key for us will be to know where he is, and to not let him hurt us."
Panther Vy. at Minersville
When: Friday, Sept. 23, 7 p.m.
Storyline of the Week
: Panthers look to build on momentum.
Panther Valley rolled past Shenandoah 33-8 last Thursday on the strength of four second-half touchdowns. Quarterback Mike Pascoe - the Times News Football Player of the Week - spearheaded a Panthers' (2-2) offense that racked up 343 yards on the ground. Pascoe was at the head of the attack, grinding out 195 yards on 20 carries and scoring once. He also fired two touchdown passes - one to Mergim Bushati for 10 yards, and another for 50 yards to Trey McAndrew. Brennan Kunkel tacked on 60 rushing yards, and helped to cap off a nine-play, 74-yard scoring march when he plunged in for a 1-yard touchdown. Austin Hadley added 38 yards on the ground, and got into the scoring act as well with a 4-yard run. Panther Valley's dominance on the scoreboard was reflected in the stats, as it held a 448-159 advantage in total offense, and racked up 20 first downs to Shenandoah's eight. It carried over the momentum of a strong second half from a 35-13 loss to Mahanoy Area in Week 3. "(Against Mahanoy) in the second half, and we were down, and we kind of challenged the kids at halftime, 'Let's have a great second half, let's build on it.' We came out, did some things in the second half," Panthers' head coach Mark Lavine said of his team, which outscored Mahanoy 13-7 over the final two quarters. "And then to take that into Shenandoah, and we controlled the first half for the most part, but we gave it up on downs inside the 20 and we had the turnover. So that's kind of been our M.O. from the beginning of the year, where we kind of have these drives and we're not able to capitalize. So we said in the second half, we're moving the ball, we have to capitalize. We have to put the ball in the end zone, and we were able to do that." The win snapped a two-game losing streak for the Panthers, who now face a 3-1 Minersville team coming off a big 30-12 win over previously unbeaten Williams Valley. After getting hurt in a Week 2 win over Marian, freshman QB Dante Carr returned for the Battlin' Miners last week and completed 7-of-11 pass attempts for 138 yards and three scores - to three different players. Junior tailback Luke Stevenosky carried the ball 19 times for 101 yards and a score, while Raymond Snyder Jr. hauled in three passes for 100 yards - including an 87-yard catch - and a score. On defense, Minersville forced two interceptions and held Williams Valley to 14 yards rushing on 26 carries.
Players to Watch:
Logan Hutsko, Minersville
The sophomore had two sacks and four quarterback hurries to go along with five total tackles (three tackles for loss) in last week's win over Williams Valley.
Brock Polinsky, Minersville
In addition to his two catches for 14 yards and a touchdown, Polinsky also had two interceptions for the Battlin' Miners.
Brennan Kunkel, Panther Valley
Kunkel had 11 carries for 60 yards and a one-yard touchdown run in last week's win over Shenandoah Valley.
Nativity at Marian
When: Friday, Sept. 23, 7 p.m.
Storyline of the Week
: Colts look to bounce back.
Marian is coming off a tough 26-19 loss to Line Mountain last Friday that dropped the Colts to 2-2. A muffed punt and a fumble played a role in Line Mountain increasing a 13-6 lead to 26-6 in the second half. The Eagles erased a 6-0 deficit to take a 13-6 lead and never looked back. "We had 350 total yards, 200 yards rushing and 150 passing, probably our best offensive performance of the year, actually, but we made some critical turnovers and some assignment mistakes and things that happen in high school football," said Colts' head coach Stan Dakosty. "So we certainly played well enough to win, but left the door open for them to win the ballgame, and all credit to them. Our kids played hard, but we just have to clean up our errors. You can't put 350 yards up on somebody and not be putting points on the board, and that's what happened to us in a couple of cases." For the second straight week, the Colts blocked a punt and returned it for a touchdown, and for the second straight game it was Jesse Rodino blocking the try. Michael Gelatko raced 19 yards on the play for a 6-0 lead with 3:31 in the first quarter. It was the only scoring the Colts did until the final 3:27 of the game. Marian put together a 64-yard drive, which featured Bruce Hopeck connecting with Brandon Klitsch on a 52-yard pitch and catch. Hopeck then delivered a clutch 14-yard scoring strike to Gelatko. Jayden Fermin added a 4-yard touchdown run. "We played well enough just to look at it and say, 'Oh my gosh, we did lose the game, how did we lose it?'" said Dakosty. "And we know how we did. Now we have to correct it, and if we correct the things we need to we should get things going in the right direction." Marian now faces a 2-2 Nativity team that is coming off a 45-12 win over Lower Moreland. Nativity racked up 348 yards rushing in the win, scoring six times on the ground. The Green Wave opened the season with a 43-16 win over Wyalusing Area before falling to Schuylkill Haven (34-7) and Kutztown (26-20). Marian beat Haven 21-7 in the season opener. The Colts beat Nativity 19-13 in overtime last season, a victory that kick-started a four-game winning streak to close out the season.
Players to Watch:
Noah Dolbin, Nativity
Dolbin accounted for all five of quarterback Ben Kreitzer's completions. The sophomore finished with 114 yards and one score.
Samuel Spolski, Nativity
The sophomore running back carried the ball 13 times for 159 yards and three touchdowns in last week's win. His longest rush went for 48 yards.
Jayden Fermin, Marian
Fermin carried the ball eight times for 39 yards and added a touchdown for the Colts' last week against Line Mountain.
Palmerton at Notre Dame
When: Friday, Sept. 23, 7 p.m.
Storyline of the Week
: Bombers looking to continue physical play they discovered last week.
Palmerton (3-1) showed people around the Schuylkill/Colonial landscape last week that it isn't just a finesse team. The Bombers went toe to toe with a big and physical Jim Thorpe defense, and wore down the Olympians late in the game to come away with a 54-29 win. Palmerton rushed for almost 300 yards on the night against JT and amassed 563 yards of total offense. Junior quarterback Matt Machalik put together a career night for the Bombers tallying over 500 yards of total offense, throwing for three touchdowns and running for three more. Palmerton will need to bring the same physicality up front it displayed against Thorpe, as it takes on a tough Notre Dame Green Pond (3-1) squad that also likes to run the football. The Crusaders - who have historically been a pass-first team over the past few seasons - have more rushing yards than passing yards four games into the season. Notre Dame is averaging 175 yards per game on the ground, led by quarterback Danny Darno (350 yards, seven TDs). The Crusaders offense has been able to put points on the board this season, averaging a tick under 40 points per game, but have had some shaky moments defensively, as they are allowing 28.5 points per game. Currently, Palmerton holds down the No, 4 spot in the District 11 3A power ratings, while Notre Dame ranks number three. "We have to make sure we come into this game with the same physical mentality and focus that we showcased last week. Notre Dame likes to run the football, and containing their quarterback and playing physical assignment are all high priorities for us that we need to execute on the defensive side of the ball," said Palmerton head coach Chris Walkowiak. "Offensively, it's the same game plan week in and week out, and that is take what they give us. We feel comfortable running the ball or passing the ball; we just need to keep the chains moving and put the ball in the end zone when the opportunity presents itself."
Players to Watch:
Dalton Drake, Palmerton
Drake is turning himself into quite the weapon at wide receiver, as he now leads the team with 364 yards receiving. Last week, Drake caught eight passes for 165 yards.
Josh Ludlow, Notre Dame GP
Ludlow has been one of the top running backs for the Crusaders in their dangerous rushing attack. Ludlow has rushed for 252 yards and five touchdowns.
Jim Thorpe at Pine Grove
When: Saturday, Sept. 24, 7 p.m.
Storyline of the Week
: Can the Olympians' defense get enough third down stops?
"We can't get off the field." These were the words of Jim Thorpe coach Mark Rosenberger, referring to his defense and its inability to get key third-down stops and force Palmerton into fourth-down punts last week. Yet, with a stop here or there, JT's record of 1-3 might have been flipped around. Rosenberger has focused on fundamental tackling at practice this week, something he believes has allowed opponents' offenses to move the chains on third and fourth downs and keep drives moving toward touchdowns. "We collectively missed nearly 70 tackles last week," he said, "Palmerton was eight out of 11 in converting third and fourth downs, and scored two touchdowns when we didn't get stops. This isn't all on the team. We, as coaches, should be spending more time at practice with tackling drills." On the other side of the ball, the Olympians are having a similar problem converting third and fourth downs and moving the chains despite averaging nearly 28 points per game. Averaging 354 yards a game by spreading the ball around to seven running backs has been an attack strategy that has worked successfully so far this season. "We like to max out all our athletes and ride the hot hand," said Rosenberger. Leading the ground assault has been Sal Capria, who is averaging seven yards a carry with five touchdowns, and David Fiorito, who has made JT's jet sweep his specialty with 11 yards per carry and three TDs. Against Palmerton, Capria also returned the second-half kickoff for an 80 yard touchdown. Fiorito has added 14 receptions to his game this season for 12 yards a catch. Against Pine Grove Area, who also sports one win in four games, Rosenberger sees a big-sized team that plays hard on every down. "They have good skill players, with a mix of young and experienced athletes. We look to shut down their inside and outside running game and make them one-dimensional."
Players to Watch:
Noah Rosahac, Jim Thorpe
JT's running backs love to run behind the 6-5, 260-pound junior tackle, who is being actively recruited to play Division 1 college football.
Dawson Meckes, Jim Thorpe
The senior place-kicker comes off the soccer field, where he is enjoying a stellar season to successfully drill extra points between the uprights. Meckes has also been very efficient in driving kickoffs into the end zones for touchbacks.
Lane Lehman, Pine Grove
The Cardinals' junior running back has gained 561 all-purpose yards thus far this season. He's carried the ball for 330 yards on the ground, has 77 yards in the air and 154 yards on kickoff returns.
Northwestern at Lehighton
Friday, Sept. 23, 7 p.m.
Storyline of the Week
: Which developing passing game can outdo the other?
The Lehighton offense was able to find a spark last week in a 55-14 win over Wilson, but is likely to have a more difficult week against the Northwestern defense, which held Pen Argyl's leading receiver, Damian Tyminski, to just one catch for four yards. Meanwhile, it will be a week to see if the resurgent passing attack that Northwestern showed in last week's 48-0 win over Pen Argyl is going to continue to develop. Senior quarterback Cade Christopher came in having gone 9-for-31 for 164 yards passing in three games, and threw for 87 yards on a 9-for-14 night, throwing for two touchdowns, the same number he had thrown for in the first three games of the season. Junior Devon Hildebrand led Northwestern Lehigh with four catches for 40 yards, while junior Dalton Clymer and freshman Mason Bollinger both had two catches on the night. Christopher will need to be aware of the Indians secondary that intercepted three passes last week, including one by Ian Rarick, who returned it 67 yards for a touchdown. The Lehighton defense also recovered a fumble in the win. For the Indians, the offense is working with freshman quarterback Jayse Lawrence, who made his first varsity start last week in place of the injured Brady O'Donnell. Lawrence finished with 195 yards passing, and used seven different receivers to do the damage. "They run a spread offense like we saw against Pen Argyl last week, but they do it in a different way," noted Northwestern coach Josh Snyder. "They use a lot of sprints and screens, and they have some talented personnel that we are going to have to keep an eye on this week. They also have more size than Pen Argyl has, so they are going to be more of a physical test for us."
Players to Watch:
Devon Hildebrand, Northwestern
The junior had a nice game last week against Pen Argyl, and much of what he did was the kind of stuff that doesn't show up on stat sheets. Snyder was especially impressed with his ability to block ahead of runners, and to tie up defensive players. Hildebrand leads the team with six catches, and averages just under 10 yards per catch for the Tigers.
Jayse Lawrence, Lehighton
The freshman quarterback made his varsity debut last week against the Warriors and had a good week while leading Lehighton to its first win of the season. With added confidence and another week of practice with the first team offense, he figures to be more prepared coming into this week's game against the Tigers.
Ian Rarick, Lehighton
The best thing that a young quarterback can have is a solid receiver. Rarick leads the team in receiving, and pulled in a 17-yard TD pass from Lawrence last week. When he's not helping as a wide receiver, he is making things tough on opposing quarterbacks. With a pair of interceptions last week, and one run back 67 yards for a touchdown, Christopher will have to be aware of where Rarick is on the field at all times.