You scream, ice cream Tamaqua area dairy bar dishes out frozen relief during record heat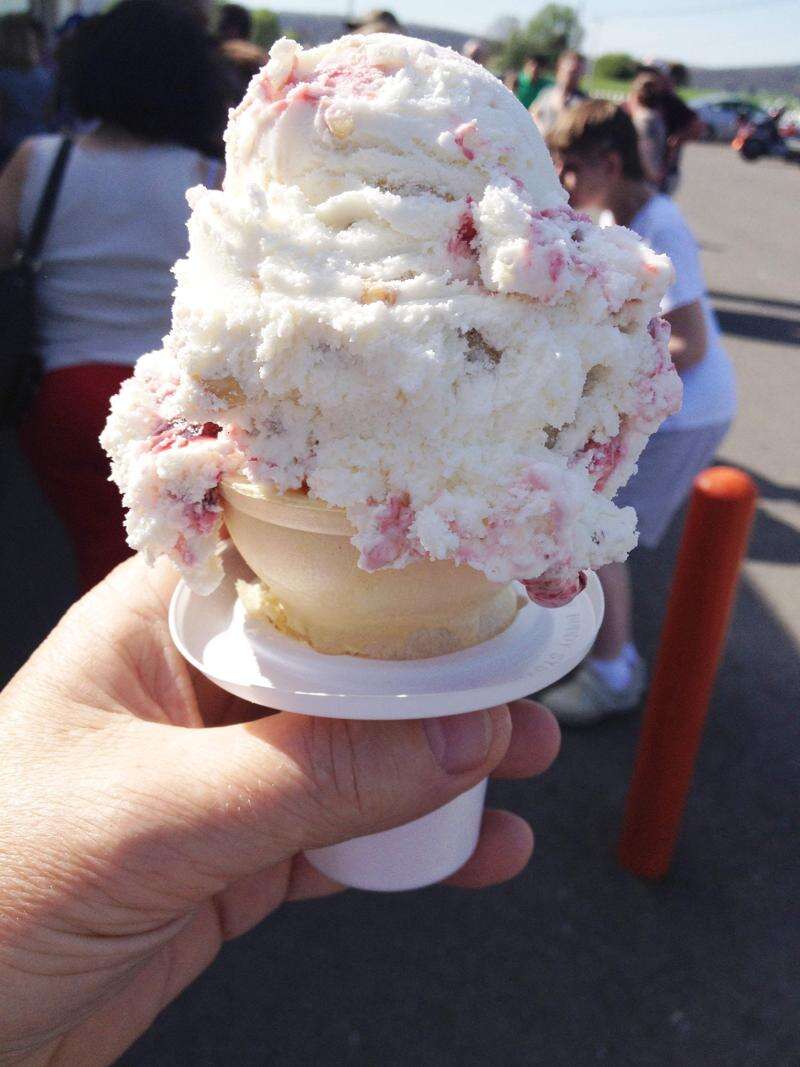 Published August 27. 2022 06:28AM
by Donald R. Serfass dserfass@tnonline.com
ecord heat this summer has kept workers busy at one of the most popular frozen treat venues in the region.
"We did well, even during COVID, because people could still come here," said Ann Daukshus Ostergaard, who along with husband Leonard, have operated Heisler's Cloverleaf Dairy Bar for 40 of its 65 years of existence.
Leonard is a nephew of Morris and Pearl Heiser, who founded the Lewistown Valley business in 1957, a place tucked away in the middle of nowhere and yet manages to draw thousands every year.
Morris entered the business world in 1924, nurturing a wholesome milk producing operation. He started home milk delivery door to door, becoming one of the area's leading milk suppliers. In 1957 he decided to start making ice cream. He added a miniature golf course, built by Holmes Cook, famous for his miniature golf courses up and down the East Coast including Coney Island in New York. Soon came a waffle shop, driving range, gift shop and arcade.
When the Ostergaards took over, they expanded the operation but stuck with the philosophy of "give people a quality product and a decent price with a friendly smile."
The operation manufactures its own ice cream on site in more than 33 flavors. But it isn't just about dessert. There's also a grill, with food made to order.
But it's the frozen delights that draw a crowd.
Heisler's employs 50 to 60 workers in the dairy bar plus others in the mini golf and driving range areas.
Heisler's has been producing 200 gallons of milkshake mix and 500 gallons of ice cream mix every few days tis summer.
"We run ice cream two days a week," Ann Ostergaard says. "We run the mix on Wednesday, which is the base that goes into all of the ice cream."
Even the distribution of ice cream is an ambitious operation.
While many customers come to the window to order a cone, dish, shake or CMP, other bulk customers are served throughout the region.
"We supply ice cream to stores and restaurants," Ostergaard says. Among them are the Beacon, Mason Jar, Boyer's Markets and places such as Locust Lake State Park, customers served weekly.
Ice cream flavors are produced by workers Mark Blasko and Jason Amentler, who operate a network of complex machines. They mix, homogenize, pour and package goodies which are then subject to deep freeze. There are four different freezing sites, including different levels of cold.
The first freezer keeps the ice cream at 30 below for 24 hours," Ostergaard says.
Which flavor is most popular?
"It's vanilla."
Which flavor is hardest to make?
"It's the cookie dough because the pieces are frozen so we can only put so many pieces in at a time."
Ostergaard says peanut butter and any other flavor using nuts are run last, to avoid cross-contamination that could affect someone allergic to nuts.
Heisler's is at 743 Catawissa Road, Tamaqua, It will remain open until the end of September in honor of its 65th year.