Celebrating Tamaqua's $1.5M depot project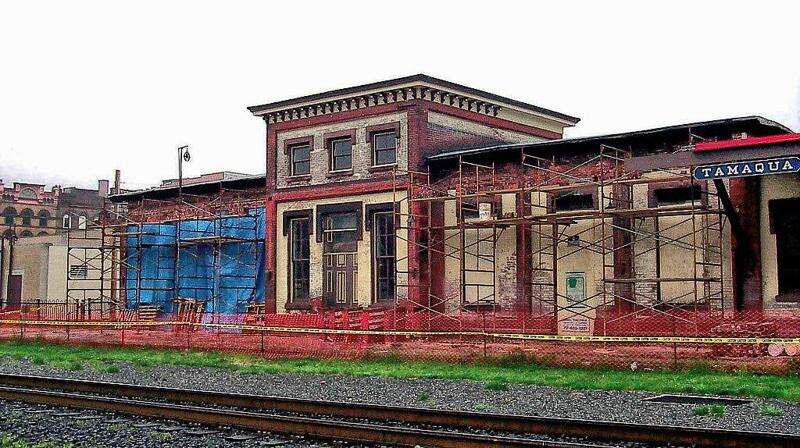 Published August 16. 2022 01:58PM
by Donald R. Serfass dserfass@tnonline.com
A pivotal moment that continues to impact a community was honored in Tamaqua on Monday evening.
It was 30 years ago when local residents confronted what they saw as a monumental challenge.
The 1874 train station, once the hub of the community, was heavily fire damaged, unstable and deemed a hazard. Its future, literally, was a wrecking ball.
But 20 local residents chartered a mission on a wing and a prayer.
The nonprofit Tamaqua Save Our Station organization was formed as a last-ditch effort to gain control of the Philadelphia and Reading Railroad passenger depot and its restaurant and save it from likely demolition by out of town developers. The final price tag was $1.5M.
A group of 70, including surviving volunteers, family members and others, turned out at the restored Tamaqua Train Station Restaurant to share their stories.
Many of the charter members are now deceased, including Ken Smulligan, former SOS president and local businessman.
But his heroics and that of all of the others was recognized at a fundraising dinner.
"You don't know how many hours he spent," said Smulligan's brother, Karl "Bud" Smulligan, recalling his brother's devotion.
Some of those honored were other business owners who found time to donate their services.
"We had the pet store at the time," said Marian Hegarty, then owner of Sean's Pet Supplies. Husband Sean was busy with a contracting business, but he, too, carved out time for the greater good.
"We helped with the fundraisers."
Retired railroader Bob Malay, former conductor with the Reading Railroad, Conrail, and Norfolk Southern, was on hand to recall a special moment of his youth.
In 1963, Malay purchased one the last tickets issued to ride the final regular passenger train out of Tamaqua.
"I was the next to the last one. It was June 28, 1963," he said, pointing to the ticket window and a special moment that eventually led to his career on the rails.
Micah Gursky, director of the Tamaqua Area Community Partnership, said the development of 30 years ago was special because volunteers moved forward with blind faith.
"The challenge was buying the building without even knowing what to do with it."
Dale Freudenberger recalled that it took $25,000 to actually make the purchase. A developer, he said, "was just going to level it and make a parking area."
Other speakers included Dan Odorizzi and Chris Fulmer, who acknowledged the 20 who stepped forward to charter the mission and introduced and paid tribute to board members.
Gursky lauded early support by Sen. David Argall, then a state representative, and the late Sen. James Rhoades for securing vital early funding.
Argall said it not only was worthwhile, but essential for the community's rejuvenation because it provided a much-needed foundation for growth.
"This was the beginning of so many other good things. Good things build and build and build."
John and Melanie Ross of the Tamaqua Train Station Restaurant hosted the event and donated the buffet, cocktails and Champagne toast.
Tamaqua's rail history is considered legendary, dating back to the 1831 Little Schuylkill Coal and Navigation Railroad, the first in the nation to use a steam engine to haul coal.
Eventually, more than 40 passenger trains stopped at the station daily during peak years in the first half of the 20th century, with visitors enjoying its full service restaurant and manicured Depot Square Park gardens.
The 1992 depot purchase by SOS, a nonprofit, allowed for preservation and restoration, returning it to its position as a focal point and hub of the community.
The station is individually listed on the National Register of Historic Places as well as being part of the 55-block Tamaqua National Historical District.
The lobby serves as an official visitors center for Schuylkill County and the Schuylkill River National & State Heritage Area.