Jim Thorpe tops Tamaqua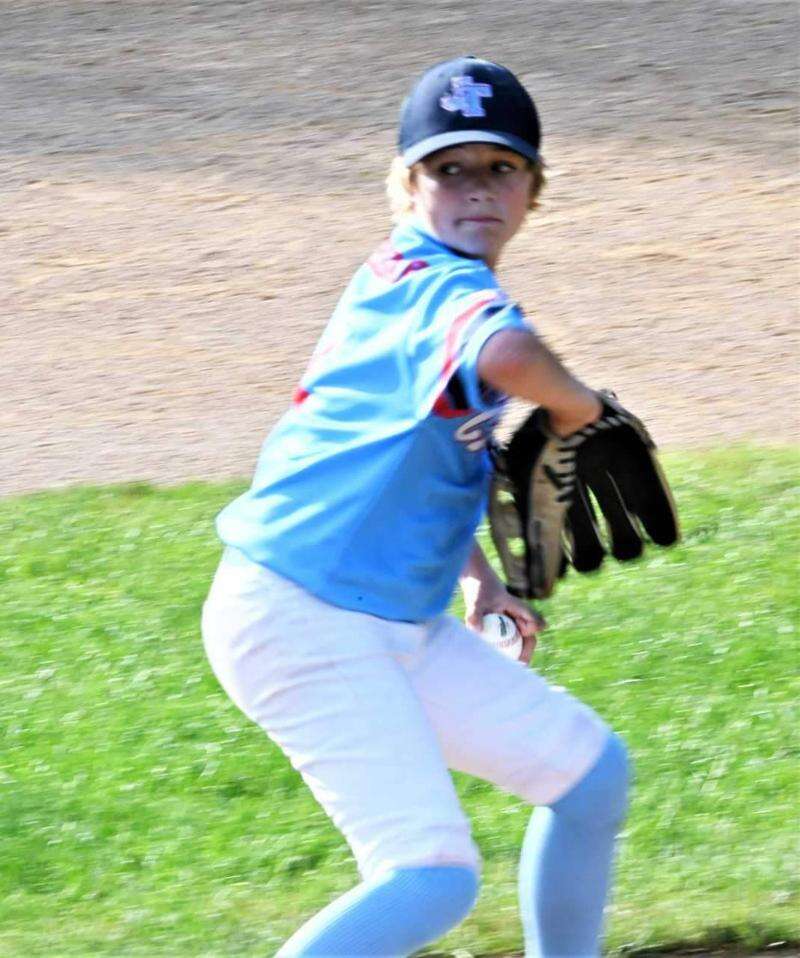 Published July 01. 2022 10:29PM
Baseball I.Q.
Besides having a dominant pitcher, it may be the ultimate advantage in the Little League ranks.
Jim Thorpe showed Friday night in an elimination game in the District 18 10-12-year-old tournament that it is one savvy ball club. Thorpe's base running prowess and smart defensive plays throughout the game, paired with an impressive 12 hits, helped it come away with an 11-6 victory over Tamaqua.
JT served as a menace on the base paths, coming through with eight stolen bases, and Thorpe wasted no time getting to work, as it would get out to a 3-0 lead in the first inning, using its aggressive base running style and timely hitting.
Nick Faust's two-run single served as the big hit of the inning, and provided the spark that ignited the Jim Thorpe offense on the evening.
"This team does have a really good understanding of the game and they do possess great baseball I.Q. I think you could see that tonight with them taking advantage of base running opportunities and on the defensive end doing the little things, backing each other up, making the right cut off throws, stuff like that," said Jim Thorpe manager Christi Carnas, who was filling in for manager Alex Guthrie, whose wife just had a baby Friday afternoon. "This was a total team effort win tonight. Our hitting was great and we had kids that maybe were struggling with the bat hit the ball tonight and that's something you always want to see when competing in tournament play. This was an exciting win for us."
After Tamaqua was able to add a run in the second and third to close the gap, JT once again got hot from the plate. Leading 4-2 after three innings, Thorpe would score four runs in the fourth to extend its lead to 8-2 going into the bottom of the fourth.
Faust, Tyler Hoherchak, Anthony Kiehl and Dominic Kiehl all had hits in the inning, with Anthony Kiehl's two-run rope over the third baseman's outstretched glove serving as the critical hit of the frame.
However, with JT in control, Tamaqua did not go away quietly.
Trailing 10-3 going into the bottom of the fifth, Tamaqua scored three runs to cut the deficit to three. Ace Schickram and Nico Coahak had hits in the inning, with Schickram, Coahak and Jaedon Vidzicki all scoring runs.
But as it did throughout the night, Jim Thorpe would answer, adding an insurance run in the top of the sixth on an RBI-single from Spencer Gothard. Luke Sandquist, who came in the game in relief in the fifth, would then retire three consecutive Tamaqua batters in the bottom of the sixth, not allowing a base runner, to close out the victory for JT.
Sandquist helped close out a pitching gem from Thorpe's starter Hoherchak, who pitched 4 1/3 strong innings. Hoherchak gave up just three hits and struck out four.
"I really couldn't be happier with the team's performance tonight. Our hitting coupled with our pitching was impressive," said Carnas. "Tyler Hoherchak did a great job and then Luke Sandquist came in and threw strikes and closed out the game for us. I was also proud of how the kids didn't lose their cool and kept their composure when Tamaqua put together a little rally there. Again, a great team win."
BOUNCING BACK
… After losing its first game of the tournament, Thorpe has bounced back to win two straight, with wins over Hazleton and Tamaqua. The JT offense is averaging 17 runs per game over that two game stretch.
NEXT UP
… Jim Thorpe will face Tri-County/Weatherly at McAdoo on Sunday.
Jim Thorpe 301 421 – 11 12 3
Tamaqua 011 130 – 6 6 5
Hoherchak, Faust (5), Sandquist (5) and Kosko; Vidzicki, Coahak (4), Giuliano (6) and Schickram. W – Hoherchak. L – Vidzicki.