Gold edges Red in McDonald's Classic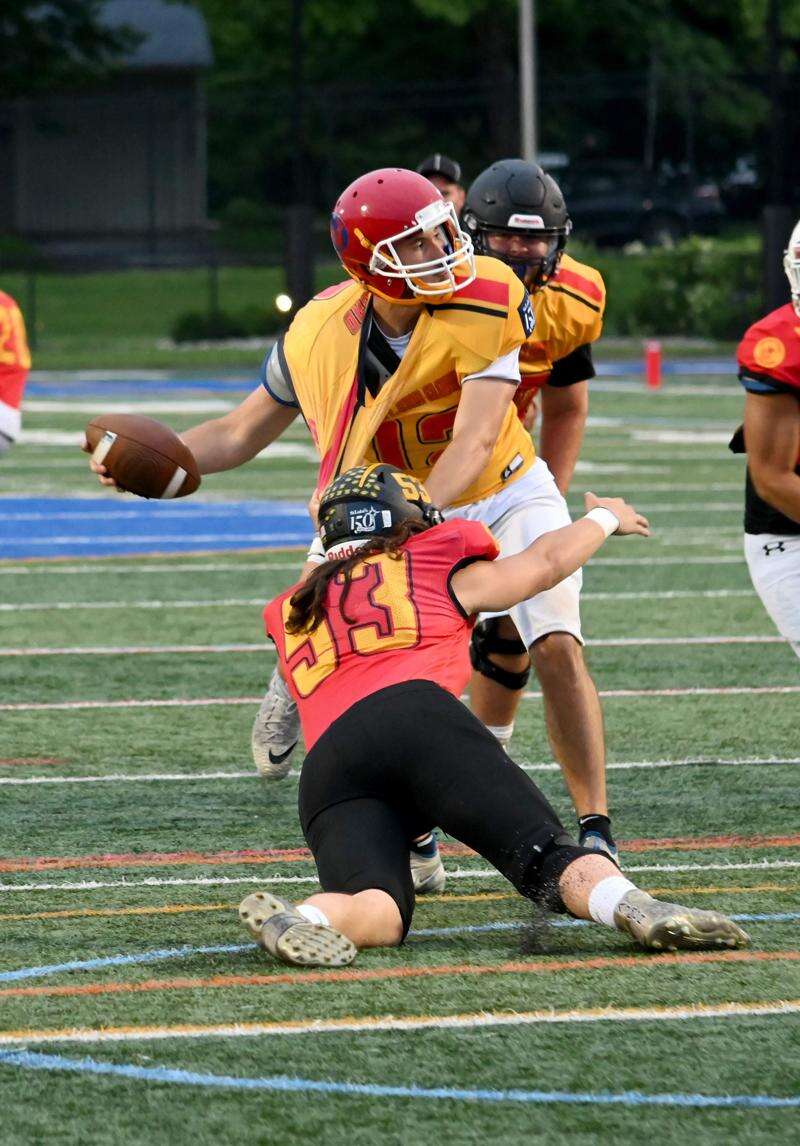 Published June 17. 2022 10:32PM
The 51st annual McDonald's Lehigh Valley All-Star Classic was exactly what it was supposed to be - an entertaining back-and-forth affair.
The all star match-up came down to the wire in the fourth quarter, with the Gold scoring with just under five minutes remaining to come away with a 24-21 victory over the Red.
Both the Gold and the Red would wait until the second half to amp up the action as the Gold - led by players from Phillipsburg, Wilson, Freedom, Palisades, Easton, Saucon Valley, Notre Dame Green Pond, Pen Argyl, Bethlehem Catholic, Nazareth and Northampton - held a 10-0 lead at the half over the Red - which was comprised of players from Stroudsburg, Dieruff, Northern Lehigh, Pleasant Valley, Pocono Mountain West, Parkland, East Stroudsburg South, Northwestern, Emmaus, Allen, Catasauqua, East Stroudsburg North, Pocono Mountain East and Allentown Central Catholic.
A 26-yard field goal from the Gold's Matthew Clark, and a one-yard plunge from teammate Marcus Williams - which was setup by completions of 34 and 42 yards from quarterback Cole Transue to receiver Zack Gillen - highlighted the first half.
Early in the third quarter, it looked as if Gold was in total control after a punt bounced backward and hit a Red blocker. The Gold recovered the fumble near midfield and a few plays later, Transue and Gillen connected yet again - this time for a 35-yard touchdown to put Gold up 17-0 at the 9:09 mark of the third.
However, just when Gold looked to be in cruise control, the Red would capitalize on a host of turnovers to get back into the game.
The Red finally got on the board with 3:54 left in the third when Pleasant Valley defensive lineman John Brennan intercepted a Cayden Stem pass at the Gold 15-yard line and took it the distance to make it 17-7.
Then midway through the fourth quarter, four members of Northern Lehigh's District 11 Class 2A championship squad - Brett Misera, Trevor Amorim, Matt Frame and Dylan Smoyer - combined for another Red score.
Misera, who collected seven interceptions this past season, picked off his second interception of the night with 8:20 remaining in the game, putting the ball at the Gold 35.
A Smoyer to Amorim 25-yard yard connection would eventually setup a five-yard score for Frame to make it 17-14 with just over seven minutes remaining.
"I knew tonight was going to be my last game ever, so I wanted to leave it all out there on the field," said Misera. "Tonight was just fun. To get to be out there with some of my teammates from Northern Lehigh, you could not have scripted it any better.
"These are all guys that have motivated me throughout my career, and we all got to play one more time together."
Red continued to thrive off its momentum, and was able to take the lead by generating yet another turnover. This time, it was a Nico Medlar 'pick six' from 30 yards out to give the Red a 21-17 lead with 5:49 left.
"We when we went into the locker room at half down 10-0, nobody had their heads down at all; we just knew we needed to get something going," said Frame. "Those two pick six plays were huge, and it got everyone hyped up and we were able to get back in the game and then eventually take the lead."
On Gold's ensuing possession, however, the duo of Transue and Gillen would strike again. The pair hooked up for a 69-yard pitch and catch at the 4:43 mark. On the play, Gillen made a nice run after the catch, outrunning a defender and barely avoided going out of bounds before running it into the end zone.
The Red would then do its best to answer with a possible game-winning score, moving the ball all the way down to the Gold 22 with around 1:20 left. But a fourth-down pass from Bobby McCloskey sailed over Amorim's head in the back of the end zone to end the threat.
"Although we didn't come away with the win, we fought hard and it was a great experience to be out here with some of my teammates for the last time," said Frame. "We even had an all-Bulldog drive, with all of us touching the ball on that one drive to score and Brett setting us up to score with his interception.
"It was a fun night and all of us Northern Lehigh guys ... we're going to stay in touch."
AREA STANDOUTS … Misera came through with two interceptions on the evening. Frame had a solid night, rushing for 55 yards and a touchdown, and Amorim hauled in four catches for 49 yards. Pleasant Valley's Ryan Blass caught three balls for 23 yards.
DYNAMIC DUO … Transue and Gillen were the difference. Transue, who played for Easton this past season, threw for 315 yards and two scores. Gillen, who played for Wilson, had five catches for 200 yards and two touchdowns.