Pleasant Vly. scales down music program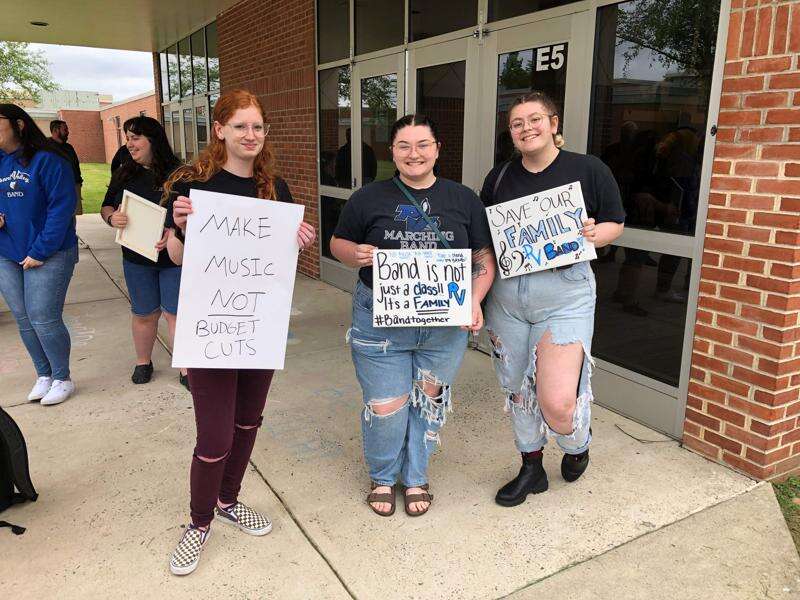 Published May 27. 2022 02:45PM
Several Pleasant Valley School District band parents and supporters came out Thursday evening to peacefully protest possible changes to the district's music program.
"Even though it's tentative plans, this isn't how we want to see things go. Our students need to have lessons and full-time directors at all the grade levels, so they can actually learn how to successfully play their instruments," said Chad Snyder, a parent and former band member. "With the current proposal, after fifth grade, there will be no more lessons and also no new members would be allowed to join, because there would be no time for lessons to teach them."
Currently, students receive instrument lessons from fourth grade through 12th grade. Parents are concerned that lessons will be eliminated for students in sixth through 12th grades, now that the sixth grade is moving to the middle school and there are cutbacks in staff.
School board President Susan Kresge said there has been misinformation in the community about the plans for the district's music program.
"There is no way that any of us sitting here would agree to do away with the band program or band lessons," Kresge said. "Yeah, we're looking at ways we can be more efficient and try to save additional dollars, but there is no way that the band program is going away or lessons."
In March, two music teachers at the middle school, Amy Hafferty and Carla Karpinski, accepted the district's retirement incentive, and Sarah Jean Rotenberger, the band director at the intermediate school, resigned.
Superintendent James Konrad said that the school district plans to have the high school band director also be the band director for the middle school, but they also plan to hire an additional music teacher for the middle school. The current middle school band director would become the band director at the intermediate school.
Konrad said the school district is committed to providing music lessons.
"Next year, students will have the same support available. Lessons will continue to be provided," he said.
Music instrument lessons can be for one student or multiple students in a specific instrument section.
Konrad said there are 10 to 15 lessons per week at the high school, and about 25 lessons per week at the middle school.
The new plan is still being worked on, but will include a minimum of 15 lessons per week, Konrad said. He didn't clarify if this was per school building or combined between the middle and high schools.
Konrad did say that each class period is 55 minutes long, so it may be possible to have two lessons per class period. They are also looking at eliminating the band director's prep period, which is a class period during the school day that allows teachers to prepare for upcoming classes. Another option being discussed is having advanced music students work with other music students in their section.
In an interview, Drew Dymond, the president of the Pleasant Valley Education Association, said the school district had 11 full-time music teachers three years ago. Konrad said there were eight full-time music teachers at the beginning of this school year, and they intend to have six teachers next year.
There was a band director specifically assigned to the intermediate, middle and high schools, as well as general music teachers.
Dymond said, "We would like to keep the current schedule and number of band directors as it is extremely successful."
So far, the plan for next year has two general music teachers in the elementary school, which will be grades kindergarten through second grade. One band director at the intermediate school, which will be third through fifth grades. One music teacher at the middle school, and as stated previously, the high school band director would also serve as the middle school band director. This totals five teachers.
"The band program has been exploding, Dymond said. "Next year, we anticipate that the high school will have over 100 students, the middle school will have at least 130 band students, and the intermediate school will have 200 band students. These numbers justify three full-time band directors, one in each building.
Dymond said a band director should be hired to replace the one that resigned.
"This hiring would enable the middle school and high school band directors to continue their excellent building of the band program at PV. With over 400 students in the band next year, it is the largest organization in the district and the largest ever in PV history."