Three individuals, one relay get gold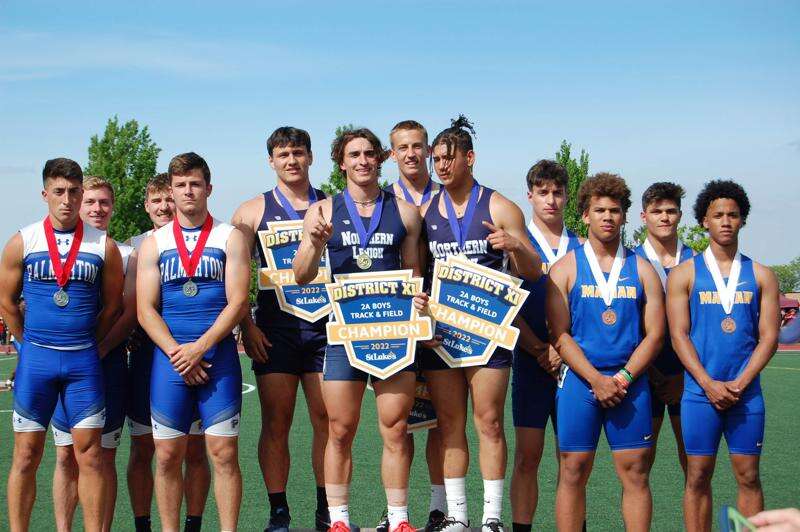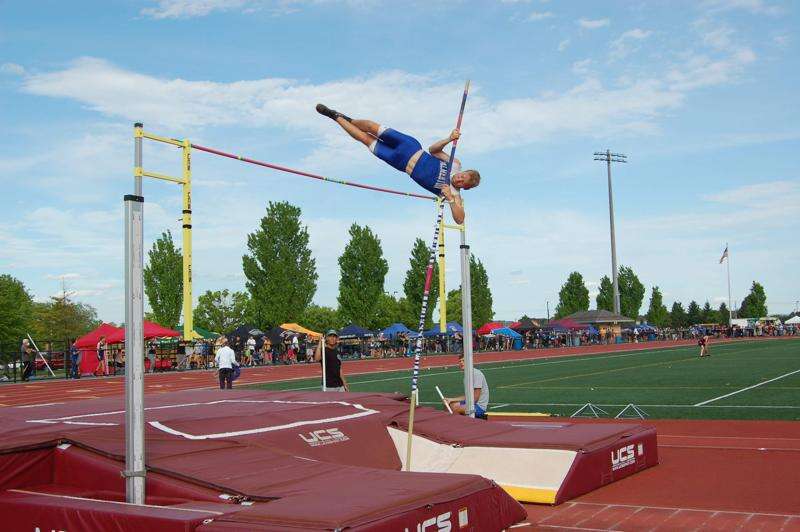 Published May 19. 2022 12:26PM
by Patrick Matsinko pmatsinko@tnonline.com
WHITEHALL - Forget the long-awaited Top Gun sequel.
This summer's biggest blockbuster isn't in any movie theater.
The second day of the District 11 Track and Field Championships lived up to the hype with several scorching performances - and no shortage of action or drama.
There were plenty of Maverick moments, with three area individuals and one relay team capturing boys' Class 2A titles on Wednesday, setting the stage for an epic Memorial Day Weekend at the PIAA Championships.
Northern Lehigh's Trevor Amorim played a leading role, pulling out a dramatic victory in the 200 while also helping Matt Frame, Alexander Jimenez Wittong and Brett Misera win the 400 relay.
Marian's Jacob Fenstermaker delivered a special win in the 100, while Palmerton's Justin Herrmann surprised himself in the 110 hurdles.
Bulldogs show bite
Amorim held off a hard-charging Fenstermaker to win the 200 in 23.29. Fenstermaker finished in 23.30.
"That was crazy," said Amorim. "I had the win in my mind coming down here, I had a big lead, but I ran out of gas. I wanted to run in the 22s today, my PR is 23.07, so I was really hoping to finally (run in the 22s), but I fell short of that. I still was able to get the win, though."
Amorim took a tumble after crossing the line.
"I had no idea," Amorim said when asked if he knew he had won. "I leaned as far as I could, I ended up falling. I felt him coming on quick, so I had to do anything."
Frame, Amorim, Jimenez Wittong and Misera won the 400 relay with a time of 44.28.
The group have proved to be formidable both on the football field and the track.
"It feels great," said Misera. "It's insane. It's our second time going to states this season for a sport together as a group. We're all pretty new to track, so it feels amazing.
"We knew we had a chance at first place. We knew we were going to have to work for it. We were nervous, but also confident about what we could do. For the first two legs I was a little bit nervous, but when I saw AJ coming around the back I was confident."
Misera had some big receptions during the team's run to a district title and the state semifinals in football. He had another on the last handoff for the Bulldogs.
"Very shaky," said Misera, who ran the anchor leg. "I had the baton by the bottom portion of it. I only had like a millimeter of space to work with. If I slipped just a little bit it was falling out of my hand."
Palmerton finished second with a time of 44.66.
"The relay was awesome," said Amorim. "That was a huge goal for us. Coming off our football district championship, we wanted to come out here and have fun one last time together, get a 4x1 team together, and we were able to come out and repeat what we did in the fall.
"I grew up with all those guys. They're my best friends, I've known them my whole life, and we're just out here having fun. I love the team aspect of the relay. It's fun to celebrate with each other at the end when we accomplish something like that, that's definitely my favorite thing."
Golden Colt
Fenstermaker won the 100 earlier in the day with a time of 11.24 ahead of Amorim (11.39).
"This victory was pretty bittersweet, to say the least," said Fenstermaker. "I'm super excited to be here. I'm super happy. Without my buddy Mike Fellin up here with me it's a little unnerving. But I worked for it, being here all four years. I'm really proud to be here."
Fellin, the top seed and defending champion who was second in the event at states last season, did not advance to the finals after aggravating a hamstring injury at last week's league meet that also kept him out of the second day of competition Wednesday.
Fenstermaker, who was seeded second, made sure the title stayed at Marian.
"Coming into districts, I knew I had to get my time pretty low," said Fenstermaker, who embraced Fellin on the infield after the win. "I knew there are some horses out here that wanted it just as bad as I did. I was able to come out on top in the end so I'm very proud.
"Honestly, in the blocks I was kind of shaking. There was a lot going through my head, but I relaxed the shoulders, took a deep breath and went out and did what I had to do."
Herrmann owns hurdles
Herrmann won the 110 hurdles with a time of 16.01. Teammate Bryson Walters was second in 16.05.
"I just ran," said Herrmann, who had the second-fastest time in prelims behind Walters on Tuesday. "I just thought it was another meet. I didn't think anything would happen. I kind of just waited for the gun and then I just went. That's about it."
But a big thing did happen for Herrmann, who entered the event as the fifth seed.
"It's crazy. I never thought I would get there. This is my first year hurdling. In the beginning at practice it was rough. I started running like 17.5 and then I just kept practicing and then my time just kept going down."
Herrmann is a junior, while Walters is a sophomore.
The pair have pushed each other to the top.
"I didn't think I had a shot at all," said Herrmann. "It's great having him, because it helps me push myself harder."
Palmerton's Harrison Dailey also finished second in the 2A pole vault, clearing 12-6, which is above the state qualifying standard of 11-6.
District 11
Track and Field Championships
Day 2
Class 2A
Boys
Team Legend
Allentown Central Catholic (ACC), Catasauqua (C), Lincoln Leadership Academy (LLA), Mahanoy Area (MA), Marian Catholic (MC), Minersville (M), Nativity BVM (N), Northern Lehigh (NL), Palisades (Pali.), Palmerton (Palm.), Panther Valley (PV), Pen Argyl (PA), Pine Grove (PG), Salisbury (S), Schuylkill Haven (SH), Shenandoah Valley (SV), Weatherly (W)
Individual Results
100 – 1. Jacob Fenstermaker (MC) 11.24*, 2. Trevor Amorim (NL) 11.39, 3. Wyatt Younes (C) 11.42, 6. Brett Misera (NL) 11.63; 200 – 1. Trevor Amorim (NL) 23.29*, 2. Jacob Fenstermaker (MC) 23.30, 3. Jacob Gibbons (S) 23.67, 5. Dominic Kintz (Palm.) 23.77, 7. Lucas Heydt (Palm.) 24.06, 8. Devon White (Palm.) 24.15; 400 – 1. Gavin Grim (ACC) 51.84*, 2. Jacob Dove (C) 52.55, 3. Michael Stank (N) 52.55, 4. Brance Fronheiser (Palm.) 52.99, 8. Dylan Hartranft (Palm.) 54.62, 10. Bryce Marino (Palm.) 55.77; 800 – 1. Joseph Duffy (ACC) 2:01.34*, 2. Ricky Ray (W) 2:01.67, 3. Lucas Mushrush (ACC) 2:03.68, 5. Jordan Mann (Palm.) 2:06.47, 6. Jared Thomason (NL) 2:09.16, 7. Jacob Parker (W) 2:09.86, 10. Michael Berger (W) 2:11.58; 1600 – 1. Thomas Smigo (Pali.) 4:26.99*, 2. Mitchel Campbell (Pali.) 4:34.01, 3. Landon Boyle (M) 4:34.64, 4. Owen Hibell (Palm.) 4:34.86, 10. Jared Thomason (NL) 4:55.39; 110H – 1. Justin Herrman (Palm.) 16.01*, 2. Bryson Walters (Palm.) 16.05, 3. Colm McGroarty (MA) 16.33, 5. Reilly Burke (Palm.) 17.14, 6. Chase Jones (NL) 18.12; 400 relay – 1. Northern Lehigh (Matt Frame, Trevor Amorim, Alexander Jimenez Wittong, Brett Misera) 44.28*, 2. Palmerton (Lucas Heydt, Devon White, Reilly Burke, Dominic Kintz) 44.66, 3. Marian Catholic 44.92; 1600 relay – 1. Palisades 3:30.73*, 2. Palmerton (Brance Fronheiser, Dylan Hartranft, Jordan Mann, Bryson Walters) 3:31.95, 3. Schuylkill Haven 3:38.70, 8. Weatherly (Michael Berger, Jacob Parker, Ricky Ray, Frankie Willis) 3:45.54, 10. Northern Lehigh (Matthew MCarty, Jackson Hunsicker, Jared Thomason, Bailey Smith) 3:58.21; Triple jump – 1. Taylor LaBarre (PA) 42-11.25*, 2. Cody Miller (N) 42-8.5, 3. Kyle Artis (S) 42-6, 6. Stephen Jones (Palm.) 40-2.75, 8. Trace Stahler (Palm.) 39-2.75; Pole Vault – 1. Taylor LaBarre (PA) 13-0*, 2. Harrison Dailey (Palm.) 12-6, 3. Tyson Utesch (S) 12-6, 6. Jackson Stein (Palm.) 10-0, 7. (tie) Troy Wambold (Palm.) and John Parnes (PA) 8-6; Shot put
– 1. Gian Greggo (PA) 50-7.5*, 2. Dean Bartels (Pali.) 48-2, 3. Clark Gulycz (ACC) 47-8, 6. Michael Pascoe (PV) 44-9.75, 7. Matt Frame (NL) 44-4.25, 8. Zack Anthony (Palm.) 43-7.75.
Class 3A
Boys
Team Legend
Bangor (B), Bethlehem Catholic (BC), Blue Mountain (BM), Dieruff (D), Easton (Ea.), East Stroudsburg North (ESN), East Stroudsburg South (ESS), Emmaus (Em.), Freedom (F), Jim Thorpe (JT), Lehighton (Leh.), Liberty (Lib.), Nazareth (Na.), Northampton (No.), North Schuylkill (NS), Northwestern Lehigh (NW), Notre Dame GP (ND), Parkland (P), Pleasant Valley (PV), Pocono Mountain East (PME), Pocono Mountain West (PMW), Saucon Valley (SV), Southern Lehigh (SL), Stroudsburg (S), Tamaqua (T), Whitehall (W)
Individual Results
100 – 1. Damon Simpson (W) 10.64*, 2. Damian Simpson (W) 10.74*, 3. Benjamin Henry (No.) 10.87*; 200 – 1. Damon Simpson (W) 21.87*, 2. Benjamin Henry (No.) 21.98*, 3. Aiden Tobin (SL) 22.42*; 400 – 1. Joshua Farrell (Lib.) 50.07*, 2. Kensley Joasil (BC) 50.90*, 3. Blaise Verrastro (Em.) 51.30, 7. Joshua Heilman (NW) 53.07; 800 – 1. Chase Hensinger (SL) 1:53.95*, 2. Alex Heidemann (F) 1:54.30*, 3. Ridge Snyder (JT) 1:58.36, 7. Tyler Akob (PV) 2:02.43, 10. Nathan Vincent (NW) 2:02.98; 1600 – 1. Alex Heidemann (F) 4:23.71*, 2. Liam McLaughlin (S) 4:24.59*, 3. Liam Davis (ESS) 4:24.76, 6. Ryan Bailor (JT) 4:31.36; 110H – 1. Joseph Phillips (ND) 15.37*, 2. Raymon Deschamps (Lib.) 15.46*, 3. Parker Hoff (Na.) 15.49, 8. David Richards (JT) 15.92; 400 relay – 1. Wilson 41.78*, 2. Stroudsburg 43.16*, 3. Nazareth 43.26, 10. Jim Thorpe (Andrew Coolbaugh, Andrew Warner, David Fiorito, Salvatore Capria) 44.60; 1600 relay – 1. Northampton 3:24.95*, 2. Southern Lehigh 3:26.61*, 3. Liberty 3:27.95, 10. Pleasant Valley (Jarael Moore, Raymond Lursen, Aidan Green, Tyler Akob) 3:35.62; Long jump – 1. Colin Burdian (ESS) 22-3*, 2. Logan Henry (No.) 22-2.25*, 3. Kyle Moore (Em.) 21-8.5; Javelin – 1. Bobby McClosky (ESS) 179-8*, 2. Thomas Lloyd (W) 172-2*, 3. Andrew Nguyen (P) 168-6, 8. Joseph Roth (Leh.) 151-0, 9. Rowan Melber (JT) 150-0; Discus – 1. Max Mueller (W) 159-11*, 2. Anthony Liguori (S) 147-3*, 3. Aiden Raub (S) 144-7, 10. Kurtis Gustafson (Leh.) 120-8; High jump
– 1. Leyti Ndiaye (ESS) 6-3*, 2. (tie) Robert Allen (SL) and Tyrone Chambers (NS) 6-1*, 4. David Richards (JT) 5-11, 10. Michael Steigerwalt (T) and Julian Fears (Ea.) 5-9.
*State Qualifiers
Tags:
Sports,
Local Sports ,
Jim Thorpe-Spts,
Lehighton-Spts,
Marian-Spts,
Northern Lehigh-Spts,
Northwestern Lehigh-Spts,
Palmerton-Spts,
Panther Valley -Spts,
Pleasant Valley-Spts,
Tamaqua-Spts,
Weatherly-Spts,
Track and Field,
Track and Field-Boys