Lehighton brings pandemic-delayed comedy to stage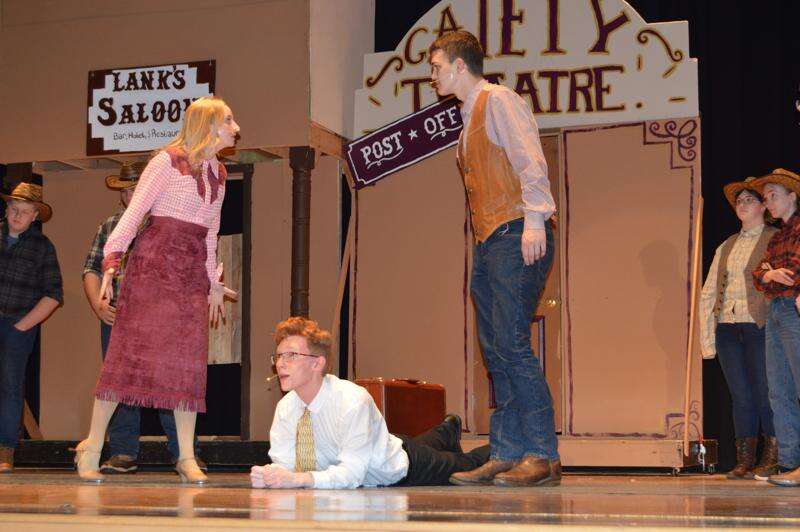 Published April 28. 2022 12:37PM
by Jarrad Hedes jmhedes@tnonline.com
The Lehighton Area High School Drama Club was a few short weeks away from raising the curtain on its performance of "Crazy for You" in 2020 when the pandemic foiled all extracurricular activities for the rest of the year.
Around two years later, audiences will finally get their chance to see the lighthearted comedy on stage this weekend.
"Crazy for You" runs Thursday through Friday at 7 p.m. in the Lehighton Area Middle School auditorium. Tickets and cast information are available at https://lahsdramaclub.ludus.com.
"It's definitely been a big transition over the last few years and even just with the show this year," Laurel Zimmerman, Lehighton's first year drama club director, said before Tuesday's final rehearsal. "We started out wondering if we would be wearing masks, and thankfully that is not an issue. We had a change of venue. But overall the kids have been really resilient, taken on this challenge and they have come out with a really good show."
"Crazy for You" is the story of Bobby Child, a well-to-do 1930s banker, whose dream in life is to escape banking and dance on Broadway. Sent instead to Deadrock, Nevada, to foreclose on the mortgage of the failing Gaiety Theatre, Bobby falls for the theater owner's daughter, Polly Baker. He creates a tangled ruse in an attempt to impress her. Posing as New York theater producer "Zangler," he puts on a show to save the theater and invites the real "Zangler's Follies" showgirls to come out west and assist him with the matter. But turning the local cowboys into dancers is the least of his problems when the real Zangler shows up; not to mention Bobby's mother and his fiancée who also visit Deadrock.
"The audience can expect a lively, entertaining show," Zimmerman said. "There is a lot of tap dancing and many beautiful costumes. It is a show that will allow people to escape and get out for a while to enjoy themselves."
Lehighton senior Nicholas Hrusovsky plays the lead role of Bobby Child.
"I'm very excited to be part of this production," he said. "This cast has been incredible and I'm thrilled to add this to my list of shows after being unable to perform it two years ago."
Other cast members include Polly Baker (Sophia Wentz), Irene Roth (Brielle Gosselin), Lank Hawkins (Aiden Zelrick), Bela Zangler (Logan Kester), Tess (Shayla Cotterman), Patsy (Gabriella DiDea), Mitzi (Kate Halenar), Louise (Brenna Hunt), Elaine (Katelyn Markell), Betsy/Susie (Kathleen Lindenmoyer), Margie (Lorah Thomas), Sheila (Anya Fenoff), Vera (Callie Krupa), Moose (Benjamin Zacharias), Mingo (Hunter Andreas), Sam (Zane Zimmerman), Custus/Perkins (Andrew Hrusovsky), Billy (Shayla Simek), Wyatt (Kylie Bishop), Jimmy (Aubree Laux), Junior (Jocelyn Hoffman), Pete (Luella Ware), Eugene Fodor (Jarred Moyer), Patricia Fodor (Jaclyn Troutman), Everett Baker (Liam Burns), and Mother (Marlena Ahner).
"I think the most rewarding thing about the production is seeing how everything comes together," Zimmerman said. "A switch gets flipped and things just start meshing, and before you know it, you have a really great show."