After brief stint with Pigs, Quinn back in Philly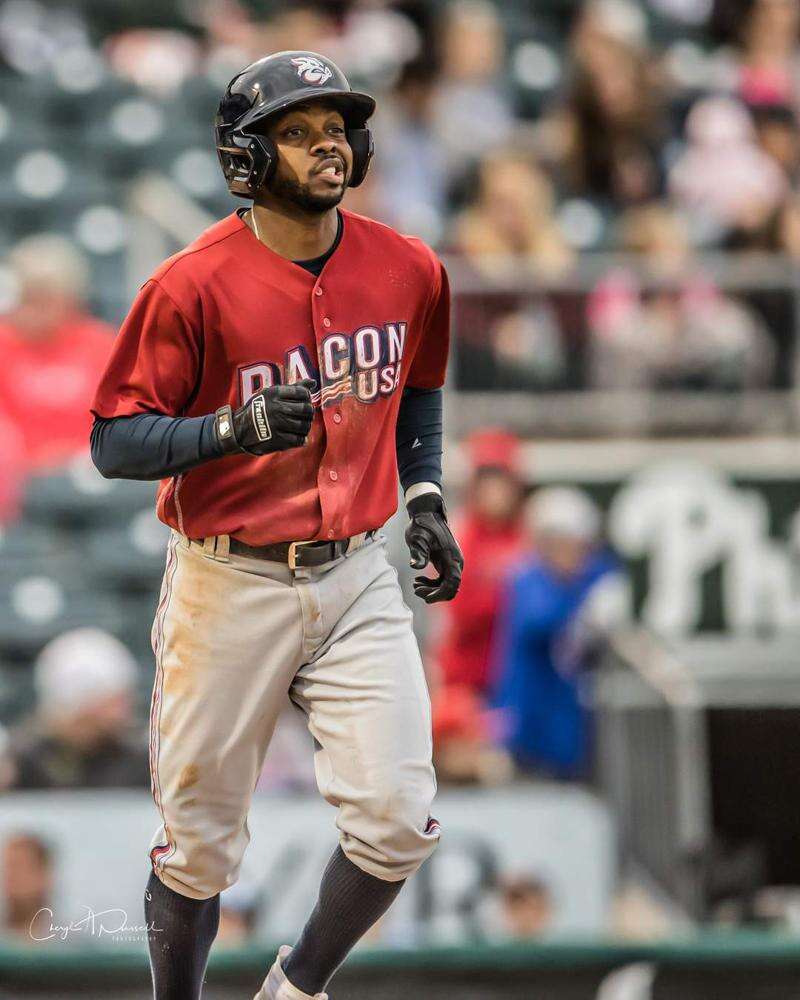 Published April 27. 2022 12:21PM
While all eyes were focused on the Phillies beating Colorado Monday night, those watching the transaction list saw a couple of big moves take place.
The first was that outfielder Roman Quinn, who the Phillies re-signed this month after seeing one center fielder after another hit the injured list, is returning to the big leagues.
The Phillies purchased his contract and placed him on the 40-man roster when they moved pitcher Ryan Sheriff to the 60-day IL, which allows the team to discount Sheriff among the 40 players on the roster.
On the 28-man roster, which will be reduced to its normal 26 players on Sunday, the Phillies made room for Quinn by sending top prospect Bryson Stott to the IronPigs.
Stott was on the field prior to the game to take infield practice with other Phillies players and was then summoned to manager Joe Girardi's office. Stott walked in, knowing that generally, getting that summons is never a good thing. Girardi delivered the news, but it was likely of little or no surprise to Stott, who had seen his playing time diminish to nothing recently thanks to the reemergence of infielders Alec Bohm - who has been starting at third base - and Johan Camargo, who has turned into a super-utility player for the team.
The move also focused on the availability of shortstop Didi Gregorius, who has been battling a bruised left hand. Monday afternoon, Gregorius was reexamined, and it was determined he would not need to be placed on the injured list, which would continue to limit Stott's playing time, which is crucial to a young player.
"We knew there was going to be a juggling act between development and Major League wins," Phillies general manager Sam Fuld told reporters. "There is a lot of development that happens just by being around the best players in the world. We just felt at this time it was a good opportunity to get Stott to Lehigh, get back into a routine, get regular reps and continue his development."
As for Quinn, who re-signed with the Phillies after being released by the Marlins after spring training, the move comes after he hit .294 (5-for-17) with a .520 on-base percentage with Lehigh Valley and played his usual impressive defense in center field. During the IronPigs last homestand, Quinn called the decision to come back to the Phillies organization – even though it was initially on a minor league deal – a "no brainer."
Over five major league seasons with the Phillies, Quinn produced a slash line of .228/.306/.355 and became a free agent following the 2021 season. He signed a minor league deal with Miami but hit just .083 in spring training and was given his release, allowing him to sign elsewhere.
The Phillies had seen another re-signed player, Odubel Herrera, go down with an oblique injury and his replacement, former IronPigs outfielder Mickey Moniak, hit the IL with a broken hand. The injuries opened a spot for Quinn. Herrera played part of his rehab assignment with Lehigh Valley and was activated from the injured list this past week.
OTHER INJURY UPDATES ... The IronPigs hope to get the guy who opened the season as their center fielder, Dalton Guthrie (hip flexor), back from the injured list soon. Guthrie, who is relatively new to the position, played well and was especially impressive defensively prior to the injury. The 26-year-old was hitting .395 (15-for-38) in 11 games. "We are taking it slow with the hip flexor injury, so we will have to see where he is at and go from there," said Lehigh Valley manager Anthony Contreras. Starting pitcher Hans Crouse hopes to miss just one scheduled start with elbow inflammation. Crouse was set to be examined in Philadelphia this week and could start at some point during the six-game series in Scranton this week and if not, certainly by the time the team heads to Syracuse.
STOP THIEF ... Rochester players went 12-for-12 in stolen base attempts during their recent six-game stop at Lehigh Valley. On the season, IronPigs catchers have thrown out just four of the 25 attempts that opponents have made to steal bases. The average percentage of runners caught stealing among all Triple-A teams is .216 this season, with the IronPigs at just .160 through their first 18 games.
COME RIGHT IN ... The IronPigs hope to have their new center field gate open in time for the next homestand, which begins on May 10. The entrance will be accompanied by an expanded parking area beyond the outfield wall and will work to limit the number of people having to cross IronPigs Way before and after games while others are parking or leaving the ballpark.