Three area teams are defending champions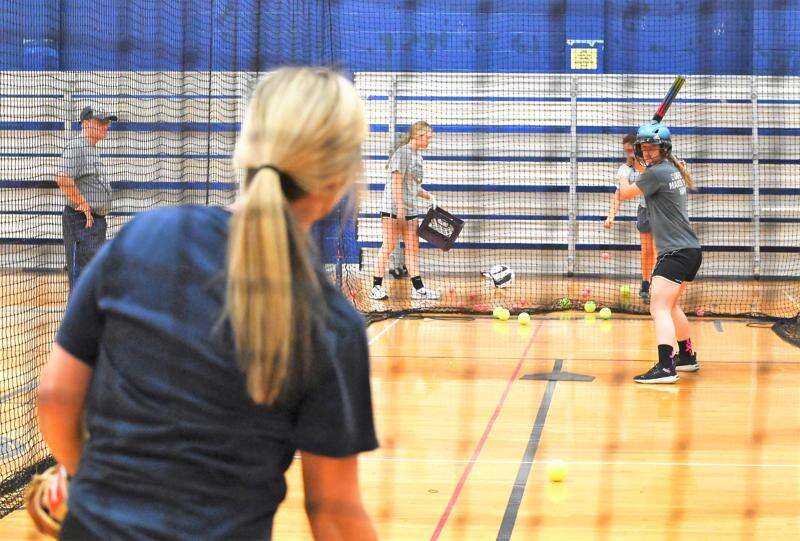 Published March 23. 2022 01:16PM
Palmerton's softball team earned a district championship a year ago, while Northwestern claimed a league title.
Weatherly also enjoyed success, gaining a division crown.
All three will try to defend their success from a year ago, while other area teams hope to improve and enjoy a 2022 season.
Below are capsule previews on all 10 local clubs:
JIM THORPE
FRESH START ... First-year head coach Keith Brinker inherits a roster of 19 players as the Olympians look to improve upon last season's 5-16 record. The Red, White, and Blue did qualify for the District 11 playoffs last year for the first time in recent memory.
BATTLE TESTED ... Thorpe will start five seniors who return from last season. Among the returning infielders, Taylor Mordaunt will be the shortstop. "We moved Taylor from the outfield to the infield so we can take better advantage of her strong arm," said Brinker. At second base will be Carsen Rosenberger, who Brinker calls a very good fielder. "At the plate, we've been teaching Carsen how to run up on the pitch and slap the ball to utilize her speed," said Brinker. Senior Kristin Pompa is a power-hitting third baseman who is adept at defensive bunt coverage.
BALL TRACKERS ... Senior Alexia Rohrman has an accurate arm and can track the ball from right field. Junior left fielder Allie Skrimcovsky is also a good tracker and hustles on every play. In center, newcomer, Melina Schwartz is very fast getting to the ball and making the catch.
BATS ... For the Olympians to score more runs, their hitting will have to improve. Besides Pompa, Brinker will bat junior Amanda Goodchild in the middle of the lineup and expects her to be one of his RBI leaders. Sophomore first baseman Alexa Oleksa is a good bunter and a solid contact hitter. Freshman Mara Levins has shown a good bat and could crack the lineup.
BATTERY ... In the circle, Goodchild will throw her five-pitch repertoire to senior catcher Jada Mahmde. "Jada has a good arm, and is getting better at framing pitches," said Brinker. "She's a fast runner too, and will bat at the top of the lineup."
THE GAME PLAN ... Brinker has asked his players to set individual and team goals. Among the team goals is to attain a .500 record or better. "They really like the practice format we've put into place, and that's giving us a good feel for what kind of team we can be this year," said Brinker.
LEHIGHTON
IT'S A NEW YEAR
… Dave Yob enters his fifth season with the Indians, who finished 3-17 overall and 1-13 in the Schuylkill League. Yob stressed last year was last year. This season, he expects different things. "Last year, we were a very young team in which nine of our 11 returning letter winners were either sophomores or freshmen. We took our lumps while learning how to play varsity softball."
LOOK WHO'S BACK
… Seniors Alyssa Myers (INF) and Cheyenne Whiteman (OF) lead a large group of Indians returning with experience. Others include juniors Abbie Miller (P/INF), Mia Snyder (P/INF), Anna Laible (OF) and Amy Dwojewski (INF), along with sophomores Maggie Pagotto (INF), Addison Chavanic (INF), Madyson Bergdahl (C/OF), Mallory Valentine (INF) and Marlee Craig (P/INF).
VARSITY NEWCOMERS
… First-year players looking to break into the lineup are Emily Binder (Sr., C/OF), Mylah Delgado (Jr., OF), Makayla Scott (Fr., INF/C), Eryn Mertz (Fr., INF/OF), Aliyah Nothstein (Fr., P/INF), Brielle Frable (Fr., INF) and Rowan Schaeffer (Fr., INF).
CAUGHT UP NOW
… Yob enters his ninth season coaching varsity softball, having also been at Palisades. He stressed how the effects of the pandemic year are still being felt. "The lost season of 2020 created the need to do a lot of teaching of the game - teaching things about the game that they should've been taught prior to playing high school softball," said Yob. "Now that we are caught up with that aspect, I do expect to be better this year. Everyone has been working hard to improve."
PRESEASON WORKOUTS
… "So far, the attitude and competition for starting positions has been good," Yob said. "We'll see how all that indoor work transfers to being outside this season. A .500 or better record is not out of the question, as long as we stay healthy."
MARIAN
LOTS OF REPS ... Joe DeAngelo is in his second stint with the Fillies' program, returning several years ago after also having coached from 2010 to 2017. He lists just 11 names on his roster from last year's count of 14 that finished 11-7 and lost in the District 11 finals to Tri-Valley. "With 11 players, everyone will certainly get plenty of repetitions in practice, as well as opportunities in varsity games," said DeAngelo.
PICK SIX ... A half-dozen Fillies return from last year's success on the field. Sophomore hurler Morgan Kelly steps into the circle coming off a 124-strikeout season a year ago. Junior shortstop Alise Heisey, an "aggressive" fielder according to DeAngelo, will carry her .368 batting average to the plate. "Alise is a fast runner, and she'll bat second in our lineup," said DeAngelo. Senior Eden Fleming moves in from the outfield to play third base, and will be counted on to drive in runs with her power. Junior Jackie Guth can play both the infield and outfield. "She's another player with good speed who puts the bat on the ball," said DeAngelo. Sophomore Grace Gallagher, who will bat in the middle of the lineup, will also be asked to play infield and outfield positions. Sophomore catcher Anna Grabosky caught each of Kelly's 11 wins a year ago.
THREE MORE IN THE STABLE ... The Fillies will have Senior Rhiannon Brady returning to the roster from the volleyball court to play first base. Sophomore Julia Meiss, along with freshman Delaney Erickson will both see time in the outfield. "Julia has shown some power, and Delaney is an aggressive base-runner who has been showing steady improvement each day," DeAngelo said
THE GAME PLAN ... DeAngelo will have his Fillies in giddy-up mode on the base paths to put pressure on opposing defenses. "With our six starters from last season, we think we can have another solid season, and even better if our experienced players can step up their game," he said.
NORTHERN LEHIGH
BACK ON THE DIAMOND
… Back for another season for Northern Lehigh head coach Kate Farber are shortstop Brianna Hess and pitcher Kendall Heiney, who are both in their senior year. Juniors Jordyn Hemingway (3B), Cadence Peters (1B) and Haylie Fenstermaker (OF) also return for the Bulldogs. "Our infield has depth on the corners and middles who can swap," said Farber. "While we are young overall, all positions except one have varsity experience."
YOUNG PUPS … Sophomores Arabella Heintzleman (2B), Kaitlyn Stock (C) and Emma Smith (P) all will look contribute this season.
VACANCY IN LF … For four years, Julia Wannamaker was a mainstay in left field. However, this season will be different as Wannamaker's graduation leaves a vacancy as Farber will need to find someone to replace the four-year starter.
WORK ETHIC IS THERE
… "The strengths of our team are our versatility and worth ethic," said Farber, who enters her sixth season with the program. "All our starters played throughout the summer and put in two-plus months of winter work, so they are dedicated to putting in the time to improve."
GOT TO FINISH
… Farber expects to be more competitive in both the Colonial League and districts after finishing with a 7-14 overall record and 5-10 mark in the league a year ago. She stressed the Bulldogs need to "finish the game." She added, "There were several games last season that we were competing in, but ultimately didn't come out on top. They are a better team than their record reflects, so they intend to prove that. We emphasize finding an area to be better in for every game that's played. We take pride in setting goals that most don't believe we're capable of achieving."
NORTHWESTERN
WHEN LAST WE SAW THE TIGERS
… Northwestern was down 7-6 with two outs in the bottom of the ninth and no one on base against Bangor when Adana Funk drew a walk, Kylie Zentz singled to move her to third and Brynn Balliet hit a ball that was misplayed to drive home Zentz with the winning run to beat Bangor 8-7 in the Colonial League championship to give the Tigers their first league title since 2006. The team then reached the district finals, before bowing to Bethlehem Catholic and being denied a trip to states. Funk, Zentz and three other key players – Novalie Duffy, Molly Mitman and Sam Sisco – have all graduated, but the goals are to repeat as league champions, become district champs and make a run at a state title. "We missed out one year (2020) because of COVID, so it feels like something is missing for me," said shortstop Morgan Farthing. "For me, personally, I want to get championships in leagues and in districts and make that final push because we (this year's seniors) got cut short, and we all want to finish strong."
WON ONE, LOST ONE
… Coach Josh Zimmerman and track coach Chuck Groller had a friendly battle for student-athletes coming into the season. Both coaches were hoping that freshmen Brooke Balliet and Riley McGinley would choose their sport over the other for the spring season. Balliet's sister, Brynn, is a senior pitcher on this year's team, but even she couldn't persuade her younger sister to choose softball. Balliet chose to take part in track, but McGinley opted to play for Zimmerman on the softball field. Zimmerman started thinking about how McGinley could fit into his team this season when he saw her playing basketball. "First thing I noticed about her was her speed and I thought, 'Man, can she run?' She is looking to fill one of the outfield spots for us this year as a freshman, so I'm glad she chose softball," said Zimmerman.
DECISIONS TO BE MADE
… With the normal holes created by graduation, Zimmerman has some decisions to make between now and the season opener on Friday. He knows his battery of Olivia Stofflet (catcher) and Brynn Balliet (pitcher) are both back for their senior season. He has an experienced left side of the infield with Farthing at short and junior Marissa Christman at third. Last year's left fielder, Sage Toman, is moving to center. Izzy Akelaitis seems a likely possibility at second base, with Izzy Teprovich taking over first base duties. McGinley will likely claim the right field spot, though there is a lot of competition for all the open positions. "It's the type of situation where we will pick a girl to play a spot, and the girl that we don't pick would probably be starting at a lot of other schools," Zimmerman said. "We're at a point at Northwestern - in most sports - where we don't rebuild, we reload."
THIS ONE IS SPECIAL
... A senior season is always special for a student-athlete, but Stofflet is using this season not only as a bit of an escape, but also as a way to pay tribute to her dad. William Stofflet passed away this past January, and his daughter is dedicating this season to him. "I'm excited for this year, but it is definitely going to be a challenging year," said Stofflet. "I am definitely playing for my dad who I lost in January, so this season is going to mean a lot."
PALMERTON
ONE FOR THE BOOKS
… The Blue Bombers are coming off a memorable season, one in which they posted an impressive 21-5 overall record. Included among their success was a District 11 Class 3A championship.
A HIT TO LINEUP CARD
… Gone from last year's record-breaking season are four top-notch players. They include Times News Player of the Year Megan Green (1st Team All-State), Megan Serfass (1st Team All-State), Emily Baumgardt (2nd Team All-State) and Yesse Olewine. The four combined to break various Palmerton school records.
LOOKING TO FILL THOSE VOIDS
… Bob Hock will clearly have some huge shoes to fill in this, his ninth season with the Blue Bombers. Several players do return from last year's memorable ride in the hopes of getting back to the postseason. Returning are seniors Kaylee Strohl (OF/2B), Madalynn Moyer (1B/ OF), Alyssa Silliman (OF/Utility) and Shannon Dougherty (C); juniors Kelsey Balliet (C/INF/OF) and Liz Sterner (INF/OF); and sophomores Carly Gaffney (P/2B), Cadee Munjone (1B/OF), Sydney Frantz (2B/OF/P), Megan Matsko (SS/1B/3B) and Madison Green (INF/OF).
FRESH TALENT
… Looking to break into the varsity lineup are a bunch of underclassmen, including sophomores Kyra Apgar (P/1B), Kaitlyn Heimbach (2B/OF), Emily Christopher (1B/OF) and Lauren Cohen (LF/OF), as well as freshman Mikayla Pengelly (OF/C/3B).
BOMBERS ACE
… A year ago, Gaffney was the primary player in the circle for the Bombers. She was the arm that helped carry Palmerton into the Colonial League semifinals, the district final and then the state playoffs. Gaffney is expected to again be the main arm for the Bombers this season. "Based on Carly Gaffney's wonderful freshman season, we feel that pitching is one of our strengths this season," Hock said. "Carly is dedicated to her craft, and continues to work to improve her pitching capabilities. She is a very hardworking, dedicated player."
DIFFERENT YEAR, SAME GOALS
… Nothing is going to change as far as the Bombers' expectations. "Our goals, as always, are to qualify for league and district playoffs, with the intentions of winning," said Hock. "The team is ready to accept the challenge."
PANTHER VALLEY
BUILDING PROGRAM … First-year head coach Tara Yuricheck inherits a Panther team that had just one victory last season. She holds a roster of 21 players that will allow the Panthers to field a junior-varsity team for the first time in recent years.
HIT PARADE … The Panthers should score more runs this year. Senior shortstop Brenna Beshock is a talented athlete who hit .400 last year, and has impressed Yuricheck with her glove. "I think Brenna is the best shortstop in the league and with her bat, she'll hit third or fourth," Yuricheck said. Senior first baseman Elizabeth Rex is a two-year starter and a solid .300 hitter. Sophomore Mikayla Yuricheck will catch and hit in the top five in the order. Contact hitter Lucy Greco will play third base and see some time in the circle. Sophomore newcomer Kaidence Krapf will play an outfield position. "Kaidence will hit first or second," said Yuricheck. "She's very athletic and quick." Returning sophomores Kylie Eidl and Ivy Quigley will also see playing time.
FRESHMAN FORWARD … The Panthers will move through their schedule double rostering (varsity and JV) four freshmen. Brenna McAndrew, a contact hitter with a good arm, will play second base. Morgan O'Brien will pitch. "Morgan can really play anywhere and when we use Beshock on the mound, we can put Morgan at short. She's a power hitter, and can help us score runs," Yuricheck said. Sierra Romanchik is a top-of-the-lineup-kind-of-hitter, and can play infield or outfield. Kyla McQuillen will see some time behind the plate.
THE GAME PLAN … "We should be much more competitive this year," said Yuricheck. "We'll have good overall defense, and a nice mix of contact and power hitters. Our team goal is to get to .500, but the most important thing for the program is that we're on the way to building a winning culture."
PLEASANT VALLEY
EVERYBODY'S BACK
… The Bears return without losing a single player from last's year team, which finished with a 4-12 overall record. Looking to improve and push for bigger and better things this season are seniors Ariana Mulligan (P), Eve Kratzer (DP/OF), Emily Roberti (OF/C) and Amanda Beade (INF/OF), as well as a talented group of sophomores in Danica Getz (3B), Samantha Ratti (C/INF), Hailey Krock (INF) and Madison Worden (1B/OF).
OTHERS TO WATCH
… Sophomores Madison Dorshimer (P) and Aryn Stivala (2B/OF), along with freshmen Brianca Pridham (OF/C), Kailyn Getz (P/INF), Allison Borger (1B/OF) and Lydia Borger (OF) enter the 2022 season also looking to contribute.
POTENTIAL IS THERE
… Steve Caffrey enters his 29th season, and believes the Bears have the potential to have a decent year. "We have a lot of young girls who are eager to play, and they are pushing the older players for starting positions," said the longtime mentor. "Commitment is a concern of mine. In order for us to be successful, we need to have everyone committed to our program."
EARLY COMMITMENT
… Offseason workouts will hopefully result in success during the spring for PV. "We have a group of players who have continued to work throughout the year to get better at what they do," said Caffrey.
PV PRIDE
… The Bears will try to get back to their traditional winning ways, as the program has become accustomed to success and participating in the postseason. "As a team, we're working hard to make our way back to a program that contends for a division title, and does well with the rest of the league," said Caffrey.
TAMAQUA
BIG SHOES TO FILL
… Alexsya Thomas (OF), Ella McLaughlin (OF), Riley Zeigenfuss (3B/2B), Ally Frederick (C), Alexus Warne (C/OF), and Courtney Loar (DH/OF) have all graduated since Tamaqua was last on the field. That group helped the Blue Raiders post an overall 9-12 record a year ago, including a mark of 7-7 in the Schuylkill League.
WELCOME BACK
… While a number of players have departed, Blue Raider head coach Jillian Barron welcomes back a slew of key returnees to her lineup card. Back are seniors Bryn Clifford (P/IF), Gabby Robb (3B/SS), Breanna Thomas (OF) and Trenyce Wingler (1B), along with juniors Hailey Williams (OF/3B), Riley MacMillan (2B), Kailey Richards (P/IF), Megan Lavine (OF), Haley Giuliano (OF) and Samantha Letkowski (1B).
KEEP AN EYE ON
… Barron mentioned that there are some "other to watch" candidates entering the 2022 season. After impressing during preseason workouts, Kaziah Streisel (Sr., OF), Leah Crowley (Fr., SS/P), Addison Krall (Fr., C/IF) and Veronica Scott (Fr., C/utility) could also supply some contributions to this year's squad.
BUMPS AND BRUISES
… "We will have our growing pains to start this year due to not having a JV season the last two years to gain that extra experience," said Barron, who will be in her 12th year as the Blue Raiders' head coach.
READY TO START
… Barron is excited to see what happens during the 2022 season. "Overall, we have a very athletic and eager group of girls. I am excited to watch them grow as a team and see what they can accomplish. Playing in the postseason is a goal they set for themselves as a team."
WEATHERLY
KEY LOSSES
… Gone from last year's Schuylkill League Division 3 championship squad are the Wreckers' foursome of Kelly Royer (CF), Alexis Colecio (C), Amanda Colecio (1B) and Ashley James (3B). According to sixth-year Weatherly head coach Will Bartel, they will be sorely missed. "All of the girls were instrumental in providing great leadership and guidance to our younger inexperienced players," Bartel said.
BACK AT IT
… Looking to help the Wreckers get back to the Schuylkill League and District 11 playoffs are three key returnees in juniors Madison Von Frisch (P) and Kelly Michaels (2B), and sophomore Marissa Hoffman (SS/3B).
OTHERS TO WATCH
… Bartel feels there are a number of players to keep an eye on this season, and believes junior Adrianna Dotzel (OF), along with sophomores Juliette Partel (OF/1B) and Anna Bloom (OF) all have the potential for outstanding seasons in 2022.
SUCCESS IN THE CIRCLE
… Von Frisch pitched 133 of the 134 innings the Wreckers played last season. Bartel said Von Frisch did a great job in her first year of varsity ball. "It's no secret pitching is our strength," Bartel said. "Madison is a year older and a year stronger, and she learns from her mistakes. Her work ethic is second to none at her craft."
ON THEIR MIND
… The Wreckers clinched a Division 3 title, but dropped games in both the league and district playoffs. The team is anxious to return to both postseason appearances. "We expect to contend for our division crown again," Bartel said. "The girls continue to work hard, and they have last year's run to look back on for inspiration to what it takes to succeed."