Fillies eliminated from state tourney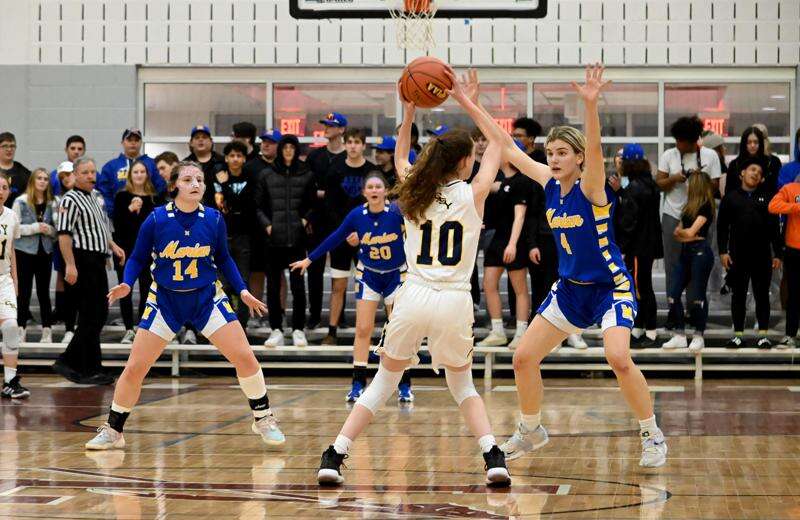 Published March 15. 2022 01:13PM
Marian has lived and died by the three-point shot this season.
The Fillies' ability to shoot the three was a catalyst to winning both a Schuylkill League Division 3 title and a District 11 1A championship.
However, on Monday in Marian's PIAA Clas 1A second round matchup against Christian School of York, a poor shooting night from beyond the arc, paired with a strong rebounding effort from the Defenders, ultimately contributed to the Fillies demise in a 47-44 defeat.
"It's been our M.O. all season. We're going to live and die by that outside shot, and that's what has helped get us here, but tonight those shots just didn't fall," said Marian head coach Damian Fritz. "We also just didn't do a good enough job rebounding. It's been something we've really stressed in the postseason, but tonight their big inside player Linda Brown - her motor just didn't stop and she outworked us inside."
Marian (21-6) shot the ball well in the first quarter, coming out with a stampede of three-pointers – hitting five – to lead 17-15. But it would be a while until the Fillies would hit their next one, after their shooting struggles began in the second quarter.
Still, Marian carried a five-point lead (29-24) into intermission, battling to stay ahead of the surging Defenders.
"There were a few players out there for them who were matchup nightmares for us," said Christian School of York head coach Mike Graybill. "We switched some things up though and moved some of our bigger girls, who have had some experience in the past guarding quicker guards, out on the perimeter and that helped us.
"Also, we wanted to keep them working hard with our half-court pressure, and we were hoping it gave them some tired legs down the stretch shooting the ball."
After giving the Fillies everything they could handle through the first half, the Defenders finally made their move, outscoring Marian 14-4 in the third quarter to grab a 38-33 lead.
The Christian School of York defensive game plan was in full effect during that span, as the Fillies didn't hit a single three-pointer during the second and third frames.
After Marian's Aliya Tikhtova hit two foul shots to open the fourth quarter, the Fillies finally did get a triple to fall at the five-minute mark on a Kerrigan Digris shot from the left corner, which tied the game at 38-38.
But the Defenders would steal the lead right back on a Brown hoop plus the harm in the low post. Brown was a big reason for her squad's victory, especially down the stretch when she scored her team's last 11 points and dominated on the offensive boards.
The Fillies fought back, however, to take a 44-43 lead after two Ashley Pleban free throws and a transition deuce off a steal with just over a minute remaining.
But enter Brown, who got an offensive rebound off a missed free throw and scored to put the Defenders back up. They would then hold Marian scoreless the rest of the way.
The Fillies did have a late look from the left wing to try and tie the game, but it fell short as Marian's state run came to an end.
"I told the girls tonight, 'look what we've been able to do together in just a short amount of time,'" said Fritz. "Now, we'll have a full offseason together to work and get better.
"I'm just so proud of these girls for what they've been able to accomplish. We really have a lot to look forward to, and I couldn't be more proud of our program, and our girls."
SHOOTING WOES
... Marian ended the night 6-for-30 from beyond the arc.
CLUTCH
... The Defenders' Linda Brown was clutch from the foul line, especially late in the game. After missing her first four, she hit her next seven.
LEADING SCORERS
... Brown scored a game-high 21 points. Digris led the Fillies with 11 points, including three triples.
MARIAN
A. Tikhtova 1 2-2 4, Minchhoff 4 0-0 9, Pleban 3 2-2 9, Martinelli 3 2-2 8, Digris 4 0-0 11, Lombardo 1 0-0 3, Corrado 0 0-0 0. TOTALS: 16 6-6 44.
CHRISTIAN SCHOOL OF YORK
L. Brown 7 7-11 21, Rhine 4 0-0 9, Bell 2 2-5 6, E. Brown 1 0-0 3, Miller 4 0-0 8, Byrd 0 0-0 0. TOTALS: 18 9-16 47.
Marian 17 12 4 11 - 44
CSY 15 9 14 9 - 47
Three-pointers: Marian - Digris 3, Lombardo 1, Minchhoff 1, Pleban 1; CSY - Rhine 1, E. Brown 1.