Spotlight: A dazzling Christmas light display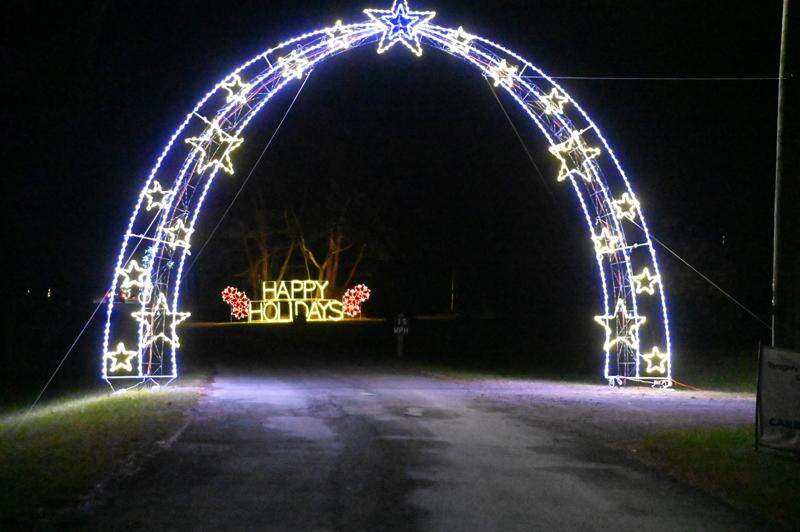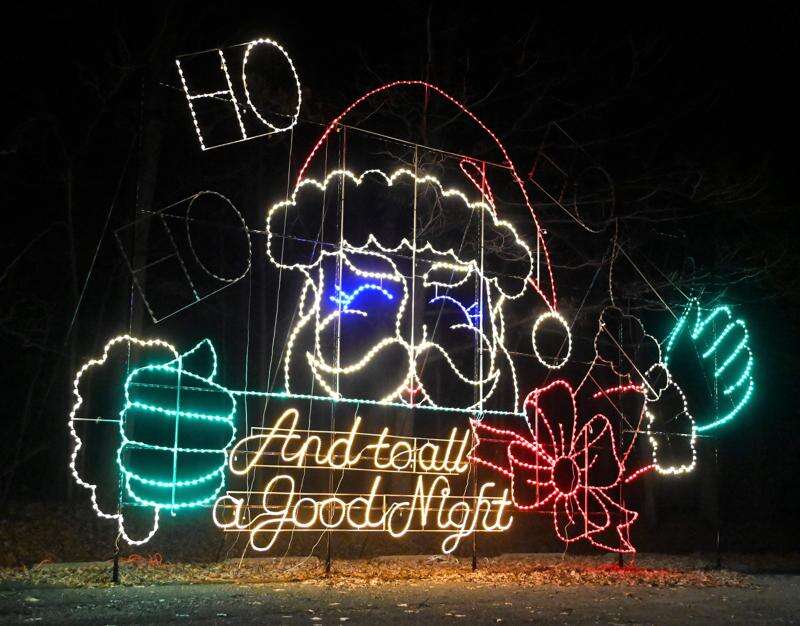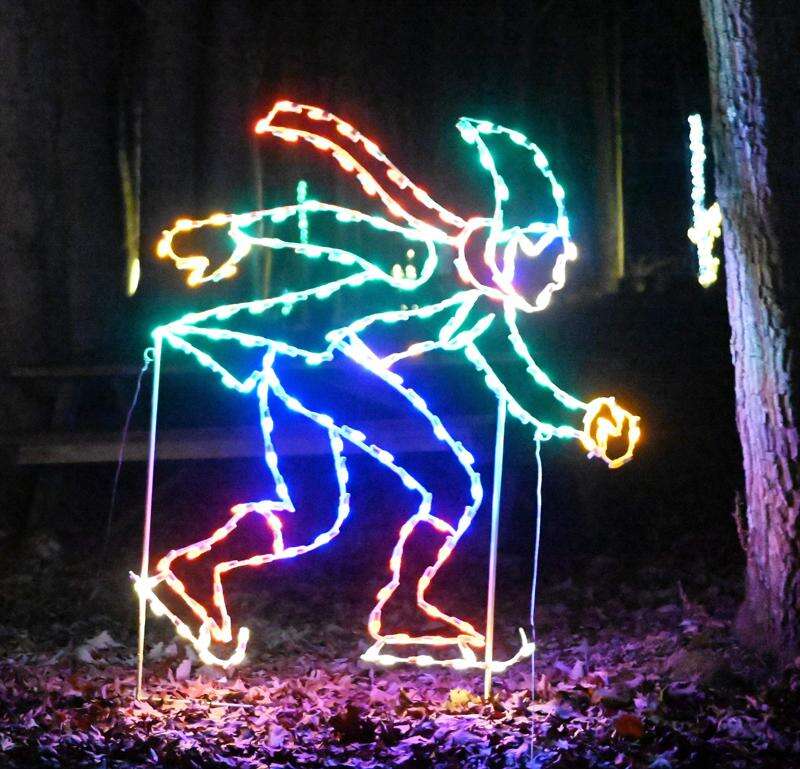 Published December 18. 2021 07:06AM
A dazzling, delightful display of Christmas dancing light formations and layouts at Mauch Chunk Lake Park is the area's newest holiday attraction.
The colorful setup was created as a fundraiser for Raising the House, Palmerton's Family Assistance Program, and stretches along the campground area of the park. Lights at the Lake welcomes visitors with a huge, drive-thru arc of blue-and-yellow lights and concludes with a 15-foot, lighted outline of Santa holding a hot chocolate cup and the words "ho, ho, ho" flashing above it.
In between are outlines of an igloo, horse-and-buggy, Santa house and even glistening flakelike sparkles dripping overhead.
Adrianne Allen, president of Raising the House, said the exhibition is about a mile long and includes over 30 pronounced displays. The entire pathway is lighted with an assortment of brilliant styles.
Although the display opened Dec. 3, Allen said one more feature, a "Twinkle Tunnel," which is a drive-thru arrangement, has been added.
Admission is $20 per carload, with proceeds going to Raise the House. People viewing the lights are advised to remain inside their vehicles at all times.
Although people can pay cash to view the lights, they also can buy advance tickets online at raisingthehouse.org. Purchasing online allows people to select the time of their visit and helps avoid backups at the site.
The lights in the display were provided by Rileighs Outdoor Decor of Allentown, with Raising the House as the facilitator of the display. Businesses and organizations have sponsored various scenes in the exhibit.
Raising the House was started as a family assistance program in memory of Blaine House, who was a teacher and coached football for almost 30 years in the Palmerton School District. He died in 2013.
The mission of Raising the House is to provide financial support to students and families of the Palmerton community when a serious hardship such as a house fire or major medical condition occurs.
Details on qualifying for help from Raising the House are available on its website.
The Christmas light show is open weekends through Jan. 2 from 6-10 p.m. It will be closed Christmas Eve, Christmas Day, New Year's Eve and New Year's Day. However, it will be open on Dec. 23.
The opening weekend was deemed a success by Allen. She said on Dec. 4, 331 cars passed through, and about 250 on Dec. 5.
Not only does Raising the House benefit but so do other organizations.
"This is a fundraiser and we're all volunteers," she said, noting that other organizations are invited to help with the project.
Instead of being paid, volunteers will have a donation given to the organization they represent.
The Lehighton 209 Wrestling Club was one of the groups to take advantage and assisted.
The Franklin Township Fire Police are present each night for traffic control.
One of Allen's favorite inclusions is a "Smart Tree," where the lights on the tree dance to music played on Radio Station 103.9 FM.
Among the visitors to the display was Summit Hill Mayor Elect Jeffrey Szczecina; his wife, Maria; and their children.
"It's a very nice display right here in our community," Szczecina said. "It's a very positive atmosphere and experience."
Maria agreed and said, "I think it's something that everybody should see."
Allen said that although this is the first year for the display, "we hope to make it a tradition."
About the Mauch Chunk Lake display
Sponsor: Raising the House Family Assistance Program in Palmerton.
Hours: Fridays, Saturdays and Sundays from 6-10 p.m. Closed Christmas Eve, Christmas Day, New Year's Eve and New Year's Day. It will be open on Dec. 23.
Cost: $20 a carload. Cash is accepted or advance reservations, including planning your specific time to visit, can be made at www.raisingthehouse.org.
About the exhibit: It's about a mile long. Visitors are asked to remain inside their vehicles to see the displays.