Christmas light display to dazzle the West End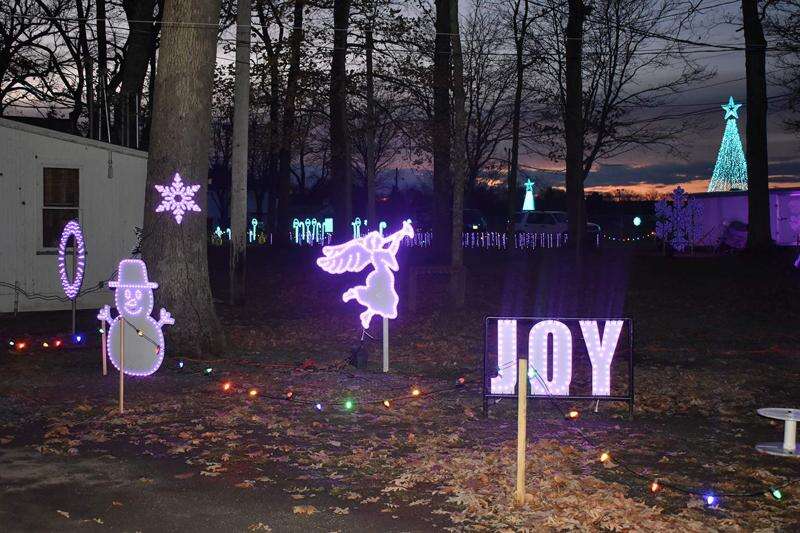 Published November 26. 2021 01:45PM
The West End Festival of Lights begins tonight at the fairgrounds in Gilbert.
"This is the first year of it, and it's something I have wanted to do for a few years," said Todd Merkel, creator of the event.
For years, Merkel has created an elaborate Christmas lights display known as Stoney Ridge Lights at his home on Mauch Chunk Road in Palmerton.
Hundreds of cars, if not more, drove by his home each holiday season. He wanted a bigger location, and he wanted more decorations to display.
So, he brought his love of lights to the West End, and this year, "my show has quadrupled in size," he said.
It includes more than 100,000 lights and nine mega trees sequenced to music.
Though you can see some of this spectacular show from the road, there is a lot more awaiting guests inside the gates.
He and his girlfriend, Jackie Gruber, have been at the fairgrounds every day since early November hanging strands of lights, running extension cords from power source to decorations, and setting up metal frame reindeer, snowmen, the Grinch, snowflakes, trees and stalks of corn that light up.
"This is a hobby that turned into a business. I manufacture commercial Christmas decorations," he said.
The West End Festival of Lights begins on Black Friday and will be held daily through at least Dec. 23. Merkel said he may extend it to the week after Christmas.
The lights will be turned on around 5 p.m. and remain on until about 10 p.m.
The walk-thru light display is animated and includes music.
"On weekdays, there will be limited food vendors and the light display," said Merkel.
On Nov. 26, 27 and 28 and Dec. 17, 18 and 19 there will be craft vendors, food vendors, horse and buggy rides, visits with Saint Nick and entertainment, he said.
Wayne Johnson will perform this Saturday from 2 to 5 p.m. and RJ Cramer will perform on Sunday from 2 to 5 p.m. Entertainment for Dec. 18 and 19 are to be announced.
Merkel and Gruber would like to thank their committee, which includes Kerry Smith, Denise Snyder, Mike and Sylvia Goral, Joel George, Lynn Smith, Lewie George and Ron George.
Christmas trees
Twenty Christmas trees, which were purchased from Shoenberger Farms, have been adopted and decorated by organizations or individuals.
"These trees will be turned on during the Festival of Lights and are in honor of or in memory of someone," Merkel said.
They are located at the end of the midway, near the building that holds the flower exhibits during fair week in August.
One of the trees is sponsored by the Parent Teacher Organizations from Pleasant Valley Intermediate and Pleasant Valley Elementary schools.
"We thought it would be a nice way to show our support to a local, community event. It is nice when we can work together on things," said Heather Blum, a PVI PTO member who helped decorate it.
They chose classic blue and white lights to represent Pleasant Valley. They hope to add a little bear on there, she said.
West End Relay for Life, Woody's Men and Kids Cuts, Boy Scout Troop 102 and Cub Scouts Pack 102 are some of the other groups that have adopted and decorated trees.
Merkel hopes to grow the number of tree sponsorships next year.
Kris Kringle Fest
The Carbon County Fair will host its Kris Kringle Fest on Dec. 3, 4, 5, 10, 11 and 12 at the fairgrounds and The Festival of Lights will be part of it.
"We're hoping the community supports us so we can continue this for many years to come," said coordinator Bob Silliman.
There will be small rides, a train and bounce house for children, craft and food vendors, games, entertainment and of course, hot chocolate.
"How can you have a Christmas event without the hot chocolate," Silliman wondered.
Kris Kringle will visit with the children in the heated tent from 6 to 8 p.m. each night.
Kringle, an old-fashioned style Santa, "Is looking forward to talking to a lot of children," said Silliman.
Musical performances on these dates include Dave & Brenda Rehrig, Bill and Melodye Reese, Jeni Hackett, Stacey Gable, Joe Krushinsky and Angela Nardini.
The entertainers will sing Christmas carols and other tunes of the winter holiday season, he said.
"I hope this event provides lots of enjoyment for the kids. That's what Christmas is all about," he said.
Admission
Daily admission into the fairgrounds is $6 per person ages 3 years and older. It is free for those under 3. Gates open at 2 p.m. and close at 9 p.m.