Bulldogs blitz West Catholic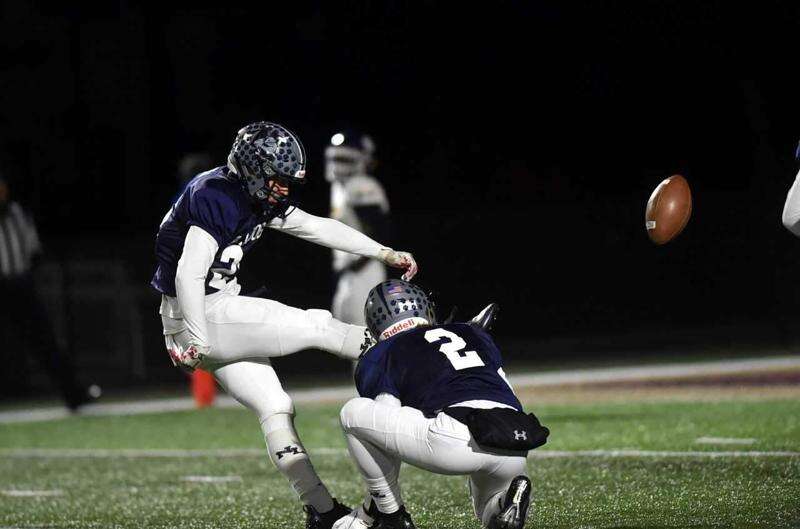 Published November 26. 2021 10:25PM
Northern Lehigh likes to start fast.
In fact, in 13 of its 14 games this season, the Bulldogs have scored on their opening offensive possession.
On Friday night in its PIAA Class 2A quarterfinal round match-up with District 12 champion West Catholic, Northern Lehigh yet again got out to a blistering start, holding a 21-0 lead after the first quarter. The Dawgs used that early advantage to come away with a 48-24 victory over the Burrs, advancing to the 2A semifinals next week.
In its two state playoff games, Northern Lehigh has entered the state tournament, its has outscored its opponents 35-7 in the first quarter.
"We came out fast again tonight and got off to a great start, which was huge for us. I'm really proud of the way our guys came out and ran the ball against them early on too," said Northern Lehigh head coach Joe Tout. "Everything we saw on film indicated that it was going to be really tough to run on their defensive front; not many teams had success running the football on them this season. So, that fired us up, being able to grind in our ground game.
"The execution too was there for us early on, coming up with the trick play on our first possession that went for a score; that fires up the fans and the kids, but yeah any time you're able to get out to a big lead, that's going to help you win ball games."
The Bulldogs actually got out to a 28-0, which they held at around the 10-minute mark in the second quarter. Northern Lehigh set the tone early as Tout noted with a little trickery on its first offensive possession. A double pass, that ended with wide receiver Nick Frame finding Trevor Amorim down the left sideline for 54 yards put the Dawgs up 7-0.
A 29-yard Amorim rushing score, a 22-yard hookup between quarterback Dylan Smoyer and tight end Austin Smyth and a 63-yard screen pass from Smoyer to Matt Frame got Northern Lehigh out to a four-score advantage.
As impressive and efficient as the Bulldogs offense was early on in this one, it was the play of the defense that was arguably even more impressive. West Catholic entered the game with a vaunted rushing attack led by running back K'Saan Greene, who rushed for over 250 yards in his last outing against a good York Catholic team. Green, who entered the game with 1,243 rushing yards on the season was held in check in the first half as he was held to 61 yards and no touchdowns. The Burrs started the game 0-for-6 on third down conversion and punted the ball four times in the first half.
West Catholic's lone touchdown in the half came on a 54-yard hookup between quarterback Zymeen Howell and Naidir Hilliard with 8:30 remaining in the second quarter.
"This game was won by our defense tonight. You look up and you see 48 points, but defensively, I think that's what won us the game," said Tout. "Our kids just played tough tonight. We went into the half just really proud and excited about what we were able to do defensively and in the run game and we told the guys, 'hey, listen we're going to go out there now and run our power stuff and pop a few' and that's what we were able to do."
Northern Lehigh extended its lead to 41-8 when the Burrs finally showed some life offensively, scoring two touchdowns in the fourth quarter after a K'Saan Greene 57-yard touchdown run and a J'Iaire Greene 18-yard rushing score. But with 6:28 to play a seven-play drive that ended in a Smoyer one-yard plunge made it a 20-plus-point advantage once again.
NEXT UP ... The Dawgs will now go onto play powerhouse program Southern Columbia in the 2A semis at a day, time and site to be determined. Southern Columbia defeated Richland in its quarterfinal match-up 62-20.
DYNAMIC DUO ... Trevor Amorim and Matt Frame yet again impressed this week on the offensive side of the football. Last week, both Amorim and Frame rushed for over 100 yards, and against the Burrs, the two combined for 325 yards of total offense and five touchdowns.
2,000-YARD CLUB ... With his 155 yards passing on the night, quarterback Dylan Smoyer passed surpassed the 2,000-yard passing mark on the season.