Spotlight: Chamber honors businesses, volunteers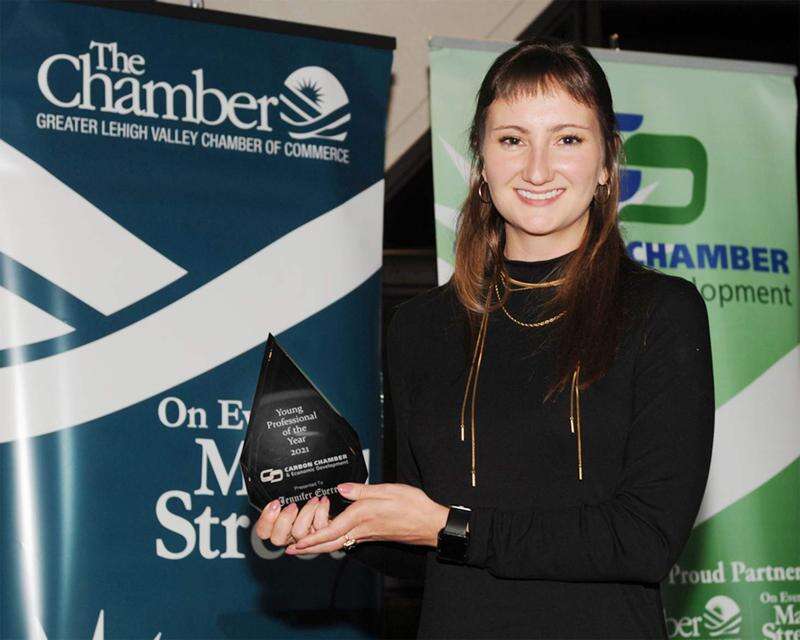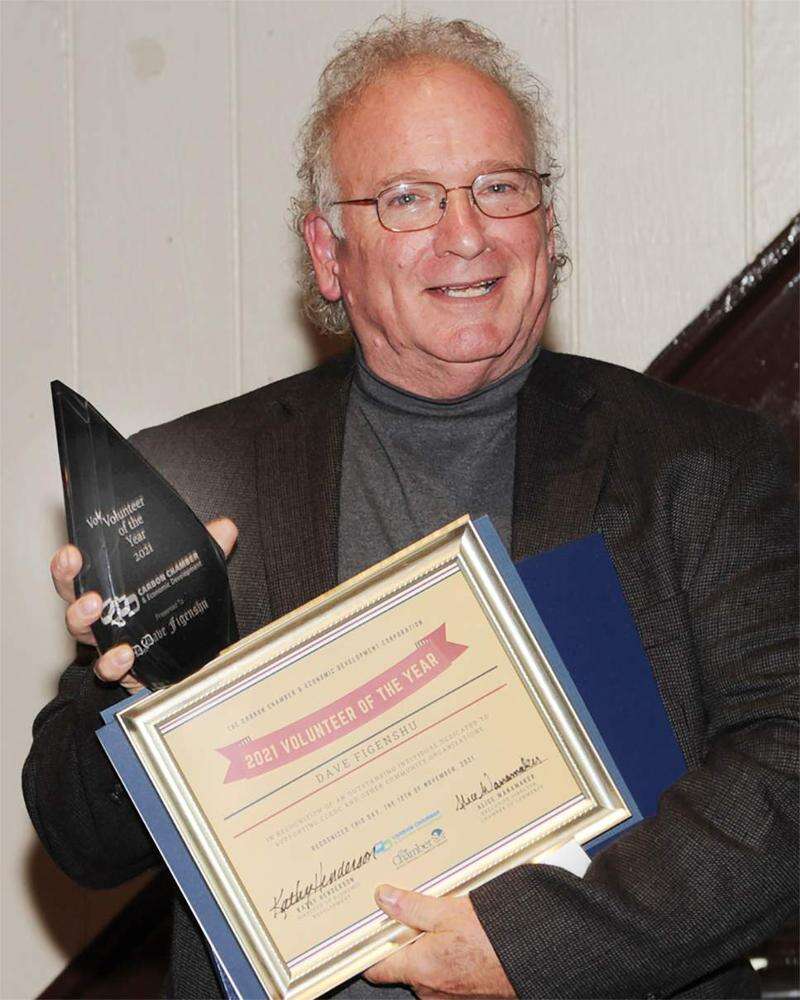 Published November 20. 2021 07:24AM
he Carbon Chamber & Economic Development recognized businesses and volunteers at its annual dinner and awards gala on Nov. 12 at Blue Mountain Resort.
CTC Manufacturing, Beaver Meadows, was named 2021 Business of the Year; Off the Charts Music School, Palmerton, won Rookie Business of the Year; Jennifer Everett of Valley Royale, Young Professional of the Year; Dave Figenshu, Volunteer of the Year; Mahoning Drive-In Theater, Tourism & Entertainment Business of the Year; Bennett Family Properties, Economic Development Project of the Year.
Businesses were recognized for milestones: PPL Electric Utilities, 100 years; Pencor Services, 70 years; Dream Vacation, Marj Federanich, 20 years, and Andreas Plumbing Heating & AC, 15 years.
Here is a look at the award winners:
Off the Charts Music School
At Off the Charts Music School, students are taught by working professional musicians who have not only mastered their respective instruments, they have vast experience performing on stage, touring, recording and making music as professional musicians.
Dustin Rehrig is the owner and drum instructor of OTC Music School. Rehrig has been playing and performing on drums since the age of 3 years. He always wanted to open a music school where students would not only learn how to play their instrument, but also learn how to apply their knowledge. At OTC Music School, students are taught by working professionals how to perform onstage as well as learning the ropes of touring and making music as a professional musician.
Rehrig leased the building in Palmerton two days before the country shut down due to COVID-19. His wife, daughter, father, stepmother and sometimes brother and wife along with other friends built this entire store, making his dream a reality.
Joining Rehrig in this great adventure is his daughter, April.
Dustin Rehrig said it was an incredible feeling to be honored, especially after working hard to build the business during the difficult climate of the pandemic.
"It's been amazing all the things we've been able to be a part of. Having a brick-and-mortar building in Palmerton and being a part of the community, it's been an amazing experience," Rehrig said.
CTC Manufacturing
CTC Manufacturing is a nonprofit sheltered workshop which helps the community by giving opportunity to disabled individuals who want to work and by providing high-quality services to its customers. We serve the Tri-County area (Carbon, Southern Luzerne and Northern Schuylkill counties) with a business center in Beaver Meadows. CTC Manufacturing operates Business Solution Service locations in Beaver Meadows. We offer dock-to-dock pickup and delivery within 50 miles and can ship anywhere via UPS. CTC specializes in assembly and packaging operations, commercial sewing and apparel sales and detailing, with ample warehouse space.
While others in the industry closed, CTC reopened July 5, 2020, with the necessary safety protocols in place to keep workers safe. CTC secured new manufacturing customers during the pandemic by gaining work from other workshops that were closed. This work helped to keep people employed, especially when wage wars were robbing small businesses of their employees.
Jennifer Everett
Jennifer Everett is the owner of Valley Royale, a social club open to the public with activities that include tennis, pickleball and private events. The venue is also available for weddings, private parties and Airbnb rental.
Born and raised in Lehighton, Everett attended Drexel University in Philadelphia. Her life experiences include teaching English in China, consulting early stage businesses in Chile, and working for major tech companies like IBM, Google and Uber in San Francisco.
In addition to running Valley Royale and working on Uber's global web team, Everett is on the USTA Community Committee which has allowed her to do things like give local gym teachers free tennis equipment and teaching resources. She is grateful for the opportunity to use her life experiences to create opportunities for the community to connect and give back to her home - Carbon County.
"I'm just so happy to be back home and to be part of the growing community here in Carbon County. The Chamber's support is so integral and it was an honor to be recognized by them," Everett said.
Dave Figenshu
Dave Figenshu, owner of Dave Figenshu Digital Media, has volunteered with various organizations, including the CCEDC throughout his lifetime. He is a volunteer firefighter, has creating volunteer opportunities at the local ski areas, volunteered his videography services for the local high school community, and is an ambassador with the CCEDC.
Figenshu has dedicated much of his time and talent to the various organizations he is committed to.
Figenshu believes that volunteers continue to create opportunities above and beyond what staff can do. He understands the spirit of being a volunteer, an "unpaid professional" and has enjoyed the opportunities he has received through his involvement in the various nonprofit organizations.
"43 years in the television business did not deter me from volunteer activity. And now I can offer more time as a volunteer with the community. I was honored to be recognized as volunteer of the year with the CCEDC, and I am happy to continue in that role," Figenshu said.
Mahoning Drive-In
The Mahoning Drive-In Theater was built in 1948 and opened for its first season the following year. Since then, it has entertained moviegoers for over half a century on the largest CinemaScope screen in Pennsylvania. They offer an exclusively retro 35 mm film program, which is presented reel-to-reel via original 1940s Simplex projectors.
In 2014, as the costly conversion from film to digital projection looked to spell doom for The Mahoning, the decision was made to attempt a bold experiment - forgo the digital upgrade and turn the theater into an all-35 mm, all-retro drive-in. The gamble paid off, and The Mahoning now stands as a world-renowned mecca for 35 mm film and retro screening events, its dedicated all-volunteer staff bringing fun, friendly added dimensions that make a trip to the theater much more than just watching films, from cosplay, to immersive snack bar décor, to live pre-show DJ sets and more.
In the summer of 2021, The Mahoning faced a land sale that would have closed the drive-in for good. Through the determination of the staff and the overwhelming support of the community, the owners were able to reach an agreement that will ensure The Mahoning Drive-In is here in Carbon County and bringing visitors to our area for decades to come.
Partner/booker Virgil Cardamone said that the honor means a lot to the them after an incredibly difficult year.
"The local support has grown each season since our revival & are so proud to bring our fans into our beautiful area. Many consider it their home away from home and goes to show how much they have taken our experience & passion into their hearts," Cardamone said.
General Manager Mark Nelson said he is proud that its fans, who come from around the country, contribute to the local economy while they are visiting.
"It's amazing to see this business grow from a little experiment on the outskirts of town to one that's gained the acclaim and success that we have, and being honored in this way, recognized as a vital part of our community," he said.
Bennett Family Properties
Bennett Family Properties took honors for its Palmerton Health Center Project.
Over the past two years the CCEDC has worked hand in hand with the management at Bennett Family Properties on state-funded loans to assist with the growth and development of St. Luke's University Health Network in Carbon County.
Bennett Family Properties is a major component to the success of the Carbon County Community Foundation as well as the growth and success of Lehigh Valley Children's Center in Palmerton and many others. We look forward to continuing to work with them in the future to bring economic vitality to Carbon County.
Bennett said the project is a win for patients, medical providers and the county. He thanked St. Luke's and the employees at Bennett Family Properties.
"We were thrilled to win the award for economic development project of the year. It's a labor of love working for St. Luke's, they have such great vision," Bennett said.