Bombers, Bulldogs to battle for 2A title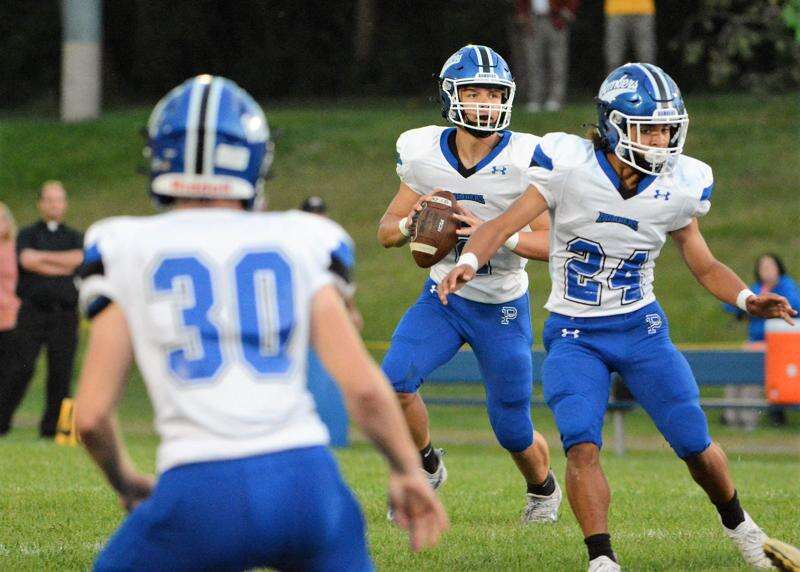 Published November 12. 2021 11:02AM
Redemption, rivalry, expectations.
All three of the above will likely play a significant role in Saturday's District 11 Class 2A championship game between rivals Northern Lehigh and Palmerton.
The Bulldogs (8-3) and Blue Bombers (9-2) will face off for the Battle of the Blue Mountain Part II, but this time more than bragging rights are at stake.
This time around, a gold medal and a trip to the state tournament are up for grabs.
Redemption.
Palmerton is looking to bounce back from a 43-14 throttling courtesy of Northern Lehigh just two weeks ago. The Bombers were actually down 43-0 at one point in the game and were held to under 100 rushing yards.
Coming into that Week 10 matchup, Palmerton scored 40 points or more in seven straight games and were one of the best teams at taking care of the football in all of District 11 (+17 turnover ratio).
But the Bombers were held to just two scores and the Bulldogs forced four turnovers, including one on the opening kickoff which certainly set the tone for what was about to come.
It was a game that Palmerton head coach Chris Walkowiak doesn't want his team to forget, but also doesn't want them to dwell on either.
"We can't forget about our performance in that game, but we also can't dwell on it. We have to live in the present, and presently we have another opportunity to get better and play for a district championship," said Walkowiak. "Listen, in some instances, a mistake is only a mistake if you don't learn from it. We've been able to learn from that experience, and our players have been extremely focused and practicing hard - some of our best practices we've had all season long. We're just honestly excited for the opportunity to face off with a really good football team again this week."
For Northern Lehigh, the message is simple. Be confident from what you were able to show and accomplish in the last outing, but don't be overconfident.
The Bulldogs finished with 374 total yards in that outing and dominated the line of scrimmage on both sides of the ball.
"We know Palmerton is going to come in and try to prove that they're a better team than the score from the last game indicated," said Northern Lehigh head coach Joe Tout.
"We've been playing some good football, so we need to come in confident and sure of what we can do and what we want to execute, but we certainly can't be overconfident."
Rivalry.
Last season, it was the exact opposite scenario for the Bulldogs, which lost to Palmerton in the regular season, but were able to defeat the Bombers in the district semis.
However, that game was much more competitive than this season's regular season contest - a 31-26 loss. Northern Lehigh bounced back with a 42-27 victory to advance to the district championship against Palisades.
Expectations.
Coming off that 31-24 loss to the Pirates in last year's title game, Tout remembers the conversations he had with his players as he put the silver medals around their necks.
"We felt good about the solid nucleus of guys we had coming back this year. And I remember telling our guys at the end of that game to remember this feeling. Use this feeling to fuel you to come back and get right back here again next season," said Tout.
"Really, since last Thanksgiving, these guys have been working hard to get back to this championship game. This is a dedicated group that put the time in and organized stuff themselves when we couldn't get into our weight room because of COVID and all that kind of stuff, and you see the result of their hard work."
This game will once again feature playmakers all over the field. Speed, physicality and toughness will all surely be on display for the Battle of the Blue Mountain Part II.
"We need to come out and, first off, play much more physical and just honestly do what we have done all year long to get us here," said Walkowiak. "We need to execute, and as I said in the first game, whoever is able to take advantage of the other team's mistakes is going to come out on top, as they were able to do in the last one."