Tigers finish third at States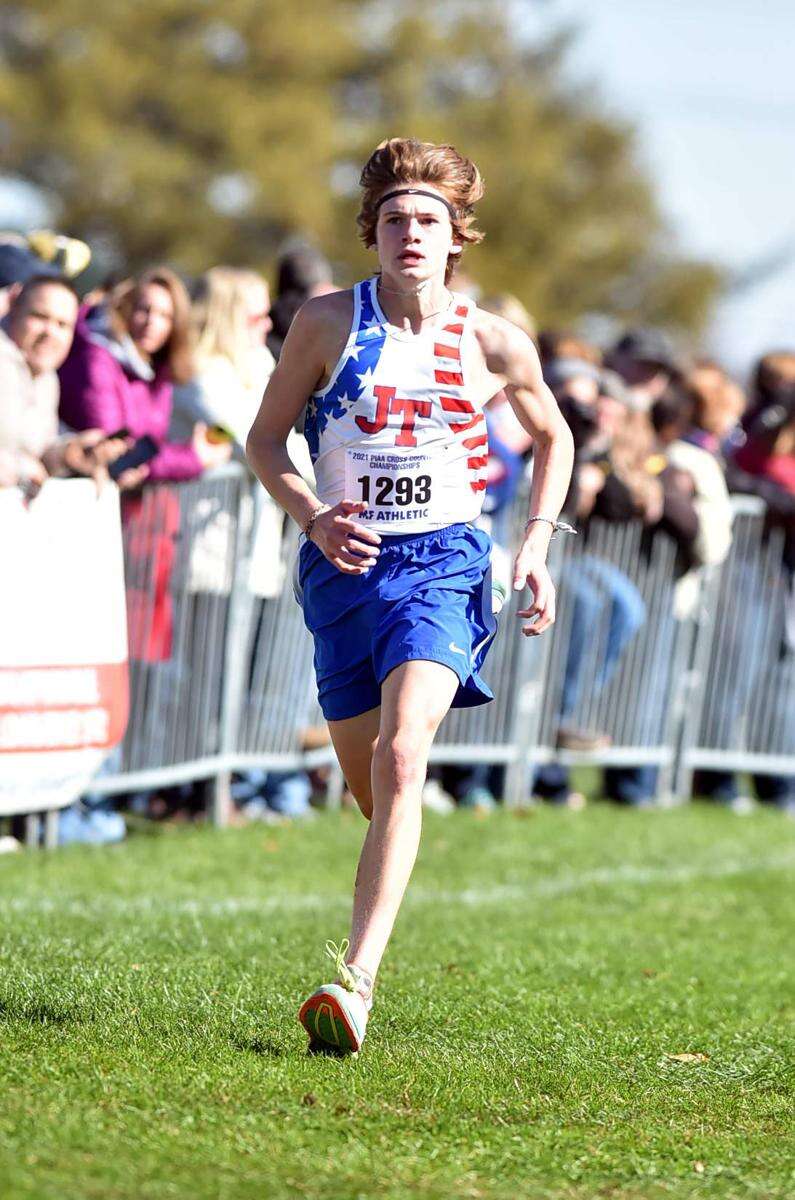 Published November 08. 2021 11:49AM
by Patrick Matsinko pmatsinko@tnonline.com
HERSHEY - It was going to be history no matter what happened in Hershey.
Northwestern's boys cross country team rode a wave of momentum through an unprecedented regular season and dominant postseason.
The opportunity that remained at Saturday's PIAA Cross Country Championships was the pinnacle for a program that has been at the peak of its powers this season.
It also highlighted the strides the Tigers have made over the years.
After claiming a Colonial League Championship and third straight District 11 title, Northwestern - which went 24-0 this season - was third in the Class 2A team standings with 130 points.
"Still finishing third in the state, that's nothing to sneeze at," said Tigers' head coach Chris Stitzel. "I know it's not what the guys wanted; I know they were going for it. We just had said to lay it out on the line today, and whatever happened, happened.
"But they just ran well all year. This is actually the first loss of the year, really. We won every invitational we went in this year, plus we went undefeated. I know the guys are upset, but they had a great year. I'm just so proud of them, the hard work that they put in to get to this point, that we had a chance."
Matthew Santana ran to a 12th-place finish with a time of 16:53.8 in the Class 2A race to earn his first state medal for Northwestern.
"It feels good," said Santana. "For some reason, I always do a lot better in Hershey; it's probably one of my favorite courses.
"I just wanted to put it all out there to see what our team could do, and hopefully we'd get a top spot. We came up short today, but that's all right."
Lewisburg was first with 87 points, followed by Grove City (107).
Lewisburg had five runners in the top 46, and three in the top 34.
Senior Jacob Hess was the team's top runner with a third-place finish in 16:05.4.
At the one-mile mark, Northwestern was scored sixth in the team standings. The Tigers were still sixth after two miles before moving up to fourth at 4K.
Lewisburg was scored in first throughout the race.
The Tigers had three runners in the top 50. Cole Chukoskie was 32nd (17:16.7), while Samuel Bower was 48th (17:13.5). Nathan Vincent was 60th (17:41.7), followed by Gavin Nelson in 76th (17:53.1), Joe Chukoskie in 101st (18:06.6) and William Gruen in 191st (19:10.4).
"It's been a great season," said Cole Chukoskie. "Ever since last season, this meet has been a goal. And our coach talks about taking steps toward that goal, and we did a great job with that. Regular season champs, league champs, then district champs. We did a good job of taking those steps."
The Tigers won the DeSales Invitational, and the Lion Invitational at Moravian Academy earlier this year. They also claimed a massive win at the PIAA Foundation Invite in Hershey, topping Grove City 89-94 for the Class 2A title.
Santana's 31st-place finish (17:44) paced the Tigers to a sixth-place result in the team standings a year ago. Bower (18:02) was 49th.
"I'd say it's really cool," Santana said of the team's chemistry. "We've got a good group of guys. We work together all summer, all year 'round. It's almost like a second family. It's great to be a part of."
Santana moved up steadily throughout the race. He was 49th at the first mile, 18th at the two mile and 16th at the 4K mark.
"The start I was definitely in the 100s. I did not get a good start," said Santana. "In the last mile, I just moved my way up. I just wanted to see how far I could get.
"I wasn't really worried (after the start), because at the (Foundation) Invite, I was in the same situation and managed to get up to sixth. So I was a little bit comfortable. I knew what I could do."
Though Northwestern loses seniors Cole Chukoskie, Joe Chukoskie and Nathan Vincent, Santana, Bower and Gruen are juniors, while Nelson is a freshman.
"We still have a good group coming back," said Stitzel. "I know we have three seniors in the this group, but hopefully the underclassmen see what kind of work it takes to get back to this level, and go at it again.
"I'm just so proud of these guys. This is still our best finish ever with the boys. We had all these girls teams finishing third, but this is our best finish with the boys. They had a great year, and we'll be ready to go at it again."
Also in the Class 2A boys race, Palmerton junior Owen Hibell finished 87th (17:58.3). Jim Thorpe's Ryan Bailor was 158th (18:34.8), while teammate Ridge Snyder finished 178th (18:50.6). Tamaqua freshman Levi Kunkel was 203rd (19:19.4).
Weatherly's boys placed 16th in the team standings in Class 1A with 370 points. It was their second straight trip to the state meet.
Ricky Ray paced the Wreckers in 49th (18:14.3). Jacob Parker recorded a 76th-place finish with a time of 18:27.9. Michael Berger (146th, 19:02.8), Frankie Willis (165th, 19:16.3), Tim Magushack (240th, 21:37.9), Nathan Tripp (241st, 21:46.4) and Brady Walters (248th, 22:34.2) rounded out Weatherly's contingent.
Palmerton's Natalie Mosier was 61st with a time of 21:51.0 in the Class 1A girls race. Teammate Cora Wentz crossed the line in 161st (23:44.1).
Marian's Grace Curnow was 147th with a time of 23:28.7.
Mosier ran in Hershey for the third straight year. The junior was 31st in the class A race with a time of 21:57 a year ago. She was 74th as a freshman.
"My time was better than last year, which was crazy," said Mosier. "My place was worse, but I wasn't really expecting a medal. I was just hoping to come out here and feel good for once, and I think I accomplished that."
After skipping the Colonial League meet to focus on districts due to a leg injury that forced her to miss time throughout the season, the finish was a big step forward for Mosier.
"It definitely feels really good, because I feel like I was just going up and down all the way through," she said. "Even track season, and then this season, the injury was just a giant downhill, and to leave off a junior season on a little bit of an upswing, it's still really important."
In Class 2A girls, Tamaqua senior Grace Stegemerten capped her high school career with a 56th-place finish in 20:59.9. Jim Thorpe junior Nicole Carroll was 135th with a time of 22:13.6.
Stegemerten was making her second appearance in Hershey, one she tried to soak in.
"I did," said Stegemerten. "I always love coming here, it's a lot of fun. It's not even just about the race; it's about having a good time, and getting the experience. It's cool.
"I'm just really proud of my team. My team really keeps me going. They're so helpful, they're so encouraging. I don't think I'd be where I am without them."
Golden Day
A number of District 11 runners and teams enjoyed tremendous success at Saturday's state meet.
Blue Mountain's Olivia Haas went back-to-back at the PIAA Cross Country Championships on Saturday, storming to her second straight Class 2A title.
She hit the line in 18:20.3 Saturday ahead of Brownsville's Jolena Quarzo (18:50.7).
Haas - who will continue her career at North Carolina State - had already logged two top-five finishes at states prior to last year, placing fifth as a freshman and fourth as a sophomore.
Pen Argyl senior Sarah Pezzino, along with North Schuylkill senior Ryley Schwalm, also medaled in the 2A race.
After placing third a year ago, Thomas Smigo of Palisades left no doubt in the Class 1A race with a convincing victory. The junior ran away with the win Saturday, crossing the line in 16:31.1.
Mitchell Campbell gave the Pirates two state medalists with a 17th-place finish (17:28.1) in the Class 1A race. Minersville's Landon Boyle (19th, 17:29.3) and Lehigh Valley Academy's Alexander Hume (21st, 17:29.5) also medaled in the 1A race.
The Notre Dame Green Pond girls claimed the Class 1A team title. The Crusaders were first with 117 points - well ahead of second place Mohawk (160).
NDGP had four runners in the top 50. Lauren Bower led the way in 43rd (21:29.5).
In the Class 3A boys' race, Freedom's Alex Heidemann medaled with a 10th-place finish, while Emmaus' Hailey Reinhard placed 20th to medal in the 3A girls race.
Tags:
Sports ,
Local Sports ,
Jim Thorpe-Spts,
Marian-Spts,
Northwestern Lehigh-Spts,
Palmerton-Spts,
Tamaqua-Spts,
Weatherly-Spts,
Cross Country,
Cross Country-Boys ,
Cross Country-Girls