Denicola scores four TDs in Bomber rout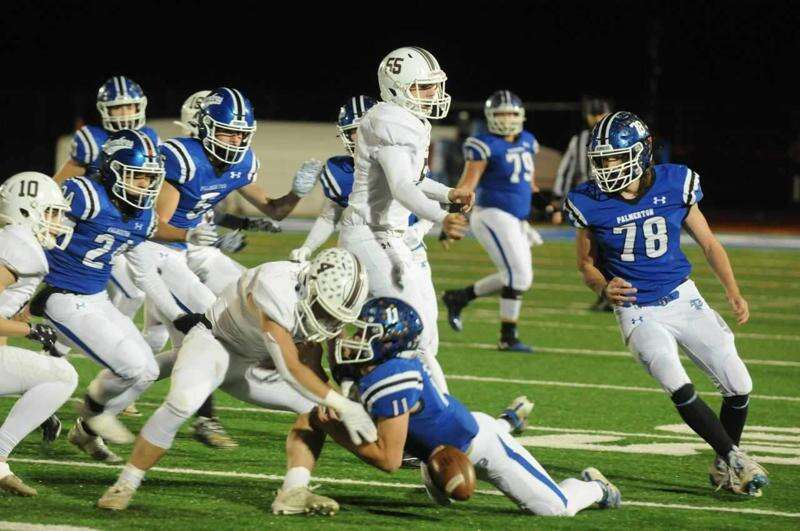 Published November 08. 2021 11:48AM
by Kyle Magda tnsports@tnonline.com
Palmerton scored right out of the gate in Saturday night's District 11 Class 2A football semifinal playoff game against Catasauqua.
It turned out to be a good indication of what was going to follow.
The Bombers put together an eight-play, 58-yard drive in the first three minutes to score the game's first touchdown and rolled to a 47-7 victory.
"We played a good game," Palmerton head coach Chris Walkowiak said. "I think we had a good offensive and defensive game plan. I think offensively, we got out of the gates just like you always want to do."
Senior James Denicola stepped up with a four-touchdown performance for Palmerton. Denicola scored his first of four consecutive touchdowns on Palmerton's second drive of the night with a one-yard run to give the Bombers a 14-0 lead.
"I think I just got a little more showtime today," Denicola said. "The line did a great job blocking for me when I was in the backfield. They've done a great job all year. We had a good week in practice. It just all came together tonight.
Denicola also picked up a Christian Fye fumble for a 30-yard touchdown return to put Palmerton up by three scores. By halftime, Palmerton was leading 35-0.
Palmerton quarterback Matt Machalik rushed for two touchdowns on the night, including Palmerton's first score. Machalik broke free for a 64-yard touchdown run to increase the Bomber lead to 41-0 in the third quarter.
Walkowiak was pleased with how well his team played on both sides of the ball.
"First of all, I credit our offensive line," said Walkowiak. "They did a great job of giving our ball carriers room to run all night.
"Defensively, we applied a lot of pressure and created some turnovers. I was really pleased with our linebackers. They came to play. I challenged them this week and they responded. But it wasn't just the linebackers. I thought our entire defense stepped up. It was a team effort.
ANY GIVEN NIGHT ... Walkowiak mentioned several different players who stepped up for the team. "It could be any guy on any given night, Walkowiak said. "We have a bunch of very good athletes. Tonight, James answered the call. Next week, it could be someone else."
OFFENSE AND DEFENSE ... Palmerton was good on both sides of the ball. The Blue Bombers put together 380 yards of total offense. "We played complementary football tonight," Walkowiak said. "I think our offense and defense complemented each other, so that made it a team victory."
NEXT WEEK ... Palmerton faces rival Northern Lehigh on Saturday at noon at Lehighton for the District 11 championship. It will be the second meeting between the two teams in three weeks. Northern Lehigh defeated the Bombers 43-14 in the final week of the regular season.