Marian wins D-11 championship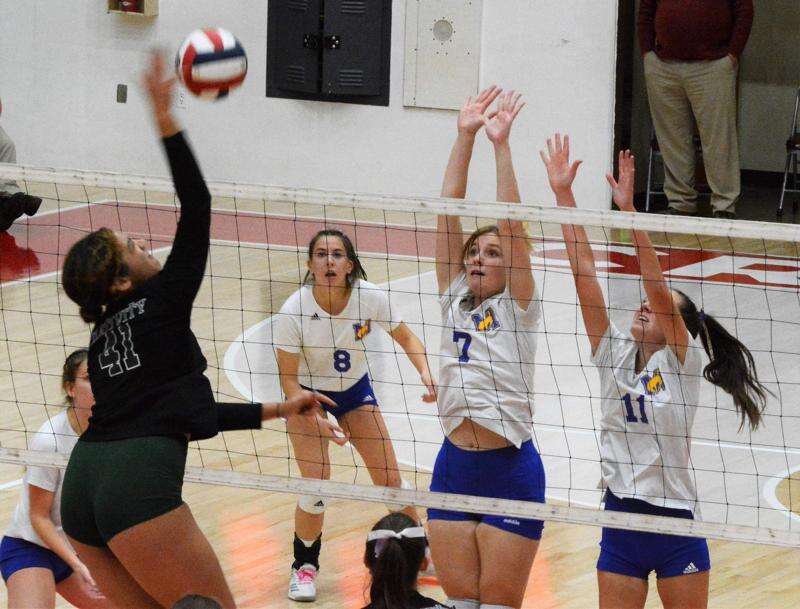 Published November 04. 2021 01:30PM
POTTSVILLE - They don't get any bigger than this.
They don't get any more intense, either.
Whenever Marian and Nativity are pitted against each other in any sport, passion and emotion run at a feverish pitch.
Perhaps maybe no sport highlights that rivalry more than volleyball, where both teams have reigned supreme for decades.
These Holy Wars combatants were at it again Wednesday in fabled Martz Hall, with the reward for the winner a District 11 Class 1A championship.
Marian entered the showdown as the odds on favorite after beating Nativity twice during the regular season, and the Fillies didn't disappoint, steamrolling past the Green Wave in three sets to capture yet another piece of hardware for the trophy case in Hometown.
First-year Marian head coach Maria Serina made sure her team wasn't just showing up, but showing with its A-game. The Fillies displayed that with a dominating 25-15, 25-12 and 25-14 victory.
Unlike a year ago when Nativity swept Marian during the regular season - only to see the Fillies turn things around in the district title match - Nativity wasn't able to stop Marian's mission this season.
Without question, the Fillies' defense was at the fore of the sweep, a fact that wasn't lost on Nativity coach Jen Daubert.
"You got to give them a lot of credit. Their defense was just fantastic," said Daubert. "They're a well-coached team, and I want to wish them the best as they move into the state tournament."
Marian put the pedal to the floor in the opening set and never let up. The Fillies shot in front 12-4, getting kills from both junior Megan Paisley and sophomore Abbey Kluck.
Nativity tried to mount a comeback behind rangy, 6-foot sophomore Arieanna Sherman and junior Emma Bolich as it pulled to within 15-10. But Marian dominated the rest of the way behind Kelly Sullivan and the unsung Paisley to shred the Green Wave's defense and take the first set without much of a struggle.
"We were absolutely ready to play," Serina said. "Our girls had something to prove. They have worked extremely hard this season, and weren't going to get this far and then let it slip away. "
No one ever doubted that, not even Nativity.
"They're a very good team, and we knew coming in that we had our work cut out for us," Daubert said. "They have great balance, their defense is just so good, and they're talented."
That talent showed itself again in the second set when the Fillies roared in front 18-7. During one stretch as Marian was building its lead, Ashley Klitsch reeled off four aces. Nativity couldn't find an answer as it committed five unforced errors, allowing the Fillies' lead to grow to 24-12 before Kluck buried a slam for the final point of the set.
Nativity had its only advantage of the night when it took a 3-1 lead to open the third set.
However, that didn't last long, as the Fillies gradually took control building leads of 7-5, 10-5 and then 20-13. Marian's dynamite pair of Paisley and Klitsch eventually closed out the match with kills.
"We wanted to take care of one game at a time, and not have any stumbles," Serina said. "We never lost focus even after we built comfortable leads. We kept playing hard, and playing well."
The Fillies reward was another District 11 championship, along with another PIAA State playoff berth.
IMPRESSIONS
… Klitsch was a standout with 27 assists, seven digs, four aces, and two kills. Right behind her was Paisley with 12 kills, six digs and two kills. Kluck also had a big game at the net with eight kills.
ACES
… Marian had a dozen aces in the match. In addition to Klitsch, the Fillies also got four from Lauren Reaman, and two apiece from Rhiannon Brady, Lizzie Snerr and Paisley.
SHE'S BACK
… Sullivan, who played a key role on last season's PIAA runner-up squad, missed a good part of the regular season with an injury. Now back on the court, she contributed some outstanding play at the net.
UNSUNG ... Charlotte Vinson and Maura Kelly were key role players throughout the contest for the Fillies.
UP NEXT
… Marian (18-2) will now await the start of the PIAA Tournament. The Fillies will face the District 12 champion on Tuesday, Nov. 9 at a site and time to be announced.