NWL cruises to league XC championship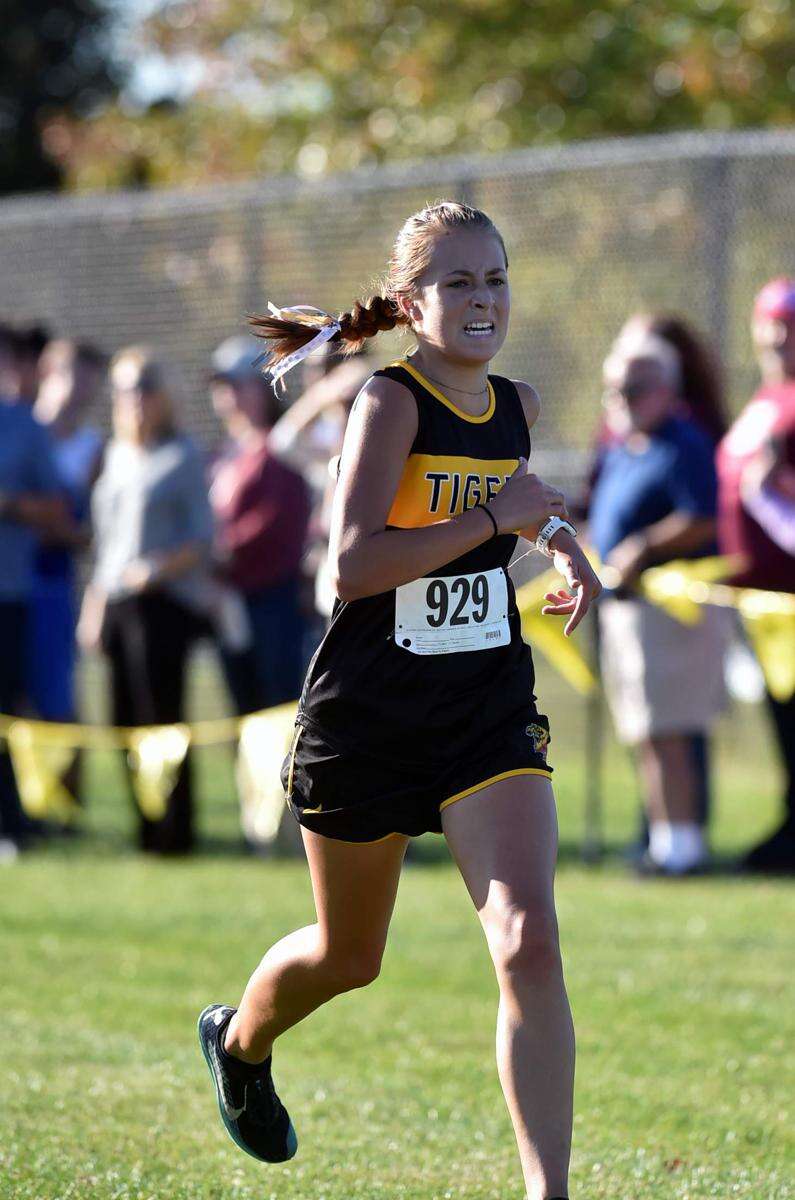 Published October 31. 2021 10:21AM
The Northwestern boys cross country team just keeps checking off boxes.
Already undefeated and Colonial League regular season champions, the Tigers were once again the class of the field on Wednesday, taking another step toward what could be a dominant postseason run.
Northwestern placed six runners in the top 12 to claim the Colonial League meet title over Southern Lehigh, 33-66.
The Tigers were runner-up to the Spartans in the league meet last year by four points (51-55) and finished the 2020 regular season at 17-1.
"They did what they had to do," said Northwestern head coach Chris Stitzel. "The goal all year was to have an undefeated season. Now we start with the postseason. This was the first, get ready for districts and head to states."
The Tigers went 24-0 to claim the regular season league title.
And that depth that powered them throughout the year was present last Wednesday at DeSales University.
Matt Santana's runner-up finish in 16:56 led the way, followed by Samuel Bower, who placed fourth in 17:15.
Joseph Chukoskie (17:25) and Nate Vincent (17:39) also recorded top-10 finishes in sixth and 10th, respectively. Cole Chukoskie (18:01) and Gavin Nelson (18:21) were 11th and 12th, giving Northwestern an unbeatable pack finish.
"I don't think we put any unnecessary extra pressure on ourselves," said Santana. "We knew what we were capable of, so we just did what we needed to do today."
"And we knew that everyone was going to be going for us," added Bower. "But we knew that we could definitely win."
Thomas Smigo, of Palisades, won the boys' race with a time of 16:41. It was the third straight league title for Smigo.
The Tigers won the DeSales Invitational and the Lion Invitational at Moravian Academy earlier this year. They also claimed a massive win a the PIAA Foundation Invite in Hershey, topping Grove City 89-94 for the Class 2A title and letting the state know they are contenders for the top prize in Class 2A.
"It's been going really well," said Chukoskie. "We're all very set on the goal of winning at states, so we've been focused on that all year."
"After last season," added Bower, "we've been looking forward to this season because we knew we had a strong group returning, and we knew we could do a lot this season."
While Bower has been the team's front-runner at various points throughout the year, Northwestern has depth and strength in numbers that allows some of the positions in its lineup to be interchangeable.
"I don't care who comes in first or fifth, they're running together real well," said Stitzel. "If one guy has a bad day, we have another guy right there. Even our No. 6 guy (Gavin Nelson, who was 12th) was right there.
"They're running with a lot of confidence right now. Now that we're into the postseason, each week is a different goal. Next week it's a district title, and then you never know what's going to happen out at states."
In the girls race last week, Angelina Klein ran to a fourth-place finish for the Tigers with a time of 21:04.
"I'm not going to lie, my start was a little questionable today," Klein said. "I went out I think maybe a little too fast in that first long stretch, and we got into the woods. I was in this giant group of people, which I figured was going to happen because we have a lot of really strong runners in our league, especially this year."
But Klein battled, making her way through the field to secure a top-five. She was fifth last year.
"We got into the second mile, and those hills were rough today," said Klein. "It was very hot today, and I think that contributed. I could tell everyone was struggling a bit. But I could still see everyone in sight. I knew they were in range, so I just tried to relax, stay calm and not panic. I knew there was still plenty of time to catch up.
"I was kind of just hanging in the back trying to stay consistent in the second mile. Coming to the finish, I just tried to keep going until there was nothing left. And there was nothing left. I was completely dead after that. But I just had a little bit at the end, and that was enough to get me through."
Northwestern placed third in the girls team standings with 76 points. Southern Lehigh (28) was first, followed by Notre Dame Green Pond (52).
Like the boys team, the Tigers figure to have a chance at qualifying for states as one of the top two squads next week at districts.
"It's going to be a battle again for sure," Klein said of competing with the likes of Allentown Central Catholic, North Schuylkill and Blue Mountain. "We're right there. There's a chance. If we all are in sync that day, I think we can do it."
Pen Argyl's Sarah Pezzino won this year's girls league title in 19:54. She finished 11th a year ago.
The District 11 Cross Country Championships were scheduled for Wednesday at DeSales, but Tuesday's rain caused postponement to Thursday due to course conditions. The first race will be Class 2A boys at 1 p.m. The top two teams and the next 10 individuals in Class A, 2A and 3A qualify for states.
Colonial League
Cross Country Championships
at DeSales University
BOYS
Team Scores
1. Northwestern 33, 2. Southern Lehigh 66, 3. Notre Dame Green Pond 112, 4. Wilson 137, 5. Palmerton 156, 6. Moravian Academy 161, 7. Palisades 162, 8. Saucon Valley 176, 9. Bangor 211, 10. Salisbury 253, 11. Catasauqua 352.
Individual Results
1. Thomas Smigo (Palisades) 16:41, 2. Matthew Santana (Northwestern) 16:56, 3. Dominik Lisicky (Southern Lehigh) 17:08, 4. Samuel Bower (Northwestern) 17:15, 5. Alexander Kane (Southern Lehigh) 17:18.
Northwestern
6. Joseph Chukoskie 17:25, 10. Nate Vincent 17:39, 11. Cole Chukoskie 18:01, 12. Gavin Nelson 18:21, 28. Zachary Santana 19:18, 33. Ethan Kozlowski 19:42, 34. William Gruen 19:44
GIRLS
Team Scores
1. Southern Lehigh 28, 2. Notre Dame Green Pond 52, 3. Northwestern 76, 4. Saucon Valley 82, 5. Northern Lehigh 161, 6. Catasauqua 190, 7. Palisades 201, 8. Bangor 207, 9. Moravian Academy 211.
Individual Results
1. Sarah Pezzino (Pen Argyl) 19:54, 2. Avery Errico (Wilson) 20:53, 3. Natalie Morgan (Southern Lehigh) 20:59, 4. Angelina Klein (Northwestern) 21:04, 5. Maura Lenhart (Southern Lehigh) 21:06.
Northwestern
19. Sophia Cornell 22:39, 20. Emily Fagan 22:39, 21. Maci Fisher 22:44, 27. Molly McGorry 23:30, Kellcey Pedron 24:01, 36. Emma Rutkowski 24:54, 38. Devon Heinly 25:19.