Fillies sweep Mahanoy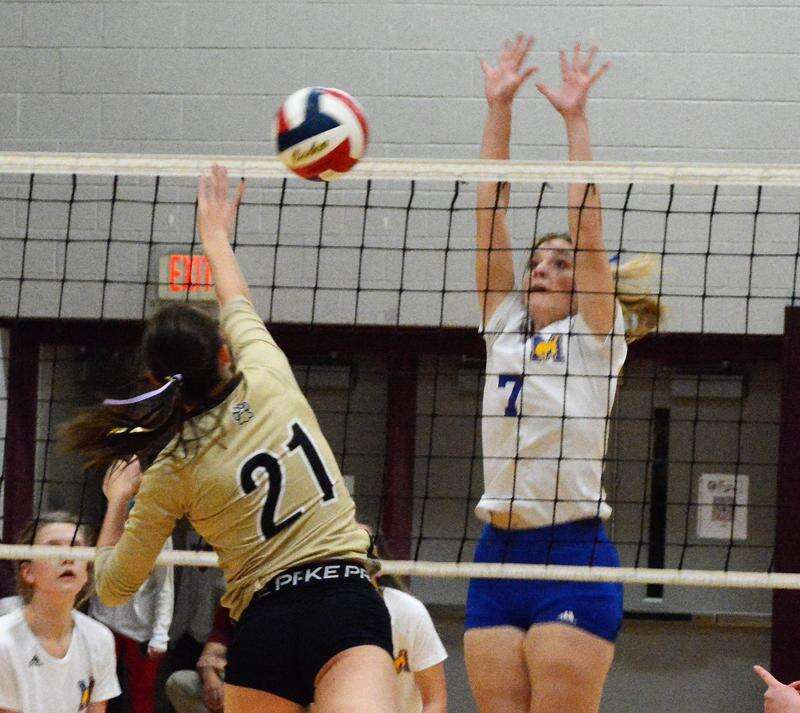 Published October 29. 2021 12:41PM
by Rod Heckman rheckman@tnonline.com
It's not how you start, it's how you finish.
Marian's volleyball team sputtered a bit at the outset of its District 11 Class 1A semifinal contest on Thursday, but the Fillies eventually found their rhythm and posted a 25-23, 25-7, 25-15 sweep of Mahanoy Area at Lehighton High School to advance to Wednesday's championship match.
"I think it just took us a little bit longer than normal to get into our groove tonight," said Marian head coach Maria Serina. "I'm so proud of our girls, though, because they didn't get rattled. We talked about fighting through adversity and how we handle ourselves when things are not going that easy for us. And they did a fantastic job of proving the system and performing quite well.
"Momentum is such a strong thing, and we talk about not giving other teams any wind for their sails."
Serina's club seemed to take control of the opening set, using an 8-1 run to take a 17-12 lead. But a couple service errors and unforced mistakes allowed the Bears to not only get back in the game, but take a 22-20 advantage. Maura Kelly, however, recorded a pair of aces to help the top-seeded Fillies close on a 5-1 spurt.
"It took us a little while to get going tonight," said senior Ashlyn Klitsch, who finished the evening with 30 assists. "We haven't played in a while ... and it took some time to get the rust off, but once we got into the game we were ok.
"We're super excited to reach the final. It's just exciting to see all our hard work pay off."
Speaking of work, Marian made it a point to focus on its serving game during its recent practices. The time was well worth it as the Fillies excelled at the line throughout the entire evening.
Klitsch registered an ace early in the second set, while Rhiannon Brady also served some winners during a decisive second game. In all, Marian (17-2) finished the night with 19 aces, with Megan Paisley leading the way with seven.
"All year long, we've been a positive aggressive serving team," said Serina. "There's that fine line between being super aggressive and keeping it in play and not having any errors. They did a really good job of keeping it a nice low serve because it's a difficult one to (return)."
Paisley had multiple aces during the third set, which the Fillies started with a 9-1 lead. After Lizzie Snerr's winner, the margin was at 17-6. Paisley added three more aces during a four-point run and Lauren Reaman closed out the match with an unreturnable serve off the net.
"We set our a goal at the beginning of the season to be playing on the last possible day and this is just one more step forward to hopefully achieving that goal," said Serina.
THE STATS ... Abbey Kluck had 10 kills to lead the Fillies at the net. Paisley and Jenna Goff both finished with six, while Brady and Charlotte Vinson each added four. Reaman contributed 15 digs, with Brady registering 11.
IN THE PAST ... Mahanoy Area, which was seeded fourth, handed Marian its only regular-season loss back on Sept. 14. While the Fillies avenged that defeat with a sweep on Oct. 7, Serina still gets questioned about the initial match. "Everything that was capable of going wrong on our end really did good wrong. We had the most amout of errors that night ... We really struggled. Every person on our team had a difficult time playing that night."
UP NEXT ... Marian will face third-seeded Nativity in the finals. The Green Wave swept Tri-Valley in the other semifinal match.