Bower, Tiger boys win D11 titles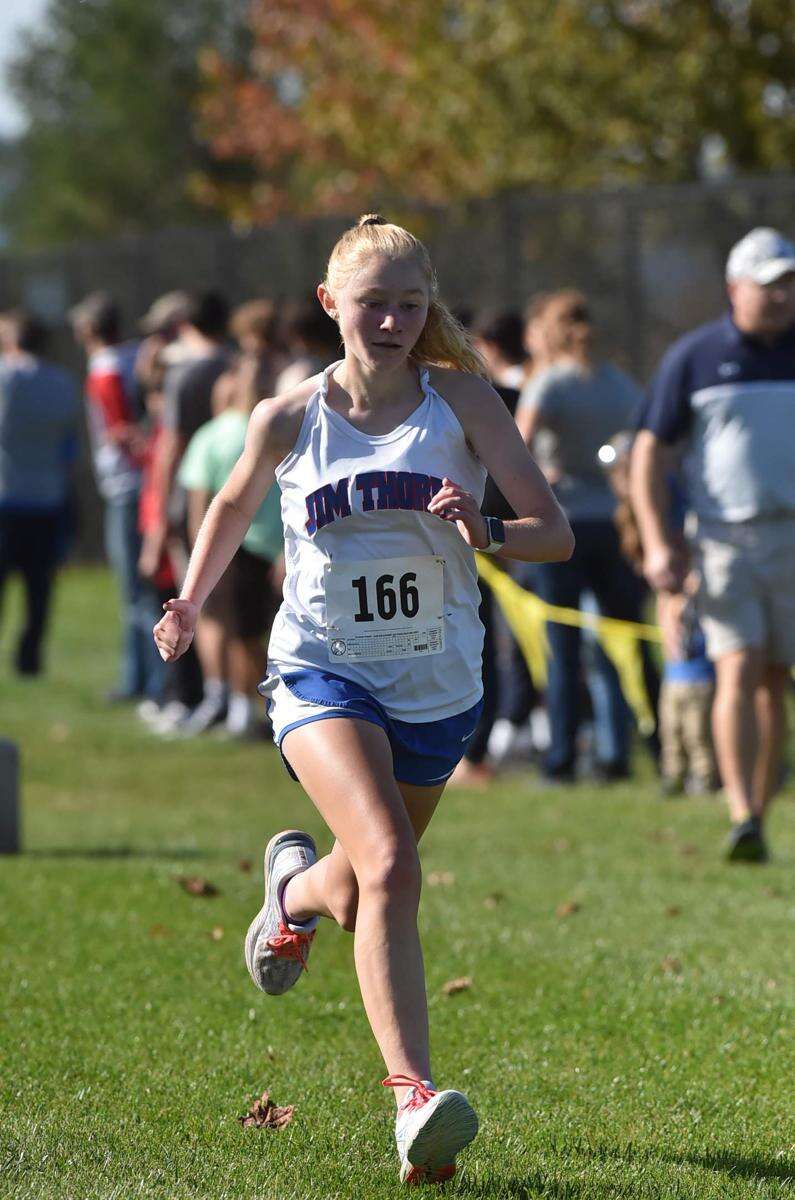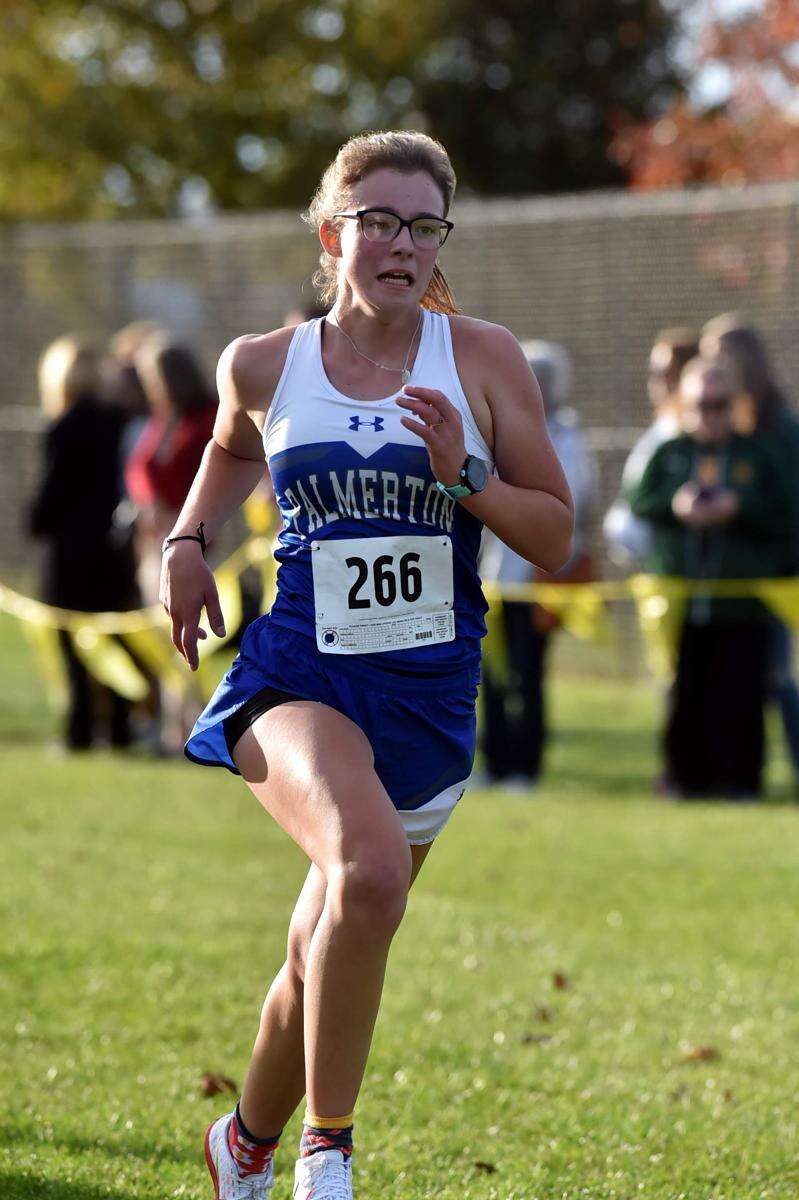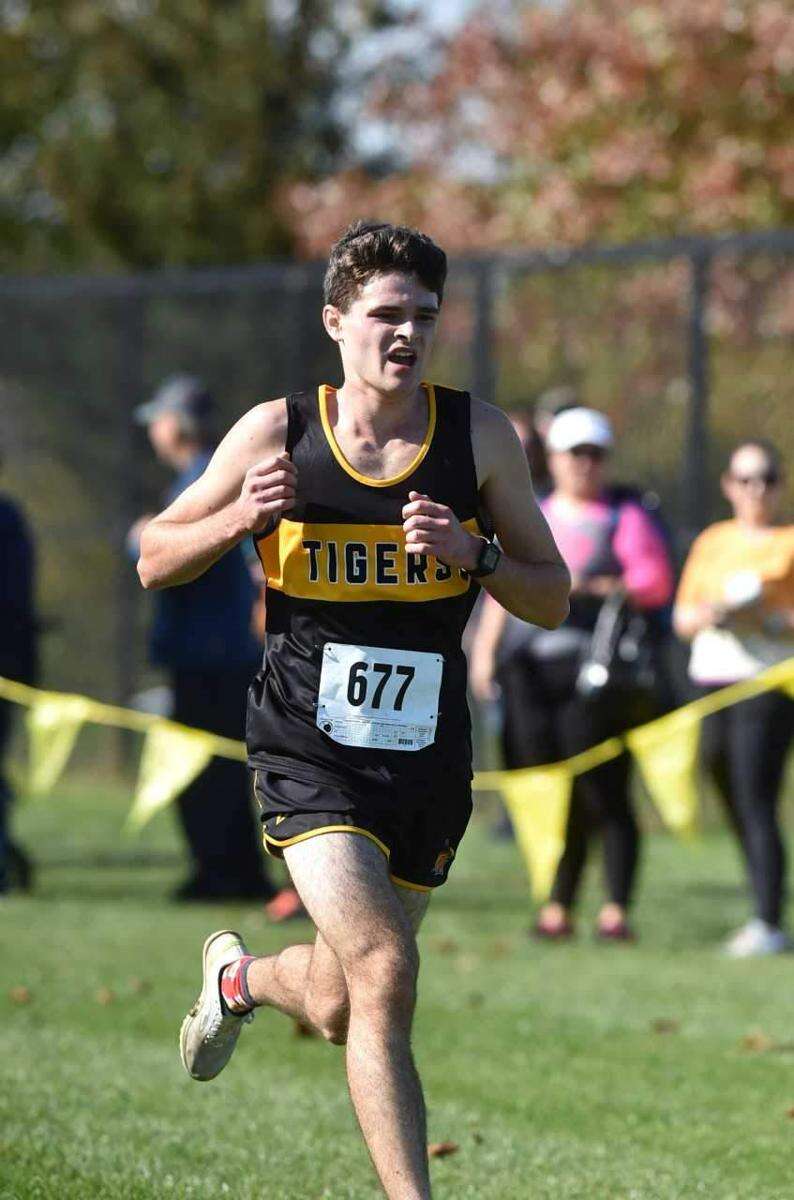 Published October 29. 2021 12:42PM
by Patrick Matsinko pmatsinko@tnonline.com
CENTER VALLEY - The march to Hershey moved forward at Thursday's District 11 Cross Country Championships.
Samuel Bower and the Northwestern boys stomped through the Class 2A field en route to another title. The Tigers are now just one step away from finishing off a perfect season.
"Coming into the meet, we had big expectations, and we were ready to just leave it all out there, and show all the teams that we're ready for states next week," said Bower.
Weatherly's boys showed the heart of a champion to make a return visit to the state meet in Class 1A.
In addition to the Weatherly and Northwestern boys teams, a total of nine other individuals from the Times News area will also be making their way to Hershey for next weekend's PIAA Championships.
Palmerton and Jim Thorpe each sent three runners to states, while Tamaqua will have two and Marian one.
The top two teams and 10 best individuals not on those squads in each classification qualified for next week's state meet.
Tigers golden again
Northwestern didn't just win the Class 2A team title.
The Tigers absolutely dominated to claim their third-straight crown.
Bower led a sweep of the top three spots for the Tigers, who also claimed fifth and sixth to win with a staggering 17 points. Allentown Central Catholic was second with 97 points.
Northwestern finished the regular season 24-0 and claimed the Colonial League meet title a week ago at DeSales University.
The Tigers left no doubt again on Thursday. Bower hit the line in 16:48 ahead of teammates Matt Santana (17:05) and Cole Chukoskie (17:20) in second and third, respectively.
Joe Chukoskie was fifth (17:27), followed by Nathan Vincent in sixth (17:29). Gavin Nelson recorded an 11th-place finish (18:01).
"They ran phenomenal today," beamed Northwestern head coach Chris Stitzel. "Last week, we ran a good league meet, and I thought we could definitely put three or four in the top 10; but we ended up putting all five in the top six.
"I told them to use this as fuel for next week at states, and work on getting that pack together. They kept each other in sight today. I know states is going to be tougher with all of those kids, it's going to be tough to follow each other. But they could see each other the whole race. It was so nice when they came out of those woods and all you saw was black and gold."
And it was Bower leading the charge.
After a fourth-place finish in 17:15 last week at leagues, Bower was in top form Thursday.
"Last week I was dealing with a little bit of a hip injury," said Bower. "I was able to recover well and be healthy for this week. I took it out a little bit too fast, but then I was able to settle down and get into a good pace, work the hills and use them to my advantage."
Santana was the Tigers' top runner last week with a runner-up finish at the league meet. Northwestern's depth has been pivotal this season.
The Tigers won the DeSales Invitational and the Lion Invitational at Moravian Academy earlier this year. They also claimed a huge win at the PIAA Foundation Invite in Hershey, topping Grove City 89-94 for the Class 2A title.
"I would say we put a lot of work in. We got what we wanted to get," said Santana. "We did want to get the top five spots, but it's very tough to do, like really tough. I'd say we'll take what we can get.
"This boosts the whole team's confidence. It's just another step to get to our main goal, which is to win states."
Wreckers return
After claiming the Class 1A title a year ago to earn a trip to states, Weatherly's boys battled to a runner-up finish Thursday to advance.
Moravian Academy won it with 72 points, while the Wreckers finished with 77 for second.
"It is kind of disappointing, but the goal is to end your season in Hershey," said Weatherly coach Ryan Kately. "We got two of the three goals that we wanted accomplished: We won the division this year, we won the league this year. It would have been nice to win gold here, but in the end silver is nothing to hang your head about. We'll go out to Hershey and hopefully get 'em there."
The Wreckers were led by Jacob Parker (17:37) and Ricky Ray (17:59), who were sixth and seventh, respectively.
"We showed up with five guys today, and I don't know what other team did that," said Ray. "We showed up with five and got second place."
It was a gutsy performance in a meet where they needed tough runs from each one of those five to also fend off third place Minersville, which finished with 80 points.
Weatherly topped the Battlin' Miners 76-79 to claim the Schuylkill League title for the second straight year a week ago.
Michael Berger was 14th (18:32) and Frankie Willis 15th (18:36) for the Wreckers. Tim Maguschak was 37th (20:18) to round out the scoring.
"This was probably one of our best races as a team," said Parker. "Our 1-to-4 split was super tight, super close. And I'm really happy Timmy came out. He was a huge part of this. If it wasn't for him, we wouldn't have even been a team today."
Three of the five are seniors: Ray, Willis and Maguschak. The group will get to close out its career together with one more run in Hershey.
"These last two, three years, they'll go down as some of the best teams, not just cross country, but any team, school-wise, any team," said Kately. "Three out of four years winning the division; two out of four years winning Schuylkill League overall championship; and then luckily last year we got to win districts at Blue Mountain.
"They've meant so much, I'm definitely going to miss them. I love these kids, and they mean so much to me. They brought me on this ride, and I'll hold onto these memories that they made for me for a long time."
Top 10s
Owen Hibell placed eighth in the Class 2A race with a time of 17:51 to advance for the Bombers, while Grace Stegemerten also recorded an eighth place in the girls' Class 2A race with a time of 21:08 to move on.
Hibell, a junior, has recovered this season after suffering a stress fracture near the end of the spring during track, when he was a state qualifier despite the injury.
"I had to take about a month off because of that," said Hibell. "But I really surprised myself with how much better I got since last year. The first meet of the year, I wasn't too sure how I was going to do, and I went sub-17:00 for the first time, so that was a really big jump. It made me realize I was better than I thought I was. I was in better shape than I thought. That gave me a lot of confidence going into the year."
Stegemerten will close out her career with her second trip to states. The senior just missed a shot at the state meet last year when she hit the finish line in seventh place and only the top five advanced outside of the winning team.
"It's always nice to know you have the chance," she said. "I definitely ran my hardest because I knew this could be my last cross country race in high school."
Fantastic Fillie
Grace Curnow is another senior that will get a chance to compete in Hershey. Curnow was 11th in the Class 1A race with a time of 22:31.
Curnow made the most of the opportunity to run the course earlier this season at the DeSales Invitational, where she crossed the line in 22:42.
"My coach made it optional, but said it was the district course and recommended it," said Curnow. "So I came down and got to see the course. This was the district course my sophomore year, but having that refresher was really nice.
"I knew what was going to happen. I knew the hills were going to be big separators, and there's a section in the woods where it's uphill then you turn and come downhill. So I knew I had to power it up the hill and get up there, but don't relax on the downhill. So I knew how to run it in a way."
Bomber pair
Natalie Mosier advanced to Hershey for the third year in a row for Palmerton and will be joined by sophomore Cora Wentz.
Mosier was 14th in the Class 1A race in 22:51, while Wentz was 16th with a time of 23:04.
"I'm coming off of an injury, and this is my third week running, so it meant a lot to go, even if I didn't get a medal," said Mosier, who missed last week's league meet to try to be 100% for districts. "It still really means a lot."
Wentz is also a midfielder for the Bombers' girls soccer team, which has also had a remarkable season and qualified for districts after reaching the Colonial League semifinals.
"It's been really exciting being able to do both sports," said Wentz. "It's been a bit stressful managing being able to go to both practices and make it to all the meets and the games. But I've enjoyed every minute of it, and I'm so glad that I'm doing both of them."
It was a remarkable result for the pair, who were the only Palmerton girls in the race.
"We're still motivating each other on and off the course," said Wentz.
Olympian trio
Jim Thorpe's Nicole Carroll is also a two-sport standout. Carroll qualified for states with a 15th place finish (21:39) in Class 2A, then also played in the Olympians' district soccer game later in the evening.
"Usually, if there's a meet and a game on the same day, I'll go to the game," said Carroll. "But today I'm going to both. This is the first time that's happened.
"All of my soccer teammates have been congratulating me as soon as the race finished. All these girls come to my games. It's great."
Carroll will be joined in Hershey by teammates Ryan Bailor and Ridge Snyder, who advanced in Class 2A. Bailor qualified with a 14th place finish and a time of 18:09, while Snyder finished 18th in 18:35.
"I knew it was going to be a really competitive race, and I was really going to be on the line of making it," said Bailor. "I really just went for it, and I knew I had it in me all season long.
"I was nervous for sure, but I knew in the back of my mind, I knew if I ran my race, I could make it to states, and at the end of the day, that's what happened."
The long months of work have paid dividends for both.
"I'm pretty excited because me and Ryan have been working hard all summer together trying to get here," said Snyder. "I'm just really happy I made it."
Super frosh
Tamaqua freshman Levi Kunkel was 16th with a time of 18:19 in the Class 2A race to move on.
"I just want to do the best I can for my first year out there," Kunkel said. "Getting to states my first year is pretty awesome."
Kunkel was 21st at last week's Schuylkill League meet.
District 11 Cross Country Championships
at DeSales University
BOYS
Class 3A
Team Scores
(and legend)
1. Nazareth (Naz) 72*, 2. Liberty (Lib) 82*, 3. Parkland (Park) 86, 4. Emmaus (Emm) 101, 5. Southern Lehigh (SL) 123, 6. Northampton (Nor) 172, 7. Freedom (F) 180, 8. Stroudsburg (S) 191, 9. Easton (Eas) 204, 10. Pleasant Valley (PV) 315, 11. Pocono Mountain East (PME) 331, 12. Whitehall (W) 339, 13. Pocono Mountain West (PMW) 405.
Individual Results
(top 10 plus state qualifiers and other locals in the top 100)
1. Alex Heidemann (F) 16:28*, 2. Dominik Lisicky (SL) 16:35*, 3. Liam Davis (ES South) 17:06*, 4. Liam McLaughlin (S) 17:11*, 5. Cameron Koch (Naz) 17:12*, 6. Alexander Kane (SL) 17:14*, 7. Adam Kollgaard (Naz) 17:17*, 8. Ethan Strzempak (Emm) 17:19*, 9. Connor Murphy (Naz) 17:19*, 10. Andrew Huntsberger (S) 17:21*, 11. Emrick Leshko (Lib) 17:30*, 12. Conor Fisher (Emm) 17:32*, 13. Evan Dempsey (Nor 17:34*, 14. Jacob Rivera (Lib) 17:36*, 15. Paul Abeln (Park) 17:45*, 18. Owen Reilly (Lib) 17:49*, 19. Jacob Orrico (Lib) 17:49*, 25. Ben Pfefer (Lib) 18:01*, 27. Jack Hasker (Naz) 18:03*, 29. Robert Pitsko (Naz) 18:04*, 30. Ross Ellis (Naz) 18:06*, 34. Sean Gorman (Naz) 18:23*, 35. Cole Ruhf (Lib) 18:26*, 36. Jack Huie (Lib) 18:32*, 47. Ray Lursen (PV) 18:52, 60. Eddie Lauitsen (PV) 19:25, 63. Andrew Ryals (PV) 19:30, 67. Frankie Morales (PV) 20:02, 84. Josh Gosselin (PV) 21:37, 86. Gage Kutzler (PV) 21:44, 88. Jake Smith (PV) 21:56.
Class 2A
Team Scores
(and legend)
1. Northwestern (NW) 17*, 2. Allentown Central Catholic (ACC) 97*, 3. Notre Dame Green Pond (NDGP) 139, 4. Blue Mountain (BM) 149, 5. Wilson (W) 184, 6. Tamaqua (Tam) 191, 7. Palmerton (Palm) 196, 8. Jim Thorpe (JT) 224, 9. Bethlehem Catholic (BC) 274, 10. Saucon Valley (SV) 280, 11. Lehighton (L) 288, 12. Pottsville (Pott) 322, 13. Bangor (B) 336, 14. East Stroudsburg North (ESN) 337, 15. Salisbury (Sal) 348, 16. North Schuylkill (NS) 370, 17. Catasauqua (Cat) 505.
Individual Results
(top 10 plus state qualifiers and other locals in the top 100)
1. Samuel Bower (NW) 16:48*, 2. Matthew Santana (NW) 17:05*, 3. Cole Chukoskie (NW) 17:20*, 4. Jacob Huber (SV) 17:24*, 5. Joe Chukoskie (NW) 17:27*, 6. Nathan Vincent (NW) 17:29*, 7. Justin Williams (NS) 17:47*, 8. Owen Hibell (Palm) 17:51*, 9. Duke Ebert (ACC) 17:55*, 10. Cole Schaeffer (BM) 17:56*, 11. Gavin Nelson (NW) 18:01*, 12. Jordan Smith (NDGP) 18:03*, 13. Trevor Weidman (B) 18:08*, 14. Ryan Bailor (JT) 18:09*, 15. James Freeman (ACC) 18:17*, 16. Levi Kunkel (Tam) 18:19*, 17. Chase Eller (W) 18:31*, 18. Ridge Snyder (JT) 18:35*, 19. Jordan Remmel (JT) 18:37, 22. Jared Thomason (Northern Lehigh) 18:43, 23. Leon Koons (ACC) 18:43*, 25. Nathan Harris (ACC) 18:48*, 27. Caden Kresge (L) 18:53, 28. Brian Collins (ACC) 18:54*, 30. William Gruen (NW) 18:57*, 32. Dylan Hartranft (Palm) 18:58, 37. Jacob Demchak (ACC) 19:05*, 38. Stephen Kieffer (Tam) 19:07, 40. Gavin Grim (ACC) 19:08*, 42. Brody Boyce (Tam) 19:13, 45. Jeremy Salvaggio (Palm) 19:27, 49. Tony Marchetti (Tam) 19:36, 50. Adam Schock (Tam) 19:43, Jesse Gormley (Tam) 19:45, 53. Owen Serfass (L) 19:49, 54. Aaron Simpson (Palm) 19:52, 62. Brance Fronheiser (Palm) 20:08, 66. Bradley Yenser (L) 20:16, 67. Jordan Mann (Palm) 20:18, 70. Chris Walkowiak (Palm) 20:26, 74. Brandon Hall (L) 20:31, 76. Nicholas Zeigenfuss (L) 20:35, 79. Brayden Johnson (L) 20:39, 88. Henry Snyder (JT) 21:15, 89. Bowden Chicarelli (JT) 21:18, 92. Jathan Krall (Tam) 21:24, 99. Ehran Hassler (JT) 21:46.
Class 1A
Team Scores
(and legend)
1. Moravian Academy (MA) 72*, 2. Weatherly (W) 77*, 3. Minersville (Min) 80, 4. Shenandoah Valley (SV) 100, 5. Palisades (Pali) 111, 6. Lehigh Valley Academy (LVA) 140, 7. Tri Valley (TV) 194, 8. Schuylkill Haven (SH) 224, 9. Marian Catholic (MC) 228, 10. Nativity (N) 231, 11. Notre Dame East Stroudsburg (NDES) 275, 12. Mahanoy (M) 305.
Individual Results
(top 10 plus state qualifiers and other locals in the top 100)
1. Thomas Smigo (Pali) 16:36*, 2. Landon Boyle (Min) 17:14*, 3. Alexander Hume (LVA) 17:35*, 4. Mitchell Campbell (Pali) 17:35*, 5. Theo Urban (MA) 17:53*, 6. Jacob Parker (W) 17:37*, 7. Ricky Ray (W) 17:59*, 8. Alex Kurtek (Min) 18:03*, 9. Connor Stasulli (SV) 18:03*, 10. Sam Carter (MA) 18:07*, 11. Diego Olayo (SV) 18:14*, 12. Astin Daniel (SH) 18:26*, 13. Keegan Dube (Min) 18:28*, 14. Michael Berger (W) 18:32*, 15. Frankie Willis (W) 18:36*, 16. Krish Gupta (MA) 18:40*, 17. Malcolm Naughton (NDES) 18:46*, 18. Albin Petschauer (MC) 18:47, 21. Teyton Messman (MA) 19:03*, 22. Greg Hine (MA) 19:12*, 29. Alex Porambo (MC) 19:48, 31. Drew Mariani (MA) 19:52*, 37. Tim Maguschak (W) 20:18*, 46. Bryanm Yang (MA) 20:46*, 63. Robert Jones (MC) 22:22, 64. Lachlan Segedy (MC) 22:23, 65. Alex Cornmesser (MC) 22:29, 73. Ryan Berube (MC) 24:05, 75. Jakob Mummey (MC) 24:21.
GIRLS
Class 3A
Team Scores
(and legend)
1. Emmaus (Emm) 53*, 2. Southern Lehigh (SL) 71*, 3. Parkland (Park) 76, 4. Easton (Eas) 100, 5. Liberty (Lib) 148, 6. Northampton (Nor) 180, 7. Nazareth (Naz) 184, 8. Stroudsburg (S) 211, 9. ES South (ESS) 247, 10. Freedom (F) 248, 11. Whitehall (W) 277, 12. Bangor (B) 373.
Individual Results
(top 10 plus state qualifiers and other locals in the top 100)
1. Hailey Reinhard (Emm) 19:39*, 2. Caitlin Voloshen (Naz) 19:59*, 3. Avaline Fihlman (F) 20:03*, 4. Madeline Mumma (Lib) 20:13*, 5. Isabella Lees (Emm) 20:25*, 6. Ella Bray (PM West) 20:26*, 7. Addison McPeek (Eas) 20:30*, 8. Natalie Morgan (SL) 20:35*, 9. Payton Campbell (Emm) 20:38*, 10. Elena Wenger (Park) 20:43*, 11. Deandra Young (S) 20:43*, 12. Jessica Price (Park) 20:47*, 13. Maura Lenhart (SL) 20:49*, 14. Erin Vincent (Eas) 20:49*, 15. Gracie Trexler (Park) 20:52*, 16. Alaina Patel (SL) 20:56*, 18. Lauren Meinhold (SL) 21:08*, 19. Sophia Kovalski (Emm) 21:18*, 21. Annefloor Fooig (SL) 21:30*, 22. Madison Torretta (Emm) 21:32*, 31. Nicole Nosal (Emm) 21:55*, 33. Celia Knoedler (SL) 22:04*, 34. Isabella Scarlata (Emm) 22:08*, 42. Autumn Garges (SL) 22:25*, 67. Lily Daniels (Pleasant Valley) 24:53, 90. Abigail Worden (Pleasant Valley) 30:35.
Class 2A
Team Scores
(and legend)
1. Blue Mountain (BM) 61*, 2. Allentown Central Catholic (ACC) 71*, 3. North Schuylkill (NS) 93, 4. Northwestern (NW) 120, 5. Saucon Valley (SV) 121, 6. Pottsville (Pott), 7. Jim Thorpe (JT) 202, 8. Palisades (Pali) 219, 9. Bethlehem Catholic (BC) 236, 10. Tamaqua (Tam) 242, 11. Catasauqua (Cat) 271, 12. Lehighton (L) 311, 13. Lehigh Valley Academy (LVA) 313.
Individual Results
(top 10 plus state qualifiers and other locals in the top 100)
1. Olivia Haas (BM) 18:39*, 2. Sarah Pezzino (Pen Argyl) 19:47*, 3. Ryley Schwalm (NS) 19:50*, 4. Avery Errico (Wilson) 20:11*, 5. Katie McCormick (NS) 20:19*, 6. Skyler Szulborski (LVA) 20:31*, 7. Adra Schell (Pott) 21:07*, 8. Grace Stegemerten (Tam) 21:08*, 9. Julia Roth (ACC) 21:09*, 10. Cecilia Chipriano (BM) 21:11*, 11. Andie Hollander (BM) 21:12*, 12. Emma Szydlow (SV) 21:12*, 13. Olivia Bortz (SV) 21:17*, 14. Izzy Kehoe-Huck (ACC) 21:28*, 15. Nicole Carroll (JT) 21:39*, 17. Angelina Klein (NW) 21:55, 18. Rosie Deisher (ACC) 22:02*, 19. O'Neill Ford (ACC) 22:03*, 20. Sophia Chipriano (BM) 22:04*, 21. Clare Coleman (ACC) 22:15*, 22. Gabby Powell-Dix (ACC) 22:20*, 24. Sophia Cornell (NW) 22:23, 26. Patsy Shak (ACC) 22:29*, 27. Leah Scheidel (BM) 22:33*, 28. Macie Fisher (NW) 22:37, 29. Kellcey Pedron (NW) 22:47, 32. Emily Fagan (NW) 23:06, 34. Molly McGorry (NW) 23:17, 37. Katelynn Bos (JT) 23:33, 41. Izzy Acker (JT) 23:46, 44. Katie Wojton (L) 24:01, 50. Ava DiSante (BM) 24:27*, 51. Megan Rosahac (JT) 24:33, 53. Emma Rutkowski (NW) 24:45, 54. Gianna Sube (L) 24:54, 58. McKenzie Shoemaker (BM) 25:23*, 60. Ashley Jones (Tam) 25:34, 62. Hailey Williams (Tam) 25:43, 66. Samantha Plasha (Tam) 26:10, 68. Mia Jones (Tam) 26:20, 72. Isabella Jones (Tam) 26:38, 73. Brooke McKeon (JT) 26:51, 74. Olivia Renode (JT) 27:03, 75. Timara Klotz (L) 27:12, 77. Abigail Meckes (L) 27:19, 79. Calista Fannock (Tam) 28:01, 83. Sara Dishong (L) 28:39, 86. Julia Smith (L) 29:26, 91. Elizabeth Troutman (L) 32:19.
Class 1A
Team Scores
(and legend)
1. Notre Dame Green Pond (NDGP) 19*, 2. Tri-Valley (TV) 64*, 3. Moravian Academy (MA) 74, 4. Marian Catholic (MC) 103, 5. Mahanoy (M) 120, 6. Northern Lehigh (NL) 125.
Individual Results
(top 10 plus state qualifiers and other locals in the top 100)
1. Olivia Schweitzer (NDGP) 20:33*, 2. Samantha Masser (TV) 20:34*, 3. Katherine Koones (NDGP) 20:44*, 4. Sarah Sidoro (NDGP) 21:03*, 5. Lauren Bower (NDGP) 21:28*, 6. Anna Schaeffer (Schuylkill Haven) 21:44*, 7. Serena Azzalina (NDGP) 21:46*, 8. Paige Mitchell (TV) 22:05*, 9. Jaelyn Pennypacker (TV) 22:26*, 10. Julia Burgess (Minersville) 22:29*, 11. Grace Curnow (MC) 22:31*, 12. Chloe O'Donnell (Notre Dame East Stroudsburg) 22:33*, 13. Lily Eyvazzadeh (MA) 22:34*, 14. Natalie Mosier (Palmerton) 22:51*, 15. Marissa Fridirici (Schuylkill Haven) 22:47*, 16. Cora Wentz (Palmerton) 23:04*, 17. Sophia Lee (MA) 23:28*, 18. Kaylei Wentz (Minersville) 23:31*, 20. Emma Ashfield (MC) 23:59, 22. Kendall Gerhart (Weatherly) 24:14, 24. Catherine Mahoney (NDGP) 24:30*, Raegan Cooper (NDGP) 23:33*, 28. Emma Smith (NL) 24:51, 29. Abby Purcell (TV) 25:04*, 30. Danielle Gordon (Weatherly) 25:12, 33. Haylie Fenstermaker (NL) 25:20, 36. Isabella Genao (MC) 25:30, 37. Kasia Dos Santos (NL) 25:32, 39. Kerrigan Digris (MC) 25:46, 40. Ellie Wolfgang (TV) 25:47*, 41. Emily Moyer (NL) 26:11, 48. Stefany Steckel (NL) 28:00, 50. Rebecca Boyle (MC) 28:25, 55. Alyssa Porambo (MC) 35:14.
* - State qualifier
Tags:
Sports ,
Local Sports ,
Jim Thorpe-Spts,
Lehighton-Spts,
Marian-Spts,
Northern Lehigh-Spts,
Northwestern Lehigh-Spts,
Palmerton-Spts,
Pleasant Valley-Spts,
Tamaqua-Spts,
Weatherly-Spts,
Cross Country,
Cross Country-Boys ,
Cross Country-Girls